When most people think of pack rats, they think of the pesky little rodents that invade their homes or chew cables in the engine of their vehicles.
But for University of Arizona undergraduate Sandy Slovikosky, pack rats glow in vibrant colors and may hold answers to important environmental questions.
Slovikosky, a senior in the UA's School of Natural Resources and the Environment, uses a nontoxic, fluorescent powder to track and study the routes that pack rats follow when moved away from their nest.
"I call it creating glow-in-the-dark rats," Slovikosky says. "In short, I capture the rodents, move them a short distance from their nests, place them in a plastic bag with the fluorescent powder, gently rotate to cover the fur in powder, and then let them go."
As the pack rats move across the landscape, they leave either pink, orange or yellow trails behind that glow under a UV light at night, allowing Slovikosky to record the precise path.
As part of the UA's Undergraduate Biology Research Program, Slovikosky works in the Conservation Research Laboratory with John Koprowski, professor of wildlife conservation and director of the School of Natural Resources and the Environment. Slovikosky spent the summer conducting research on Mount Graham, the highest peak in Southern Arizona.
According to Slovikosky, pack rats, or wood rats, are relatively easy to locate because of their nests, or middens, which are usually made up of sticks, pine needles, rocks and anything else the pack rat finds. The specific species of pack rat she studies is the Mexican wood rat.
After covering the pack rats in the powder and releasing them, Slovikosky tracks the trail, placing pin flags in the ground to mark the routes, recording how many turning points there are and what vegetation they run through. Because the animals are nocturnal, she primarily works at night by opening traps at sundown and releasing and powdering any caught rodents before sunrise.
"It's quite an adventure being out at night," Slovikosky says. "Following the trails is always fun, because you never know where they're going to lead. Sometimes the animal runs in a relatively straight line, and other times it's all over the place."
By conducting an analysis of their path, Slovikosky hopes to gain a stronger understanding of how the small mammals relate to their natural environment and potential barriers to their movement.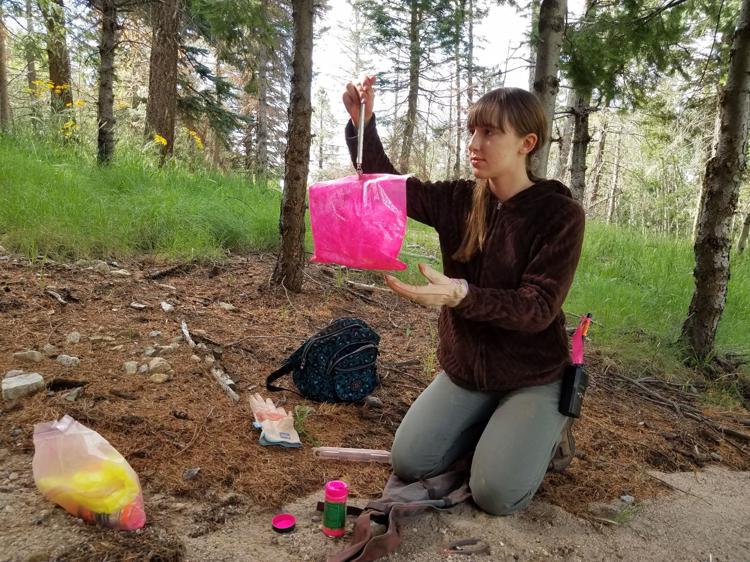 In 2017, Mount Graham was the site of a severe fire, which burned over 48,000 acres. Fires contribute greatly to habitat loss and fragmentation, dividing the amount of suitable landscape into smaller, more isolated pieces and threatening the biodiversity and wildlife in the area.
"Understanding how fire and other natural phenomena affect rodents can help inform management decisions, particularly for endangered species," Slovikosky said. "While the pack rat is not endangered, the knowledge gained from its movement patterns could potentially be utilized to help characterize the relationship between the natural environment and other small mammal species."
According to Koprow- ski, who mentors Slovikosky on the project, this type of research helps to pinpoint some of the challenges that common and endangered species are facing, which can then provide insight into larger environmental issues.
"Animals really serve as an indicator of the challenges that we might face with the environment," he said. "We're studying species that should detect a problem earlier than humans would detect it."
Human beings are not always aware of the habitat loss taking place within the environment, and most of the time, they're actually contributing to it, Koprowski said. Pack rats and other small mammals, however, are some of the first to be impacted by habitat fragmentation, and how they interact in that environment can give researchers a better idea of how the biodiversity is being threatened.
"We often use different model species to learn different things about the environment and one of the big challenges in the environment is the continued fragmentation on habitats," he said. "What used to be a big continuous forest is now broken into small pieces of forest. So, how do animals respond to that?"
With her research, Slovikosky said she hopes to make an impact by collecting data that has real-world implications and contributing to scientific research, which is lacking on this particular species.
"I want to understand more about this particular species, because we don't know much about pack rats, so I'll be able to contribute something original to the scientific literature," she said. "My hope is to work in areas related to human wildlife conflict and to work with endangered species."