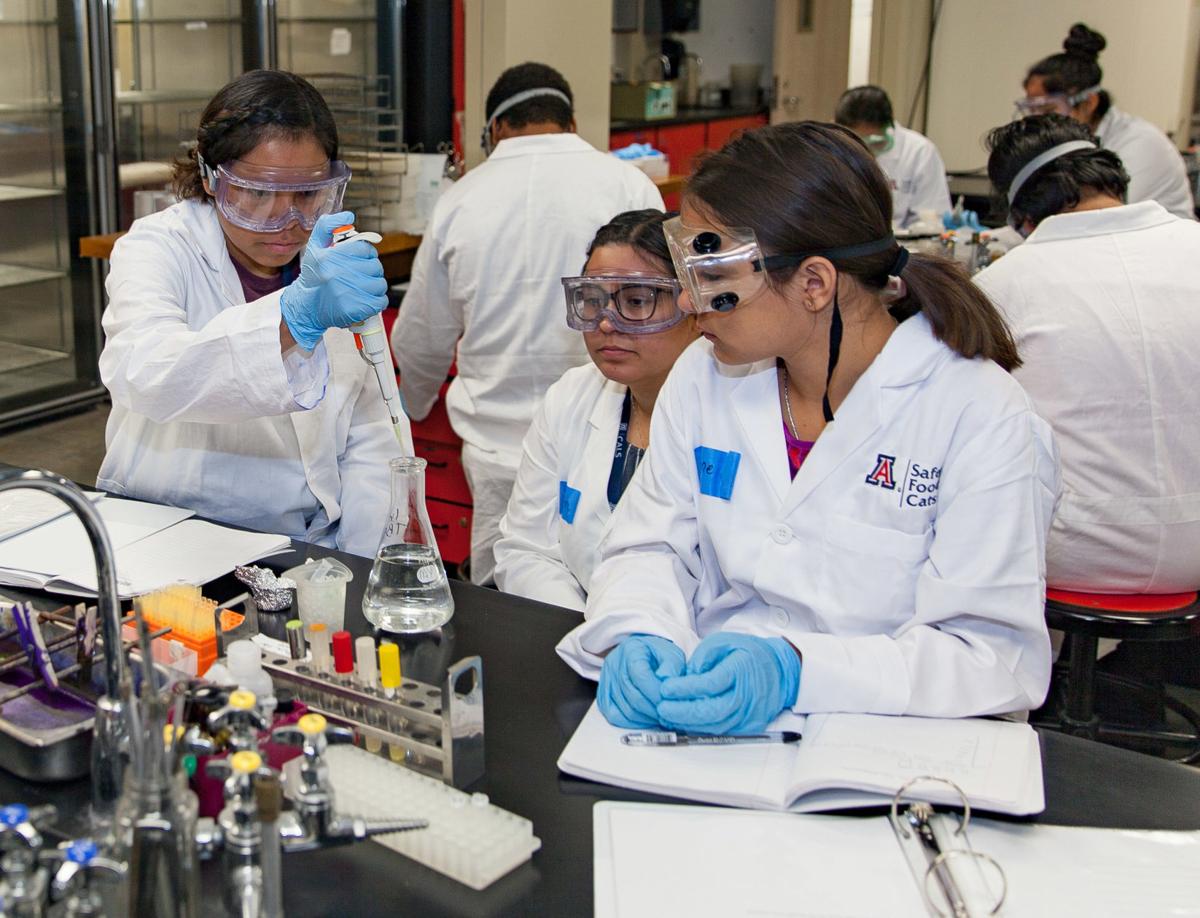 Sampling meat for bacteria is probably not how a typical teenager would like to spend part of their summer.
But for 13 Arizona high school students in the SaferFoodCats summer program, this was exactly what they had in mind.
The University of Arizona College of Agriculture and Life Sciences hosted high school students from across Arizona this month for a 12-day summer camp where they were introduced to career pathways in food safety and worked in a food safety lab. This was the inaugural year for the SaferFoodCats program.
At the end of the camp, students presented their collaborative food-sampling projects, where they were tasked with sampling foods for bacteria and practicing techniques for testing the safety of the product.
"The program had a lot of opportunities and explored a lot of things, both food science in the field and food science in the lab," said 16-year-old Arjoneel Dhar, a junior at Catalina Foothills High School here. "Personally, I really liked the lab aspect of it and I really liked how much they taught us about lab techniques and how to do some really complicated things that college students have to learn."
Dhar worked with fellow student Kemel Gross, a 13-year-old freshman from Yuma, on a project that focused on pathogen detection in pork. Although the raw pork they tested was low in bacteria compared to other meats, the students said they did find E. coli in their sampling.
Dhar and Gross were recognized as top presenters in the program.
In addition to pork, students also worked on projects sampling mushrooms, ground turkey, lettuce and alfalfa sprouts.
"We learned that ground turkey is really susceptible to bacteria because it is processed more than regular meat, because it's actually ground up and that allows more surface contact and more bacteria being incorporated into the product," said 15-year-old Naina Misra from Bagdad, Arizona.
Misra said she has always been interested in a career in STEM and said this was an opportunity for her to work in a real-world lab and gain experience.
In January, the University of Arizona School of Animal and Comparative Biomedical Sciences received a $1.5 million gift from Victor P. Smith to establish an endowed chair in food-safety education. Margarethe Cooper, an assistant professor of practice at UA, was selected as the inaugural chair and developed the program in response to an increasing need for food-safety education.
According to Cooper, the SaferSummerCats summer camp aims to teach students about the food supply and the food chain, emphasizing the important role that everyone within the chain holds, whether you're planting and picking the food or buying and eating it.
"The intention is to make our food safer than it already is and also increase opportunities for education in food safety," she said. "We're trying to connect with students and have them learn at an earlier age about the importance of food safety, even if they don't go into these types of careers."
Cooper also said the program focused on providing opportunities to students who are from rural areas or belong to communities that are underrepresented in STEM. For the inaugural camp, they hosted six students from the Yuma and Imperial Valley areas, five from the Navajo Nation, one from Bagdad and one from Tucson.
At the end of the camp, each student received a certificate that showcased their participation in the program, which had a STEM and agriculture focus.
"I have actually always been interested in being in the STEM field. I want to be a neurosurgeon," said Misra. "So, even though I don't necessarily want to go into food safety, this experience has taught me so much and helped me learn some really important skills."