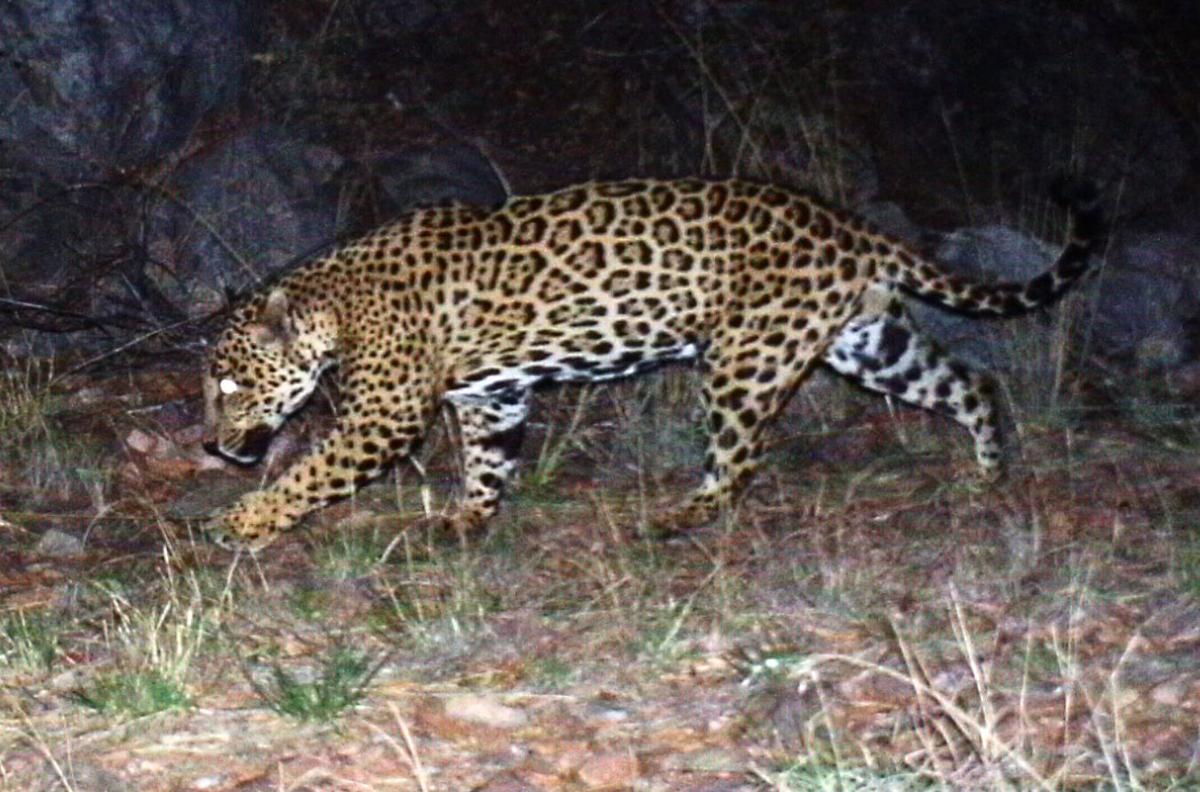 A new video released by a Tucson-based environmental group shows a jaguar in the Chiricahua Mountains southeast of Tucson.
The Center for Biological Diversity video shows a jaguar nicknamed Sombra first blinking a couple of times, turning his head back and forth and finally walking away from the camera over about 15 seconds.
The video, whose footage was shot in late June, also packed in glimpses of two black bears, a coati, a mountain lion and a deer from a trail camera in the Chiricahuas into 38 seconds total. The center didn't disclose the specific location where the video footage was shot.
The jaguar was first photographed in an adjoining mountain range in November.
Shortly after the center released the video Thursday morning, an Arizona Game and Fish biologist disclosed in an email that the jaguar is a male. Until then, its sex wasn't publicly known, raising hopes among environmentalists that this could be the first wild female jaguar discovered in the United States since 1963.
This video comes about 19 months after the Center for Biological Diversity and another nonprofit group, Conservation CATalyst, jointly released a 41-second video of a male jaguar in the Santa Rita Mountains southeast of Tucson. That jaguar, named El Jefe, hasn't been photographed or videotaped since September 2015.
The latest cat is the seventh male jaguar found since 1996 in the U.S. — six in Arizona and one in New Mexico. The absence of a female has been a key part of Game and Fish's case that a robust jaguar population isn't established in Arizona. The center and some University of Arizona jaguar researchers have said the continued influx of male jaguars could be a harbinger of female arrivals later.
But center officials still took heart that this was the same jaguar photographed in November in the Dos Cabezas Mountains, north of the Chiricahuas. That photo, two later ones and this video were taken on U.S. Bureau of Land Management land in the two adjoining mountain ranges near the New Mexico border, at least 50 miles north of Mexico, where jaguars are more plentiful.
"This beautiful cat has now appeared in images taken seven months apart," said Randy Serraglio, a center conservation advocate. "It seems that it's established residence in excellent habitat more than 50 miles north of the border, which is great news for jaguar recovery."
Game and Fish biologist Tim Snow told Serraglio in an email Thursday that the jaguar's sex was confirmed in a photo taken in the Chiricahuas in April.
That photo also showed spotting patterns on the animal's left shoulder that are very similar to those in the November 2016 photo, Game and Fish spokesman Mark Hart said later. A second photo of the jaguar was taken in the Dos Cabezas in May, showing that the cat has moved back and forth between the two ranges.
"It's disappointing but not a surprise that it was a male," Serraglio said. "It would have been a long shot for a female to be so far north of border although not impossible."
Sombra was recently named by students at Paulo Freire Freedom School, a public charter school with Tucson campuses.
Similarly, El Jefe was named in fall 2015 by Valencia Middle School students here. In both cases, the Center for Biological Diversity helped organize the naming efforts at the schools.
A third male jaguar, named "Yo'ko" by students at Hiaki High School on the Pascua Yaqui reservation, has been photographed repeatedly since December 2016 by trail cameras in the Huachuca Mountains in Southeastern Arizona.