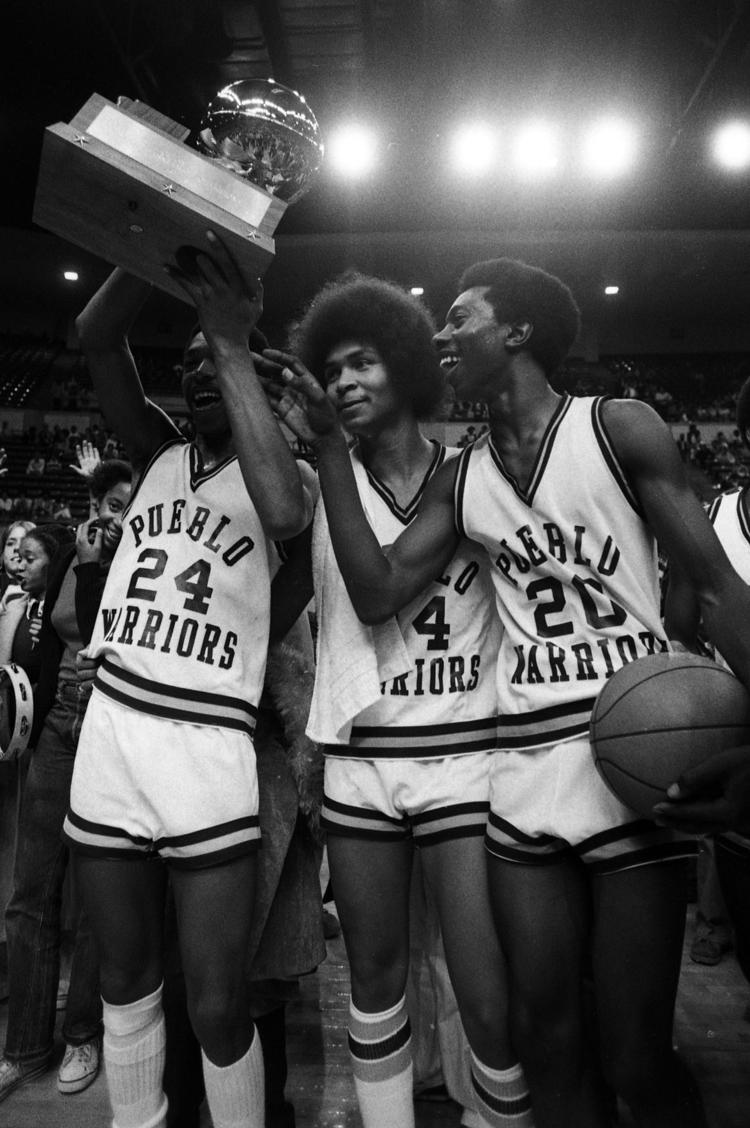 March 6, 1978: Pueblo wins back-to-back state basketball titles  
It rained so hard in Phoenix the day of the 1978 state basketball semifinals that defending state champion Pueblo was stalled in traffic and almost didn't get to the game on time.
By the time coach Roland LaVetter's Warriors walked into ASU's Wells Fargo Arena, tipoff was 15 minutes away. To make it worse, the Warriors were virtually the "walking wounded" — seven of LaVetter's players were injured, including the state's player of the year, Lafayette "Fat" Lever.
To cut his losses, LaVetter ordered his team to play a four-corners offense against powerful Phoenix East High School.
It almost killed the 26-0 Warriors.
East led 27-26 with 2:34 remaining until Tony Mosley scored on a layup and John Cheatham stole the ball for the Warriors. Pueblo won a harrowing 29-28 game on a night it scored just six points in the second half.
"Who don't we have that isn't injured?" LaVetter asked after the game.
The Warriors' recuperative powers were amazing; a night later they routed Rincon 70-54 to win a second straight state title and finish the season a perfect 28-0. It was the first time a Tucson team had won back-to-back championships since Tucson High, 1948-49.
A year earlier, Pueblo won the state title as an underdog, 25-5 overall, as the No. 6 seed. The emergence of Lever, a 6-foot 2-inch, do-everything guard who would become an NBA All-Star, keyed one of the most remarkable runs in Tucson prep basketball history.
Lever scored 28 points in the championship game.
In the '77 season, Lever made two foul shots with four seconds remaining to upset Arcadia High School, leading to a run of 34 consecutive victories over two seasons. And it wasn't easy. At the time, Tucson High was blessed with David Vann, who went on to excel at St. Mary's and get drafted by Golden State.
In the '77 state championship game, a 42-37 victory over Sunnyside, Lever scored a team-high 14 points even though the Blue Devils' Greg Cook was the tournament MVP.
Together, Lever and LaVetter became two of the biggest names in Tucson prep basketball history.
Lever moved with his family from Pine Bluff, Arkansas, in 1970. When the Levers moved into the Pueblo school district, it united Lafayette — called "Fat" by almost everyone — with LaVetter, a Tucson High and UA grad who became Pueblo's head coach in 1969.
LaVetter played freshman basketball at Arizona and became a teacher at Mansfeld Junior High School. He was soon blessed with a core of talent that included Lever and Jeff Moore, who signed with Loyola-Marymount, Ken Martin and the Mosley brothers, Dan and Tony.
LaVetter was part of one of Tucson's top basketball families. His brother, Chuck LaVetter, played at Arizona, helped coach the UA freshman team, and became a Hall of Fame basketball coach at Eastern Arizona College. Roland LaVetter's son, Lance LaVetter, was an assistant coach at Seattle University; he previously coached at Washington, St. Louis, Portland and New Mexico State.
Where are they now: LaVetter retired from Pueblo in 1980 and became a coach at Rincon. He was one of the state's top summer-league coaches in the '80s, directing a local forerunner to what is today's AAU system. He is retired and living in Tucson.
How he did it: Lever ranks as the second-most-accomplished basketball player in Tucson history, trailing Sean Elliott. Lever was an All-Pac-10 guard in 1981 and 1982 at ASU, and an NBA All-Star selection in 1988 and 1990 for the Denver Nuggets.
How did the UA fail to land such a talented local player? Then-UA coach Fred Snowden didn't actively recruit Lever until ASU, Colorado, Hawaii, Utah State, Michigan and San Diego State made offers. Lever did not take a recruiting visit to Arizona.
"I didn't think I'd fit in," he told the Star in 1980. "They had a lot of young guards like Joe Nehls, John Smith and Russell Brown. ASU was always interested."
LaVetter said the UA blew it. "If Fat lived in a bigger city, he'd be a first-team (high school) All-American," he said. "Beyond that, I very seldom think of Fat as a basketball player. He's a beautiful human being."
Today, Lever is a radio analyst for the Sacramento Kings and the club's director of player development.
---
Photo: Pueblo High School players, including Lafayette Lever, left, after defeating Rincon High School in the Arizona State AAA basketball championship in Tempe, Ariz., on March 4, 1978. Photo by Jose Galvez / Arizona Daily Star