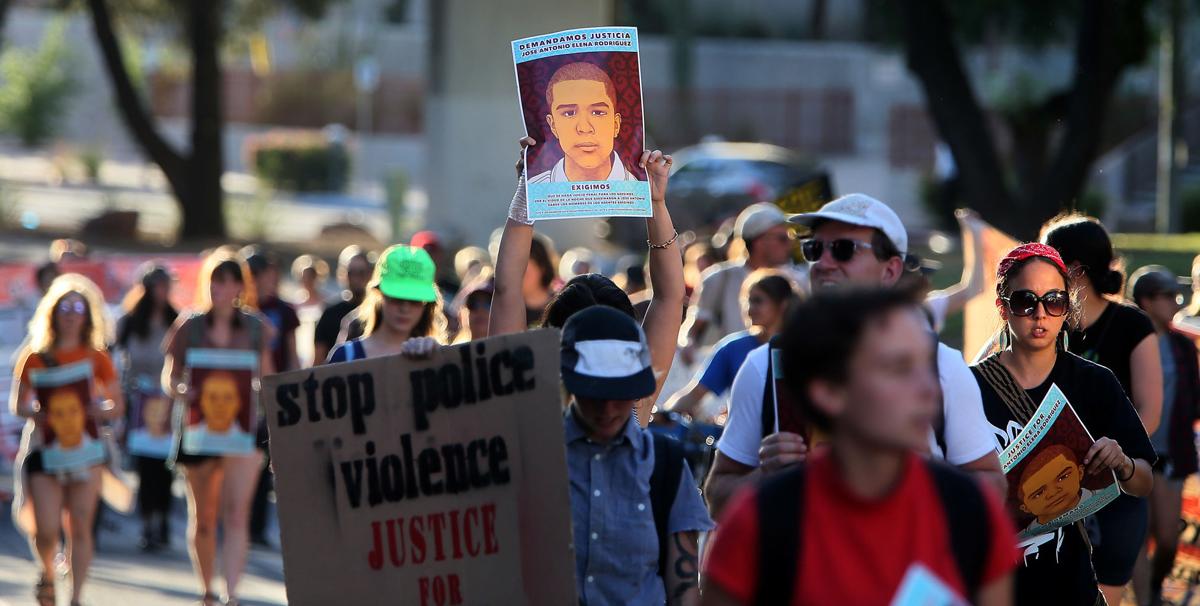 To his family, Jose Antonio Elena Rodriguez was a good son; to the government, he was a young rock thrower; to the defense, he was a dangerous smuggler. But whatever he was on the night of Oct. 10, 2012 — when Border Patrol agent Lonnie Swartz shot him 10 times from behind — he didn't deserve to die.
After about four weeks of testimony in which the government laid out its case for second-degree murder against Swartz, the jury found him not guilty. They were unable to decide on lesser charges of voluntary manslaughter and involuntary manslaughter.
The Swartz trial is just another example of how juries are unable to convict law-enforcement officers who use excessive force. No matter the evidence, there seems to be a mistaken belief that once a human being puts on a badge their judgment is infallible.
This case is particularly egregious. At best, Swartz acted recklessly, firing repeatedly across the border toward homes in Nogales. At worst, he shot — over and over and over — a 16-year-old who represented no threat.
The facts everyone could agree on were these: At about 11:30 p.m., Border Patrol agents and Nogales Police Department officers saw smugglers leave a load of drugs on the U.S. side near the Dennis DeConcini Port of Entry. As they approached two suspects trying to climb the fence, people on the Mexican side started to throw rocks to buy time for the others to escape.
Officers and agents ordered them to stop throwing rocks, but they refused. Agent Swartz then put his gun through one of the 4-inch gaps in the bollard-style fence but did not fire. He re-evaluated his position, moved to a second bollard, and fired three shots into Mexico, hitting Elena Rodriguez. He then moved again, about 45 feet along the fence, and fired 10 more times.
His gun empty, he stepped back, reloaded and fired again. Over 34 seconds, Swartz fired 16 shots through the fence. Eight of those bullets struck Elena Rodriguez in the back, two hit him in the head.
There was debate during the trial about which bullet ended the teen's life. Dr. Emma Lew, of the Miami-Dade County Medical Examiner Department, testified for the prosecution that one of the first shots paralyzed Elena Rodriguez, who fell to the ground and was alive through much of the barrage that followed. The defense argued that no, he had been killed by one of the first shots, therefore there was no malice — one of the qualifications for second-degree murder — because if Elena Rodriguez was already dead, it didn't matter how many other times he was shot.
That's the level of legal hairsplitting the defense chose to engage in.
Swartz testified that as the rocks hit the fence he was afraid for himself and the other people there. He said he had no choice but to respond after he heard his partner say he had been hit and that a Nogales police dog had also been struck.
It may seem like an overreaction, to answer rocks with gunfire, but there's no denying that being hit with a rock is dangerous. A large enough rock can kill. The problem for Swartz is that the agent who said he had been struck wasn't. He testified as much. The police dog that was hurt wasn't. His handler said so. And those rocks that posed such a threat?
Visiting the site where it all happened, the geography is what makes the strongest impression when considering what transpired. If you stand on the Mexican side, where Elena Rodriguez's body was found, you are looking up a 14-foot cliff, followed by a 22-foot fence. The distance and elevation make throwing a large rock impossible. That a rock could go through one of the gaps with enough force and elevation to cause injury is improbable.
The smugglers were running away. The rocks posed no immediate danger, perhaps no danger at all — and yet Swartz chose to use deadly force. He was the only one, out of the half-dozen or so other Border Patrol agents and Nogales police at the scene, who decided the best course of action was to walk toward these "dangerous" rocks and shoot to kill.
It is unconscionable that the jury could not reach a decision. Yet they are not alone. In the past 30 years, only three other Border Patrol agents have been charged in Southern Arizona and the results have been similar.
The changes Customs and Border Protection has implemented since Swartz killed Elena Rodriguez in 2012, including additional scenario-based training and reminding agents to take cover and seek distance, if possible, in response to rock throwers before resorting to lethal force, is a step in the right direction.
We must continue to train and prepare law-enforcement officers for these situations. But when that fails, and an officer uses excessive force, we should be able to hold them accountable for their actions.
Border Patrol agents, like all law enforcement, deserve our respect. They have a difficult, challenging job. But as the prosecution told jurors during the Swartz trial, "They are like us, imperfect human beings, and can't use their badge as a shield or license to commit murder."