When he went home to Sacramento last month, PJ Johnson realized where he had to be and what he had to do.
The massive defensive tackle needed to be with his children. And he needed to provide for them.
Although the Arizona Wildcats had come to feel like family, Johnson had a real family to feed. Although it was the riskier choice, Johnson decided to declare for the 2019 NFL draft.
Johnson made the announcement Wednesday. He had made up his mind last week. Being with his kids — Tolu, 3, and Kiara, 10 months — instead of FaceTiming with them crystalized the decision. Seeing how hard their mother was working to take care of them had the same effect.
"Even though I was doing something to better their life from a distance, it didn't feel right to me," Johnson said by phone Wednesday evening. "I'm their dad. I need to be taking care of them."
Johnson conceivably could have improved his draft stock by returning to Arizona for another season, but he felt he couldn't take that chance. He already had had two major health scares in his life — a tumor in his leg and a burst appendix.
"Anything can happen in a year," Johnson said. "Is it worth the risk of coming back?
"If I get hurt, I ruin my chance of going to the NFL. If I take this opportunity now, I'm in a good position."
Johnson, who played one season at Arizona after transferring from City College of San Francisco, applied for an NFL draft evaluation. The College Advisory Committee suggested he return to school. That result neither surprised nor deterred Johnson, who knew he wasn't projected as a first- or second-round pick (the other possible ratings he could have received).
Johnson said he has heard from agents and others that he has a good chance to be a late selection. He believes his ability, football knowledge and desire will appeal to pro clubs.
"I bring fight," Johnson said. "I've been through all different types of adversity and have always found a way to make it out on top."
Johnson started out at Sacramento State but played only one season there because of the physical ailments that threatened not only his football career but his life. He transferred to CCSF, where he prayed for good health.
"God, if you bless me, I'll do my part," Johnson vowed.
He stayed healthy and earned a scholarship to Arizona, where he emerged as one of the Wildcats' top defenders in 2018. Despite his success, Johnson applied for — and was granted — a sixth year of eligibility. He wanted to keep that option available.
During his signing-day news conference on Dec. 19, UA coach Kevin Sumlin was asked whether he expected Johnson and cornerback Jace Whittaker to be back in 2019. Whittaker missed 11 of 12 games last season because of injuries but hadn't previously used a redshirt year.
"I do, at this point," Sumlin said — an affirmation that left the door ever-so-slightly ajar.
Johnson elected to walk through it. His departure leaves a void in the middle of Arizona's defense.
The Wildcats already had lost starting nose tackle Dereck Boles, a fifth-year senior in 2018. Boles had 35 tackles, including five for losses, last season.
Johnson's impact went beyond his statistics, which were impressive in their own right. In 10 games, he accumulated 31 tackles, including 8.5 TFLs, second most among UA defenders. His three sacks tied for third. He also registered two fumble recoveries, a forced fumble and a safety.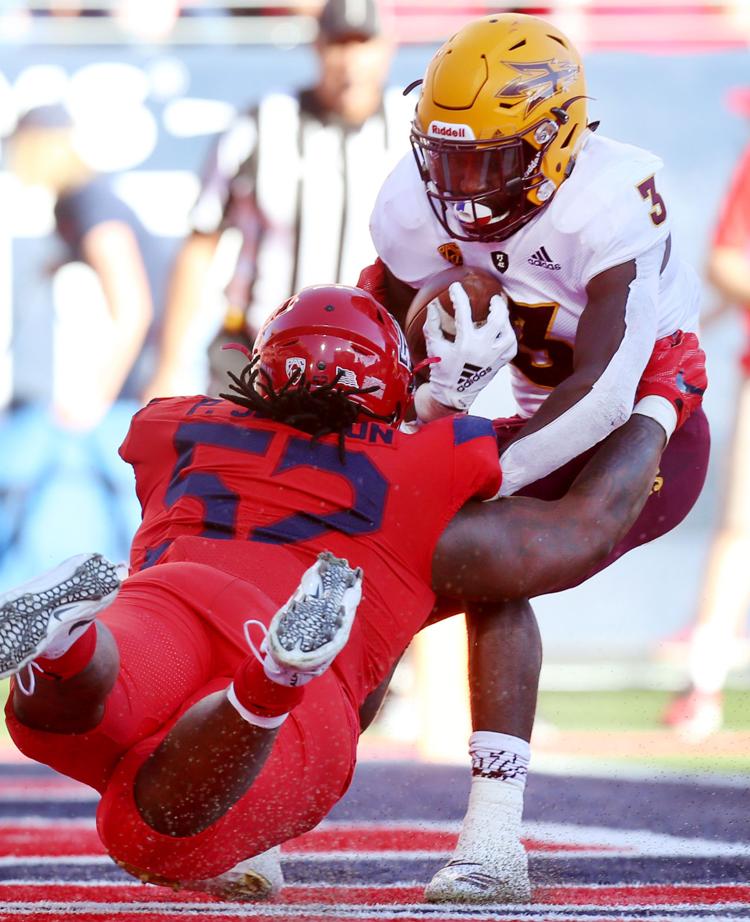 When Arizona's defense performed well, Sumlin frequently credited Johnson's presence. He drew the attention of opposing offenses, freeing up teammates to make plays. The 6-4, 335-pounder even lined up as a stand-up defensive end at times, displaying the athleticism that will make him an intriguing pro prospect.
The UA lists three defensive tackles on its online roster: redshirt senior Finton Connolly and redshirt freshmen Mykee Irving and Nahe Sulunga.
Connolly has ample experience and is sure to play a significant role in 2019. Connolly has 39 tackles, including nine TFLs, in 32 career games.
Irving and Sulunga each appeared in three games last season. They were able to preserve their redshirts thanks to a new NCAA rule. Irving has Johnson-like size at 6-3, 337. Sulunga is a bit of a DT-DE tweener at 6-2, 270.
Regardless of Johnson's decision, Sumlin and his staff knew they needed interior reinforcements. Arizona signed three defensive tackles in its 2019 class: Kane Bradford, Trevon Mason and Myles Tapusoa.
Bradford is the only high school player among them and might not be physically ready for the rigors of college football. However, Johnson's departure could push up Bradford's timetable.
As junior-college transfers, Mason and Tapusoa will be expected to contribute right away. Mason is listed at 6-5, 280, Tapusoa at 6-2, 326.
There's no guarantee either will pan out. While Johnson was an immediate hit, Sione Taufahema — another defensive tackle from the JC ranks — never played a down for the Wildcats.
Taufahema came to Tucson in the summer of 2017. He missed each of the past two seasons because of injuries and is no longer listed on the roster. His Twitter bio states that he will be a "grad-transfer student after May 2019."
Although the returnees and newcomers give Arizona six potential defensive tackles, the Wildcats could pursue another on the graduate-transfer market.
Potential candidates who might fit Arizona's scheme — as listed on the website GradTransferTracker.com — include Zach Abercrumbia of Rice, Micah Dew-Treadway of Notre Dame, Chigozie Nnoruka of UCLA and Shameik Blackshear of South Carolina.