For the second consecutive year, Green Bay Packers quarterback Aaron Rodgers paired up with his good friend Jerry Kelly for the Cologuard Classic Jose Cuervo Pro-Am at the Omni Tucson National Resort.
As one of the biggest celebrities in the event Wednesday, Rodgers had a huge crowd of fans following his group, asking for autographs and photos before and after every hole.
Gavin Brown, 9, was one of those fans. Sporting Packers sweatshirt and sweatpants, Brown stood right near the rope that separated the practice tee from the fans. He was waiting patiently for Rodgers.
As luck would have it, Brown was one of the first fans Rodgers noticed. Brown asked him to sign a poster for his favorite teacher and to take a photo with him.
"I hope this works," Rodgers said, referring to the poster, "and you better get an A."
Said Brown: "I think he's the best football player in the world."
Rodgers was happy to be back in Tucson, and his knee is in good shape. He opted to forgo surgery this offseason after spraining his knee in September last year, an injury that lingered throughout the 2018 season.
"I'm feeling great. It's the best my body feels all year. I get banged around every week. I feel really good," said Rodgers.
On Wednesday, Rodgers was looking forward to getting back four or five holes from last year, starting with the first.
"This one I think I went right off the tee, so maybe I can go a little left. I'm actually trying to turn the ball over the opposite way and hit like my mentor Jerry (Kelly) here," he said.
When Packers teammate and former Canyon del Oro High School standout Blake Martinez walked up to the second hole, 3-month-old Wyatt Seery (and his mom) was waiting in a little Packers T-shirt for a photo. His mom, Rochelle Cannon, has been a Packers fan since 1996, when she was in first grade. Her teacher would give students extra credit on spelling tests if they knew how many yards Brett Favre had that weekend.
"That's how I started following them. That year, we went to the Super Bowl and everyone was calling me a bandwagoner after that for a while, said Cannon. "But when I went through their lean years, they are like 'oh yeah, you are definitely a Packers fan.' I think I was trying to go against the grain, because my dad was a Vikings fan."
She also owns shares in the Packers, so technically she is a team owner.
"Keep me on the team, please," Martinez said.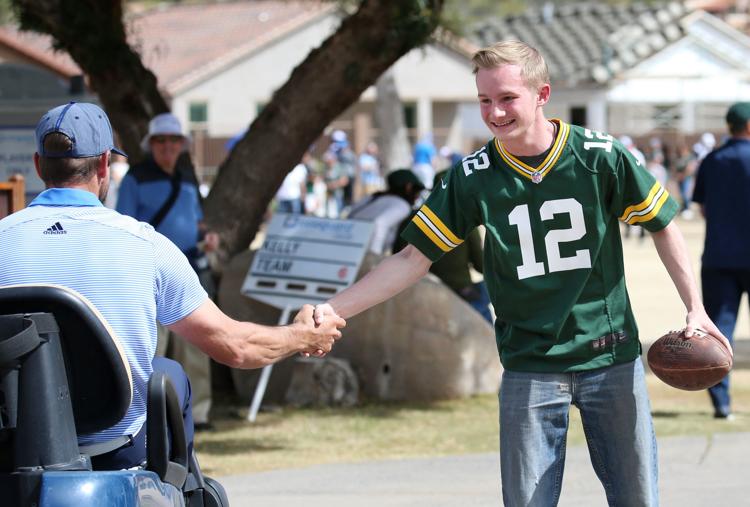 While Martinez may be a leader in the world of sacks, golf is an entirely different game. Martinez had played just two rounds before Wednesday. In between shots, Martinez received tips from his pro playing partner, Olin Browne, and focused on learning "how to hit the ball straight," said Martinez.
On the second hole, Martinez popped up his second shot into the trees where it bounced off the cart path before landing. He was hoping he'd see improvement as the round went on, but was just happy to be on the course and playing for a good cause.
Cologuard, the PGA Tour Champions event's sponsor which developed an at-home colon cancer screening test, gave $50,000 to the Vince Lombardi Cancer Foundation earlier Wednesday. The Packers coach died from the disease in 1970.
Martinez, meanwhile, is keeping busy during his offseason in Tucson.
"I've been training six days a week and working on little things from flexibility and speed, strength," Martinez said. "Making sure I'm able to go next season. I've gotten more into yoga this year. It's crazy to see the certain poses I'm getting into. Things I would never have thought I'd be able to get into."
Another former Packer, Lynn Dickey, played with pro Tom Lehman. Dickey, who lives in Kansas City, said he was happy to be in the Tucson sunshine.
Tournament favorite Langer withdraws
Bernhard Langer, one of the favorites to win the Cologuard Classic, withdrew from the tournament Wednesday with an injury to his rib and stomach area. He described it as an "open wound" that could continue to tear every time he swings.
Langer showed up Wednesday morning ready to give it a go, yet it was too much for him to play.
"It happened last Wednesday at home practicing. I didn't practice much after that, just chipping and putting," said Langer. "I had some treatment and took some medication and I thought it was getting better, and when I got here yesterday, I got even more treatment and was able to play eight holes. Then on the ninth fairway I re-injured it again. When I talked to my doctor, he advised that I not play the next several days to allow it to heal."
Langer has won 39 Tour Champions events — six wins away from tying Hale Irwin's wins record — is the all-time leading money winner on the tour, and is No. 1 in the Charles Schwab Cup standings following a win at the Oasis Championship earlier this month.