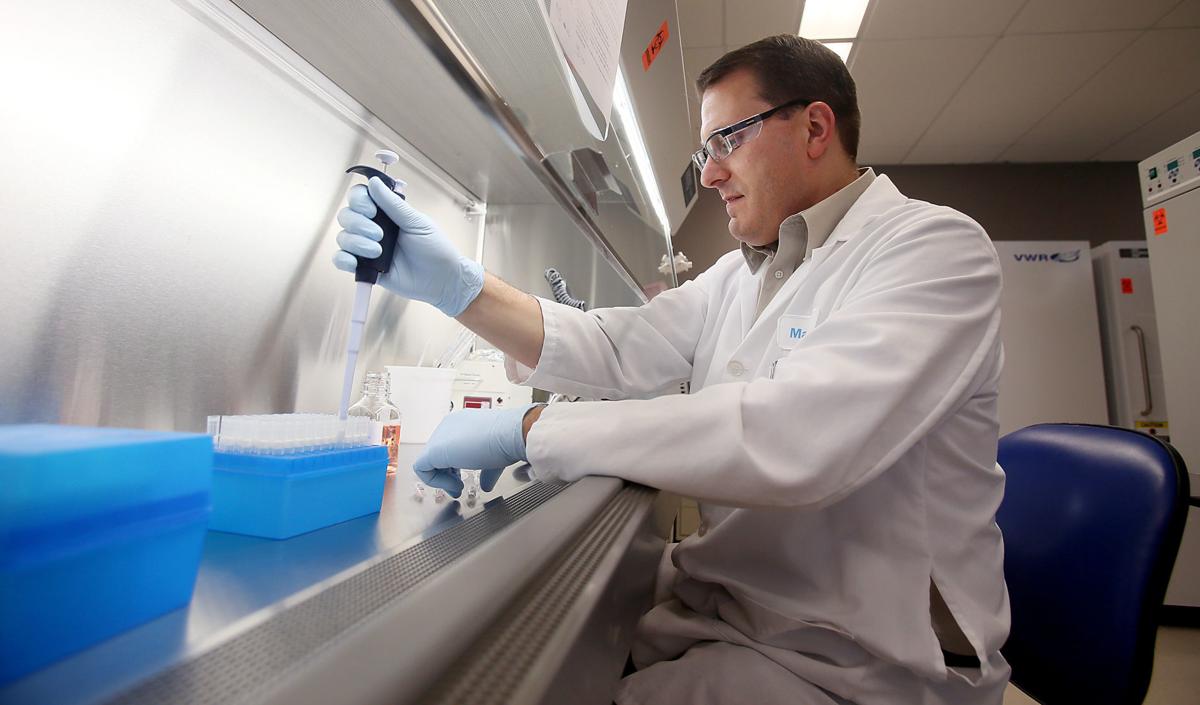 Arizona's bioscience industry is adding jobs faster than the nation and the state's overall private sector, and Arizona's state universities have boosted their bioscience research funding, spending and tech transfer.
But a familiar challenge — funding for startup bio ventures — remains, after the amount of venture capital raised in the past two years fell sharply, according to the latest report on Arizona's Bioscience Roadmap.
Jobs in bioscience, including hospitals grew by 58 percent in Arizona between 2002 and 2016, according to a roadmap update presented last week by the research firm TEConomy Partners for the Phoenix-based Flinn Foundation.
In the Tucson metro area, the number of jobs in research, test and medical labs, and jobs in hospitals, each rose nearly 31 percent from 2002 to 2016, while jobs at medical device and equipment firms rose about 22 percent, the report found.
Arizona's Bioscience Roadmap was commissioned by Flinn, a private, philanthropic grantmaking organization, in 2002 with a goal of increasing Arizonans' access to health innovations while diversifying and boosting the state's economy.
The long-term strategy was updated in 2014 to guide efforts through 2025.
Mitch Horowitz, principal and managing director of TEConomy Partners, said at an update luncheon in Tucson last week that indicators of Arizona's overall bioscience industry cluster growth remain strong.
Bioscience research performance has recovered from a period of decline, and Arizona is seeing strong gains in commercialization of university technology, including spinout startups, Horowitz said.
"These are solid indicators that Arizona is positioned to continue its bioscience momentum and growth in high-paying jobs," he said in prepared remarks. "But the venture capital performance is a concern."
Venture capital funding for bioscience firms in 2017 was $40 million for the second consecutive year, a decline from the $82 million recorded in 2015, TEConomy found.
And that represents less than one-quarter of 1 percent of U.S. bioscience venture capital.
Ron Shoopman, CEO of the Southern Arizona Leadership Council and chair of Arizona's Bioscience Roadmap Steering Committee, said there's reason for optimism on the funding front, with several Arizona venture-capital funds emerging in recent years and more interest from out-of-state funds.
One of those emerging funds is UA Venture Capital LLC, founded last fall by local businessman Fletcher McCusker, CEO of Sinfonía Health Care. The fund has yet to announce its initial investments.
The report applauded a move by the Legislature last year to recapitalize state tax credits for so-called angel investors, wealthy individual investors who often invest in technology startups and get an extra credit for investing in bio startups.
The report also found that university bioscience research spending — driven largely by federal grants — rose 12 percent, to $504 million in 2016, after showing a decline from 2013 to 2014.
Arizona received $189 million in National Institutes of Health grants in 2017, the second straight annual increase and a jump from $163 million in 2016.
But competition for research funding remains fierce, and Arizona's share of the nation's NIH funding "has not meaningfully increased over the past decade," the report said.
Among other key findings in the report:
There were 25,686 non-hospital bioscience jobs in Arizona and 116,443 total bioscience jobs in 2016, an increase of about 6,000 total jobs from 2014. Since 2002, Arizona bioscience jobs have increased by 58 percent.
The average salary for a bioscience employee in 2016 was $63,801, about 33 percent higher than the average private-sector wage.
University bioscience technology transfer has shown steady gains, with 33 bioscience startups, 119 patents issued and 131 licenses in 2016 and 2017, and a 57 percent increase in spinout companies over the previous two-year span.
The report said Arizona needs to up its game in research spending, venture capital and bioscience education and workforce development to move the industry forward, and the roadmap plan has set some lofty goals.
Among the goals for 2025 are to reach a "national performance level" for bioscience research revenue or about $782 million annually; invest $500 million to $750 million over 10 years in academic research infrastructure; add five to seven "cornerstone" bio institutions; and strengthen ties with economic partners beyond Arizona to "support industry maturation and specialization."
The next data report will be released in 2020.