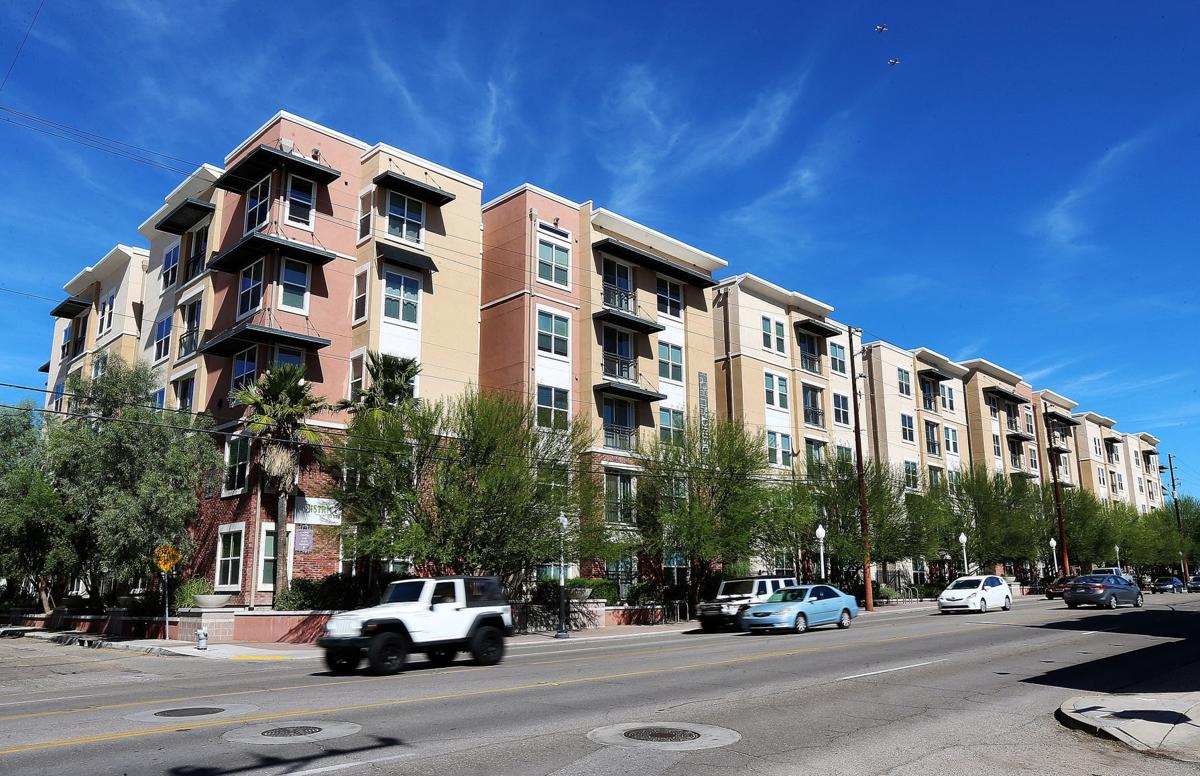 An eye-popping sale of a Tucson student housing complex for nearly $112 million is indicative of how hot that market is and why investor interest is so high in these projects, industry experts say.
New York-based Blackstone Real Estate Income Trust Inc. paid $536,780 per unit to acquire The District on 5th, a 208-unit complex at 550 N. Fifth Ave. It has 764 beds for rent in models with one, two, three and four bedrooms.
The purchase was part of a $1.2 billion buy that Blackstone made of EdR Student Housing Portfolio in a joint venture with Greystar Real Estate Partners.
The total purchase was for 10,500 beds in 20 student-housing projects across the country.
Residential Housing Development LLC, of West Palm Beach, Fla., built The District for about $30 million, and it opened in 2012. That same year, EdR bought it for $66 million.
"When EdR purchased it, we all sat back and said, 'Wow. That's a whole bunch of money,'" said Mike Chapman, senior vice president and multifamily specialist with NAI Horizon, who closely monitors student housing. "It appears, from these high prices, they haven't overbuilt yet."
All student-housing complexes, even those removed from campus, are enjoying occupancy rates in the upper-90 percentile.
"Even conventional apartments that rent to students — but not by the room — have maintained their occupancies," Chapman said. "I think they're going to run out of land before they run out of demand."
Since 2012, 4,070 beds in student-housing complexes have come online in Tucson. During that same time, enrollment at the University of Arizona has increased by 5,595 students, Chapman noted.
Three private student-housing complexes are scheduled to open next summer.
Aspire, on Park Avenue south of Speedway; Hub Three, on Speedway east of Euclid Avenue; and The Mark, on Broadway east of Euclid Avenue, will deliver 372 units with 1,311 beds for rent.
"Absorption rates were astronomical on these properties in Tucson," said Thomas Brophy, director of research for ABI Multifamily. "The price may seem exorbitant, but there's not enough in that pipeline."
He said rising home prices and interest rates are sending would-be buyers into apartments or rental homes, creating competition for students looking to rent. The Tucson metro area is at more than 94 percent occupancy for all rental properties. Developers recognize this and want to invest in projects that are student-specific, Brophy said.
"All of the big investment players are circling Tucson because we have both jobs and population rising," he said. "If you want to live in and around campus, you're having to fight for it now."
Student housing is attractive because it is leasing very well and commands higher rents than typical apartments. Average rental rates for student housing is about $645 per bedroom. For a development such as The District, that comes out to nearly $500,000 a month in rental revenue, or nearly $6 million a year.
In the overall rental market, the average rent has risen 16 percent in the past three years, from $909 to $1,051 a month.