The digital clock ticks on the monitor in an upper corner of a dimly lit room with dark maroon walls. Eerie music softly wafts through the air.
A table holding three small flashlights and hand-held dry-erase boards and pens is surrounded by cabinets, obscure objects and locks. Lots of locks. Padlocks. Cylinder locks. Combination locks. Key locks.
Earlier this month, Jane Newton, a former English teacher, Star photographer Kelly Presnell and I had entered the "The Witching Hour," one of three puzzle rooms at Will You Escape.
Game master Nick Watts, using a British accent, explains the scenario and our goal: We must break into a witch's shop and steal ingredients that will be used to reverse a curse on our friend.
He also tells us the rules: Search the room, find clues to discover keys or combinations to open the locks and solve puzzles. Don't move objects with the company's logo. There is no need for physical force to find clues. Not all objects are clues.
Because the room is rated very difficult, is usually solved by four, more experienced players and Presnell has double duty as player and photographer, Watts joins us; he usually monitors games via computer outside the rooms.
We three players scramble, opening drawers and cabinets — the ones that weren't locked, that is — and explore for clues.
With peeking, probing, paying attention to details, deciphering, using all of our senses — and some gentle prodding from Watts — we steadily solved intriguing puzzles and riddles that reveal the room's secrets and the interwoven solutions and codes to open locks.
The click of each lock and the thud of a cabinet latch being released evoked a bit of joy and sense of accomplishment — we were quite pleased with ourselves.
There were many "Oh wow!" moments when we amazed at the thoughtfulness and cleverness of puzzles.
And yup, we reversed the curse.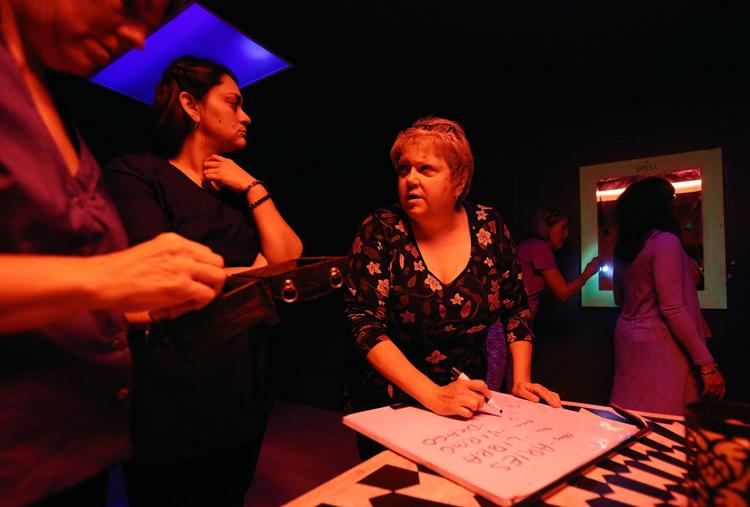 A few days later, a 10-member group from Casa de los Niños, a child and family aid and advocacy organization, gathered at the center of Ace of Escape.
The morning is the group's quarterly team-building exercise, says organizer Joanne Karolzak, Casa's director of child and family services. The group picked the escape room over swimming with sharks in Scottsdale.
Solving the escape room is an opportunity for the group members to work together, exert leadership in different ways, see different thought processes and discover new strengths, says Karolzak.
Ace of Escape co-owner Allison Vivas explains the process and scenario of "The Illusionist," a large room that requires effective communication and collaboration.
The team enters the room and co-owner Kathy Gehlert watches the group on an iPad. The group splits up, which Gehlert says is the right strategy. The room is designed not to have a single player dominate.
There is soon cheering, clapping and laughing.
When the group gets oh-so-close to solving the most difficult puzzle but walks away, Gehlert speaks to the team on a walkie-talkie offering a hint, not the answer.
With a resounding "Oooohhh," it was clear they solved the puzzle.
Escape rooms, a relatively new, expanding entry into the entertainment market, are an immersive team activity that rely on logic, critical thinking, your wits and instincts, and person-to-person interaction and communication. There is no text messaging.
The group of players is "locked" into a room decorated in the theme of a scenario, which can be just about anything: figuring out who a serial killer is, avoiding zombies, solving an asylum-set mystery, finding pirate booty. Ace of Escape has dueling University of Arizona and Arizona State University dorm-themed rooms.
The players have a set time limit, usually 60 minutes, to find clues and hidden hints, solve a series of puzzles and riddles, and unveil the secrets to the escape route or to meet the room's goal.
Live, team-based escape rooms evolved from interactive video games, says AJ Hughes, owner of Escape Room Tucson.
"Crimson Room," created in 2004 by Toshimitsu Takagi, is often credited as the first escape room video game. A Japanese company converted the concept into a live immersive escape game in 2007.
The activity spread quickly across Europe and escape rooms first came to the United States in about 2012, according to Hughes. In July, roomesscapeartist.com reported that there are more than 2,300 escape-room facilities in the United States, up from two dozen in 2014. There are five facilities in Tucson. In January 2016 the Star reported that there were three; one has since closed and three others opened.
They're growing and expanding: Ace of Escape, which opened April 1, 2016 in a 900-square-foot space now has seven rooms in a former downtown office building. Down the Rabbit Hole is moving to a larger spot on East Pima Street and will have more rooms than its current Broadway site.
Fox in a Box Tucson's Neal Sing, who owns the franchise facility with his wife Caitlin Sing, says he is designing and adding a room that will be a Wild West experience.
Escape Room Tucson's Hughes also has a company that has designed and erected 481 rooms around the world.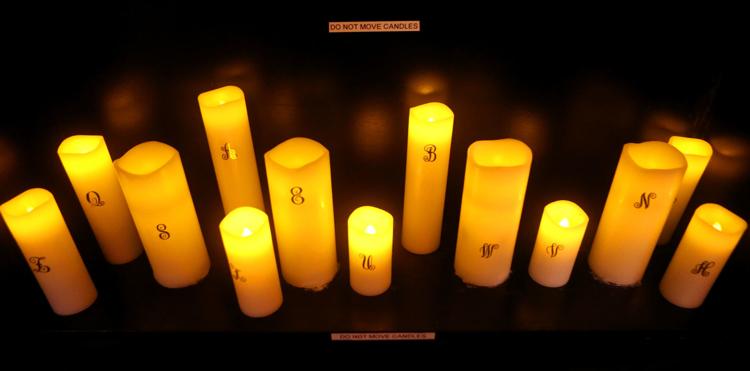 Each escape room has its own personality and style.
Escape rooms are sometimes described by generations: The first generation (gen-1) uses only mechanical devices while gen-2 has electronic puzzles and props, says Don Montgomery, co-owner of Down the Rabbit Hole. As the generation number increases, so does the amount of automation and technology.
Most Tucson escape rooms have both mechanical and electronic gizmos and gadgets. Down the Rabbit Hole sticks with nontechnical puzzles and locks.
Tucson's escape rooms are small businesses and the local owners tap their creativity and imagination to create their rooms, puzzles and businesses.
Ideas come from anywhere: A prop, concept for a game, happy mistakes, says Hughes. Escape room owners often haunt antique and thrift stores and yard sales to pique ideas and furnish their game rooms.
For instance, the concept of Ace of Escape's "Illusionist" started with finding the unusual table that is in the center of the room.
"We looked at the table and said, 'Who would use this?' " and the scenario grew, Vivas says. Likewise, a vintage examination table from the back lot of Saint Vincent de Paul is the centerpiece of "Bad Medicine" and many of the objects in "International Thief" are from the owners' personal collections.
And they'll come to you: Lianá Montgomery, who co-owns Down the Rabbit Hole, says they have designed and developed escape rooms on corporate customers' sites and popup rooms for the Vail School District.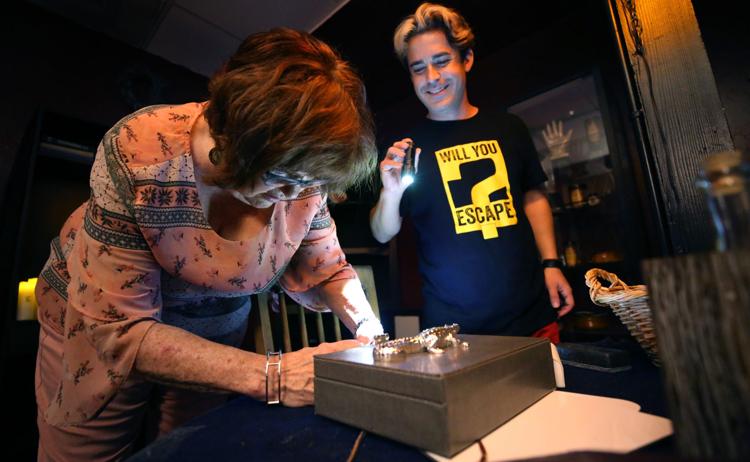 Difficulty varies between scenarios and individual rooms. Rooms typically have about 10 varied puzzles. Owners will help guide newbies to appropriate rooms.
"You want the player to feel challenged, but not too challenged," says Hughes.
Game masters, an escape room employee, will give hints and help guide the flow of the game. The basic rule is three hints per game.
"We don't intervene unless intervention is requested," says Watts, Will You Escape's general manager.
If a group wants additional hints or guidance, it's given. The downside is the team is ineligible to be on the facility's leaderboard.
Owners want the teams to enjoy themselves and have a feeling of satisfaction of solving the puzzles.
"We don't want players to be frustrated," says Vivas.
Watching a grumpy grandpa or a surly, eyeball-rolling teen become fully engaged in the game is one of the most satisfying aspects of escape room, the owners say. It is not uncommon for a teen who was practically dragged into a room to come out asking to play another, says Gehlert.
Escape rooms, an all-ages activity, are especially popular during the Thanksgiving and Christmas season when multiple generations seek something different to do together. Ace of Escape will offer a Christmas-themed room during the holiday season.
Sing says the Fox in a Box university-area location also sees a surge in July; it's an escape from the heat.
Birthday parties for kids and adults are popular, owners say. Sing says engagement parties and proposals are also set in escape rooms.
There are escape-room enthusiasts, some of whom call themselves "escape artists."
Four-member teams stick together and frequent escape rooms trying to make the rooms' leaderboards, says Vivas. Hughes says groups flew into Tucson to tackle one of Escape Room Tucson's difficult rooms.
Generally a player will visit an escape room once every three months, Vivas says.
"We try to emphasize the fun factor over winning or escaping."
Escape rooms require collaboration and cooperation, making them ideal for workplace team-building exercises and holiday parties.
Escape rooms are an opportunity to "work together, all on the same playing field," says Sing.
Escape Room Tucson has an area with a large table and amenities for conferences, parties and other events.
Hughes says the name of the game works at a level other than getting out of a puzzle room: It is also an escape from reality.
When you're in an escape room there are no phones, no politics, no bills, televisions or internet.
"You're immersed in the game," she says.