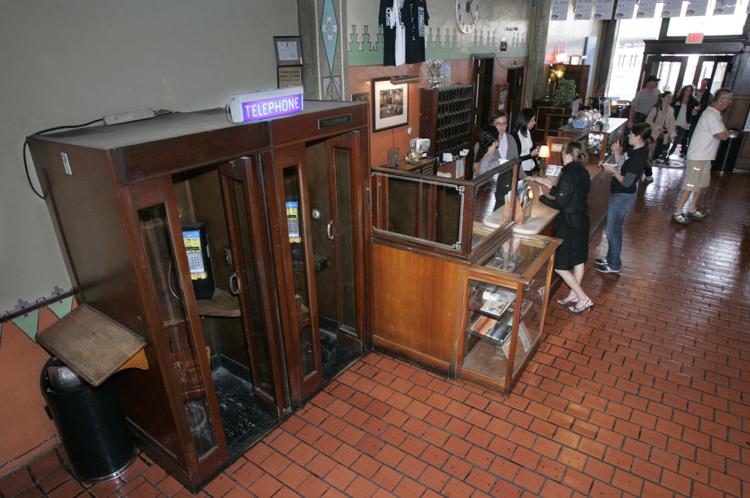 The Hotel Congress has quite a history, and that includes a few ghosts.
Any hotel as old as this one is bound to have had a few tragic events, and the Congress had a devastating fire in 1934. It wasn't the only fire at the hotel. Tragedy brings out the ghosts.
So the hauntings at the hotel are becoming legend.
From a story by Sarah Mauet in the Arizona Daily Star Friday, Oct. 31, 2003:
According to some, Tucson's historic Downtown hotel is definitely haunted.
"Usually when it's quiet they come through," said Shana Oseran, co-owner of Hotel Congress. "They look like normal people ─ they're not transparent or anything. You might see someone out of the corner of your eye and then turn and look and they won't be there."
She is speaking, of course, about the several "permanent" guests who frequent her hotel. Most of the ghosts are seen in the same clothes doing the same things over and over again.
One of the most familiar ghosts is easily recognized by his old-fashioned attire. "A gentleman comes through in a top hat," Oseran said. "He walks through the lobby and sticks his head into the office door if it's open."
Other ghosts have their own routines ─ one always peeks out a top window, another walks through the kitchen, and one, who wears a maid uniform, is always seen cleaning.
Based on an informal Lost Souls investigation, Allan (the subject of the article) concluded that these repeated sightings are the result of enduring impressions of people ─ something a bit like watching a video tape of past events.
"There's definitely a residual effect there," she said. "It's like a movie being played back."
That's not to say that all ghosts are just a video-loop from beyond the grave. Many deceased individuals are active, aware and able to interact with sensitive and receptive people.
Hotel Congress has several of those ghosts as well.
"One night, someone asked me for the woman desk-clerk they had just spoken to," said Oseran, "but we only had a make desk-clerk working that night, so I knew it was one of our ghosts."
She said another resident ghost is able to physically affect its surroundings. "There's one on the second floor that locks the bathroom from the inside and we have to take the door off the hinges to get in," said Oseran. "There's no window in that bathroom so it must be a ghost."
The last two examples are easily explained in other ways, but for those who like a good ghost story, there you have it.
Johanna Eubank is an online content producer for the Arizona Daily Star and tucson.com. Contact her at jeubank@tucson.com
About Tales from the Morgue: The "morgue," is what those in the newspaper business call the archives. Before digital archives, the morgue was a room full of clippings and other files of old newspapers.