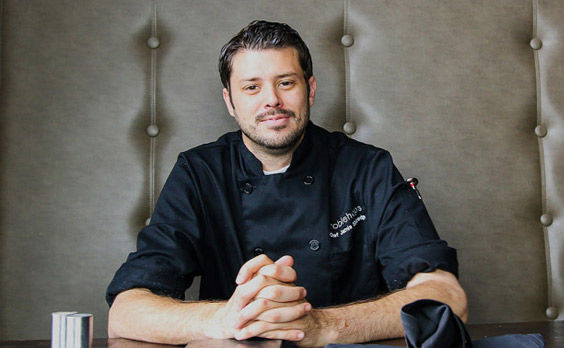 Jamie Eldredge has got game. Lots of game. When the Noble Hops executive chef took over the Oro Valley restaurant's kitchen a little over a year ago, he immediately went to work revamping the menu, bringing in the more traditional European gastropub fare. He has already changed the menu four times.
"I have an obsession with game meat," he admits. "Where else can you find roasted beef bone marrow in Tucson?"
Eldredge's first kitchen job was washing dishes at 15 at Tijuana Flats in Orlando, Florida.
"It was the worst food," he recalls now. "But it was the first place I discovered that I like the kitchen. It's like a war zone, with everyone yelling, throwing things back and forth to expedite … It takes a certain degree of hostility to be a chef."
It was when he moved on to the Walt Disney Swan and Dolphin Resort that he really came to understand that, "food could be so much more than a meal. It can be an experience, a memory."
Eldredge's family moved to Tucson in 2006 and his passion for cooking was squashed after he spent two years working for a national chain. He turned his back on the kitchen, earning a degree in history and a minor in English from the University of Arizona. Working as a sous chef at the Oro Valley Country Club reignited his passion.
"Economics forced me back in to the kitchen, but it made me fall in love with food again," he says.
It is a love he literally wears on his sleeve. On his left arm, he sports a tattoo of a pig, with the major quarters outlined; on his right arm is a similar tattoo of a cow, showing the finer beef parts.
"When my mom saw these, she was upset," he says, laughing. "She asked me what I'd do if I ever gave up being a chef. I told her I'd always have a passion for cooking, so they would still be relevant."
We had some other questions for Eldredge:
How do you feel about cooking shows?
"Cooking shows are making chefs to be like rock stars. This can be a good and a bad thing. I don't think younger people understand how hard you have to work to get there."
What's your favorite cook book?
" 'Kitchen Confidential.'" I love Anthony Bourdain. In the chapter about opening a restaurant … all of the craziness; man could I relate."
What is your comfort food?
"Miso marinated fish, especially sable fish. I'm also a sucker for steak and béarnaise sauce."