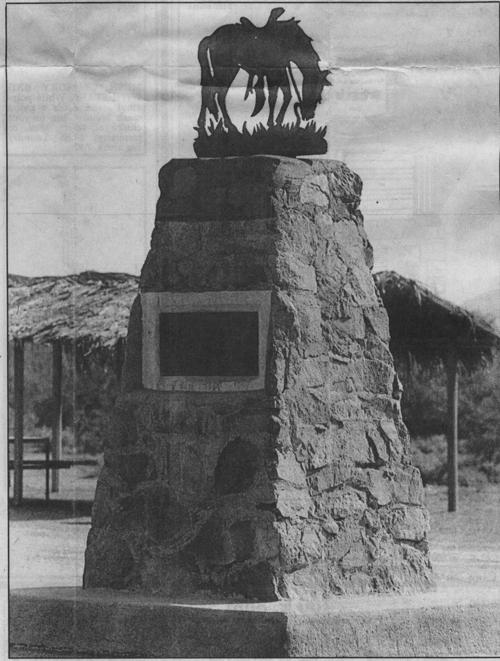 Famous movie cowboy Tom Mix spent his last night in Tucson and was killed in a single car accident on the way to Florence October 12, 1940.
From the Arizona Daily Star, October 13, 1940:
TOM MIX DIES IN AUTO CRASH NEAR FLORENCE
Famed Movie Hero Loses Control of Car on Road Detour
WAS DRIVING ALONG
Wild West Star Left His Film Career After Silent Era
FLORENCE, Ariz., Oct. 12.—(AP)—Tom Mix, 60, cowboy-actor and hero of scores of western thrillers of the silent film era, was killed 18 miles south of here today when he was pinned under his overturned automobile on a highway detour.
Mix, whose colorful career as a circus performer, soldier, law enforcement officer and motion picture star made him the idol of millions the world over, was traveling alone from Tucson to Florence and Phoenix.
Coroner E. O. Devine said Mix apparently died instantly after losing control of his car. There will be no inquest. The body was brought here.
Body Is Found
Two highway employees, John Adams of Oracle, Ariz., and E. A. Armenta of Casa Grande, discovered the overturned vehicle.
Martin Younkers, Beloit, Wis., and Anthony Monts, Rockford, Ill., who said Mix had passed them on the highway north of Tucson, helped pull the actor's body from under his racing model car.
Younkers and Monts said a heavy suit case had fallen against Mix's head, burying his face in the soft ground. A physician reported later the blow broke his neck.
Local investigators said Mix, who left Tucson at 1 p. m., was serving as advance agent for a circus scheduled to show in Phoenix shortly. The cowboy star was carrying $6,000 in cash, $1,500 in travelers' checks and several valuable jewels.
Fifty years after Mix's death, the Tucson Citizen Gave more details as people remembered them.
From the Tucson Citizen, Thursday, October 11, 1990:
End of a legend
Western star met fate here 50 years ago
By John Jennings
Citizen Staff Writer
It was October, but the midafternoon sun glared mercilessly on the crew repairing a highway crossing at a wash 50 miles north of Tucson.
The detour around the work site was clearly marked, wooden barriers had been erected and warning signs were set up far down the road.
In the haze on the southern horizon, a swirl of dust appeared, vanished and appeared again.
Someone was coming. And he was in a hurry.
It was Saturday, Oct. 12, 1940, the time was 2:11 p.m.
•
Seventy-six-year-old Walt Pittinger admits to having a poor memory, but the images of that morning half a century ago are burned forever into his mind.
Pittinger, who had come to Tucson four years previously for his health, had become a news and feature photographer in town.
The Tucson Citizen did not have a full-time photographer of its own at the time, he recalls, so he was Johnny on the spot at any fire, crime scene or society event, hoping to sell his work to the Citizen.
On that Saturday morning — 50 years ago tomorrow — Pittinger was going home before heading out on a photo opportunity. As he hurried down the street, he spied Pima County Sheriff Ed Echols chatting with a tall figure in a white hat.
Walt would have known the other man anywhere — he was Tom Mix, the hero of more than 300 Western films. At 60, Mix was past his prime, but for millions of Americans he still was King of the Cowboys. It would be another 15 years before Roy Rogers would claim the title.
Any other time, Pittinger would have jumped at the chance to snap such a shot, but because he was running a little late, he passed by.
"They were standing there by Mix's automobile, a yellow or creamy colored Cord," Pittinger said. "It was probably about noon — maybe a little before."
•
Ed Echols had known Tom Mix since they were both rodeo performers in 1907. Eventually Mix's smooth-talking, hard-riding style drew the attention of Hollywood producers, and by the 1920s he was a legendary Western movie hero.
His Hollywood biography claimed that he was born in El Paso, Texas, had served alongside Teddy Roosevelt as a Tough Rider in the Spanish-American War and had fought in the Boxer Rebellion in China as well as the Boer War in South Africa. His press agents said he had been a U.S. marshal and a Texas Ranger to boot.
Truth was, Mix was born in Pennsylvania, and some historians say he deserted from the Army.
That he was a tough, stand-up kind of guy, though, can't be disputed. Echols, who died in 1969, often recalled the time he saw Mix break up a drunken cowboy brawl and catch a bullet in his leg for the effort.
Mix was a big hit with the poppet sex, and his affairs with many of Hollywood's leading ladies were legendary. He was married five times and was noted for his hearty appetite for liquor and gambling.
By 1940 his film career was long over, and Mix kept busy by promoting a circus. There was talk about a renewed career in the movies, despite the fact that the advent of "talkies" had coincided with the demise of his film career.
In the movies, Mix's blaze-faced wonder horse, Tony, would prance his way through bad guys' bullets, leap huge chasms and gallop to a maiden's rescue time after time.
Then, when Tom and the beautiful rancher's daughter would lean in for a film-ending kiss, Tony would either nudge Tom toward the girl, or swipe his white hat and spoil the moment.
Tony was the first horse to be a real movie star. He was the ultimate hero's steed when Champion and Trigger were still in ponytails.
•
The dust cloud grew closer, and the highway crew could hear the grumbling roar of a powerful engine. There was an occasional glimpse of a golden object through the mesquite bushes.
•
Mix had been in Las Cruces, N.M., the day before and had spent his one night in Tucson at the downtown Santa Rita Hotel (now the Days Inn), where he had carved his name in the hotel's lore a few years earlier by riding a horse into the lobby.
One of the musicians at the hotel was Maurice Carl, and he said Mix invited them all up to his suite for drinks after the bar closed.
The party in Mix's room broke up about 3 a.m. He told the musicians he needed to get to bed because he had to drive to Florence the next day.
Around noon on Saturday, Mix checked out of the Santa Rita and loaded his custom-built Cord roadster for his trip. Among the luggage in the car's back seat was a large, leather-bound trunk.
Tucson Police officer Dick Lease spoke to Mix that morning at the Santa Rita, as did the hotel manager, Nick Hall; and California artist Gene Sterling.
Echols chatted with his old friend for a few minutes before they shook hands and waved goodbye to each other.
•
The yellow car was getting close now, and the highway workers turned their attention in its direction. They could tell by the sound that it was still coming fast, and they expected to year the engine sound change as the first warning sign came into view of the driver.
There was no change, though. The car kept coming.
•
Tom Mix believed in friends, family and fun. He was to attend the christening of his grandson, Tom Mix III, the next day in Phoenix, and he was in a good mood when he pulled up in front of the bar at Oracle Junction.
Inside, he found his good friend Bud White, and it didn't take much persuading for the Western star to pull up a chair and play a few hands of poker with White, a Californian known as Death Valley Scotty and Ed Flanagan, White' nephew.
A little moonshine whisky was poured out, as were tall tales of bygone times.
Just before 2 p.m., Mix bid his adieu and climbed back in his Cord for the drive north.
He roared off up the highway.
•
The car was plainly visible to the workers now, and there was no doubt that it wasn't going to make the detour.
It was doing about 80 mph when it reached the construction site, and the sudden squeal of tires hardly slowed it at all.
The flashy yellow car slammed through the construction barrier, dove nose-down into the dry, sandy wash, and flipped up on its side. A huge cloud of dust obscured the vehicle as the sound of the crash faded.
Later, Echols would say that an old Arizona cowboy named Adams happened to be the first on the scene.
As the car teetered and the dust began to settle, Adams saw a figure move from beneath the yellow car and start to stand up.
Just then, the large rawhide trunk toppled over, falling on Mix and breaking his neck.
Legend has it that the heavy trunk was full of silver dollars.
There is no verification of that in any of the news stories of the time, but the Associated Press story the Tucson Citizen ran on Monday, Oct. 14, said, "In the car and on his body authorities found jewels, $6,000 in cash and $1,500 in traveler's checks."
Other stories at the time said that Tom Mix died instantly, pinned under the overturned car.
No matter, really. For the Kind of the Cowboys was dead.
It was 2:12 p.m.
•
Police officer Lease was patrolling on the North Side of the city that Saturday afternoon when he stopped a car for speeding.
"There's been an accident back there, and it looks bad," the driver told Lease excitedly. "It's a guy in a yellow Cord."
Lease later said he knew immediately who the victim was, and he radioed the report to police.
"I could hardly believe it," Echols would say. " He had been reported killed so many times."
The Tuesday, Oct. 15 edition of the Tucson Citizen included a picture of the yellow Cord. The only visible damage was a slightly dented front fender on the driver's side.
The next day, 300 friends and family members filed into the Little Church of the Flowers in Glendale, Calif., to say goodbye to Tom Mix. More than 2,000 fans gathered outside.
In the chapel were such Western movie stars as Buck Jones, Harry Carey, William S. Hart, Gene Autry and Gary Cooper.
•
Two years to the day after Tom Mix's death, Tony the Wonder Horse died at the remarkable age of 37.
On Dec. 5, 1947, a crowd of more than 300 gathered at a spot just a couple of hundred yards north of the crash site.
A stone monument was dedicated to Mix.
Gene Autry and ed Echols spoke at the ceremony, and tears flowed freely as Autry's rendition of "Empty Saddles in the Old Corral" drifted out across the quiet desert.
The statue was of a saddled, riderless horse, presumably Tony the Wonder Horse. Thieves stole the statue in 1980 and it was never found. It was replaced a few years later and that statue was stolen in 1989. It was replaced once more and is still along the road to Florence.