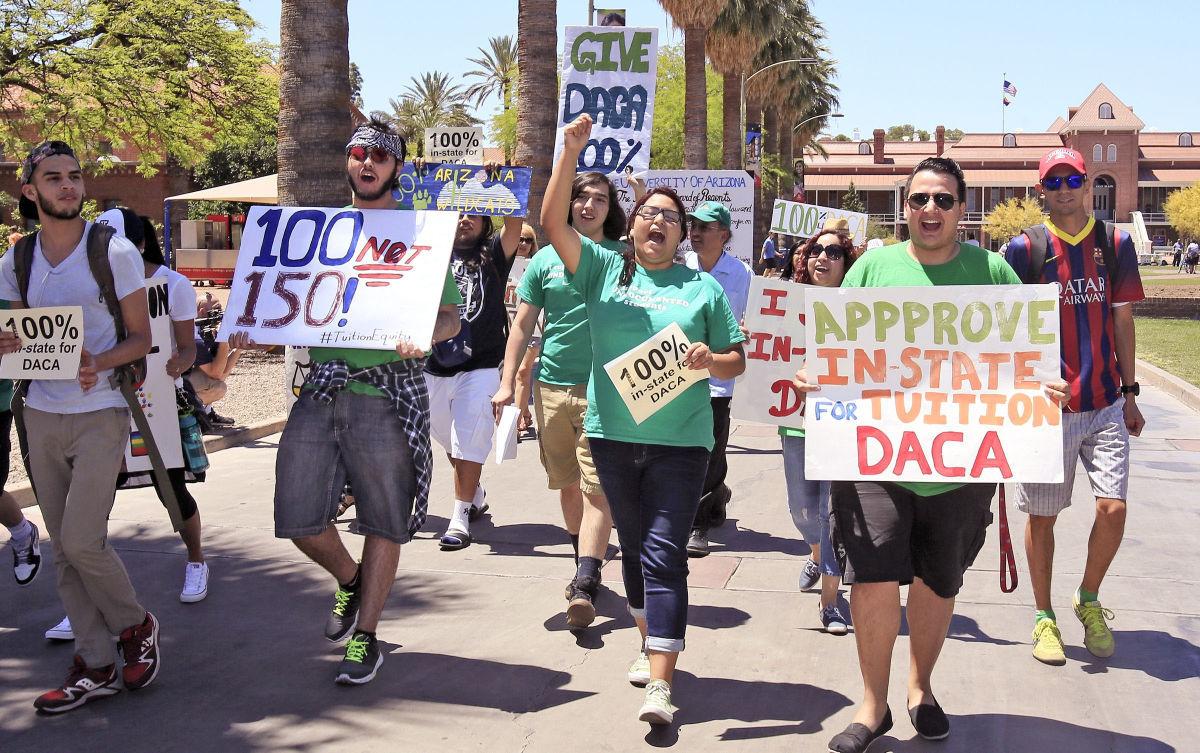 PHOENIX — A little-known policy of the Arizona Board of Regents could blunt the financial effect on DACA students of a new court ruling denying them in-state tuition.
The policy says anyone who is a graduate of an Arizona high school but does not otherwise meet the definition of "residency" can attend any of the state's three universities for 150 percent of what in-state students are charged.
That would still be a financial hit for those affected, pushing tuition at the University of Arizona, for example, up to more than $17,000 a year. By contrast, tuition and mandatory fees for this coming year for continuing Arizona undergrads is $12,228.
But it's still far better than what it would cost if these students were forced to pay full out-of-state tuition of $32,429.
And there may be another option, at least for students who already are in school.
UA and Northern Arizona University have a programs where once a student is enrolled there is a guarantee of no tuition increases for the four years. That raises the question of whether those programs — UA calls it a "guarantee" while NAU terms it a "pledge" — could be seen as an enforceable contract.
But there's also the argument that a contract that is contrary to law is void.
The issue involves a 2006 voter-approved state law that forbids the use of taxpayer funds to subsidize the tuition or fees of people who are "without lawful immigration status."
In 2012 the Obama administration adopted the Deferred Action for Childhood Arrivals, or DACA, program that says people who came to this country illegally as children can remain without fear of deportation if they meet certain other conditions. The so-called "Dreamers" also are given Employment Authorization Documents entitling them to work.
In 2013, the governing board of the Maricopa County Community College District decided that it would accept those EADs as proof that DACA recipients are here legally and entitled to resident tuition. After a trial judge upheld that interpretation in 2015, others followed suit, including the Board of Regents and Pima Community College.
On Tuesday, however, the state Court of Appeals disagreed, saying that while the federal policy permits those in DACA to remain without fear of deportation, they are still here contrary to federal law. Unless overturned, that voids the policies of permitting them in-state tuition.
As it turns out, the universities already have a back-up plan.
Just days before the trial judge ruled in 2015, the regents adopted a modified rate, one specifically designed for DACA recipients. Crafted by Regent Jay Heiler, it sets a special tuition at 150 percent of what a normal resident would pay.
There are two conditions.
First, the student would have to have graduated from a high school in Arizona after having attended school in this state for at least three years.
Second, the student would have to be "lawfully present" in Arizona.
That is a different legal standard than what is in the 2006 law. In fact, a federal appeals court, looking at the separate legal issue of who is entitled to a driver's license, has concluded that DACA recipients are "lawfully present" in the United States by virtue of the policy permitting them to stay.
Heiler made it clear the maneuver was an attempt to provide some financial relief to DACA recipients but not run afoul of the 2006 law. Aside from the wording, Heiler figured the 150 percent figure would be legally justifiable.
"That's the average actual cost of attendance," he said Wednesday in explaining the policy. And that, he said, means there is no use of taxpayer dollars to subsidize tuition.
Regents President Eileen Klein said there is precedent for that 150 percent figure being a fair assessment of actual costs. She pointed out that Arizona participates in the Western Undergraduate Exchange program. It allows residents of other western states to enroll in each other's colleges at a tuition rate of 150 percent of the base residential rate.
The policy has remained in effect — even with DACA recipients until now getting in-state tuition — because its application is broader.
Klein pointed out that it also applies to students who graduated from Arizona high schools but moved away before attending college, thereby losing their residency status. There was no immediate tally late Wednesday of how many students are taking advantage of that rate.
But Klein acknowledged the policy also was designed to provide a legal fallback position should appellate courts rule that DACA recipients are ineligible for in-state tuition — exactly what happened Tuesday.
Heiler said there may be other financial help for DACA recipients.
"There's a lot of private money that I think the universities have access to further assist exactly these students," he said. "And so they'll get their tuition rate bought down further with that private scholarship help."
Heiler noted DACA students are ineligible for any scholarships using state funds. Federal Pell grants also are off limits to them.