There's a new Iron Chef in town.
Chef Wendy Gauthier, of catering company Chef Chic, took the crown June 29 after competing against reigning Iron Chef Brian Smith of Maynards Market & Kitchen. 
The two prepared four courses with the secret ingredient — octopus — for three judges: Chef Consultant Alan Zeman, football player John Fina and three-time Iron Chef winner Ryan Clark of Casino Del Sol.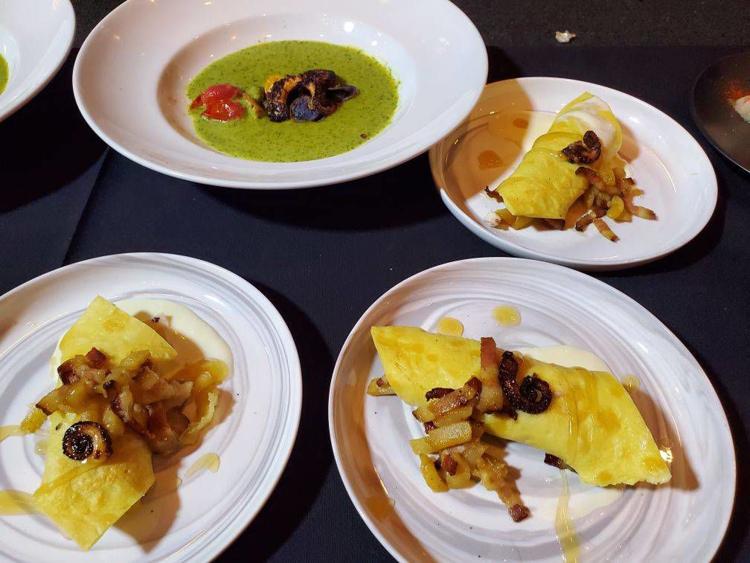 Here's what Gauthier, with the help of her team Lizzy Peraza and Stacy Vernooy, prepared:
Cold jicama sheet enchilada stuffed with shrimp, octopus and vegetables, with a mango puree
Lettuce soup with prickly pear onions and octopus tentacles
Cheddar octopus fritter with a creole sauce and sauteed vegetables
Beer crepe with an octopus apple bacon compote, brie cream and beer cream
"We talked about what we wanted to make for a couple weeks," Gauthier said. "We thought about what we knew we could make — that worked within the time — but was still outside the box."
For instance, Gauthier said lettuce soup isn't very common. And she substituted a tortilla for the jicama sheet in her first course. 
Gauthier was chosen after a blind taste test, in which judges chose three finalists to compete against Smith.
After seven years of hoping to compete, Gauthier was voted in. "I was on Cloud Nine," she said.
Gauthier is also the first woman to ever compete in the local competition, according to Leslie Lois of 94.9 MIXfm, which works with Iron Chef Tucson.
"He's a great chef; he's so talented," she said of Smith. "It was a humbling experience."
"It's finally starting to sink in," she said, adding that she's excited to have been able to show people what she can do.