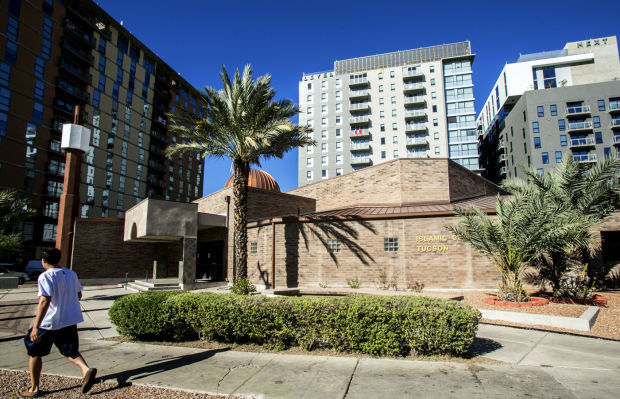 Security patrols will be beefed up while the managements of three high-rise apartment complexes housing UA students work to identify the culprits who have tossed liquor bottles and other objects onto the Islamic Center of Tucson.
The vandalism, which has occurred for more than a year, can seriously injure innocent people, said City Councilman Steve Kozachik, who hosted a Monday meeting with the management of the Level, Next and Hub apartments, representatives from the mosque, officials from the University of Arizona Dean of Students Office and Tucson police.
"I made it clear I don't care if it takes evictions from apartments, filing criminal charges or expulsion from the UA, but this behavior has to stop immediately," said Kozachik.
If persons throwing objects onto the center's property can be identified, they will be evicted, Kozachik, adding that management is going over video from surveillance cameras at the mosque, 901 E. First St., east of North Tyndall Avenue.
Extra video cameras will be put in place by the apartments within the next two weeks that will show sides of the apartment towers that can't be seen on cameras now, Kozachik said. He said apartment managers also committed to not holding parties on the roof-level, or outdoors in the common-areas.
A total of about 1,200 to 1,500 tenants live in the three complexes situated around the mosque.
Tucson Police Capt. Jim Webb said officers will keep an eye on the hot-spot area. He said police are looking at a couple of cases — Nov. 6 and 15 — involving objects being thrown onto the Islamic center's property from the high-rises.
Attorney Keri Silvyn, who represents the owners of the three complexes, said leases allow managers to evict tenants who cause the vandalism. "Residents have been notified of the issues," Silvyn said.
"We want peace and safety and don't want anyone to get hurt," said Kamel Didan, vice chairman of the board of the Islamic center, after the meeting with officials.
Didan said he and others from the mosque do not believe that additional cameras, extra security and increased police patrols will halt all intoxicated students from pitching beer and liquor bottles off their balconies . He thinks netting, screens on the balconies or locking the balconies would put an end to the vandalism the center has experienced .
"Our community does not feel safe for our children, property or parked vehicles," Didan said.