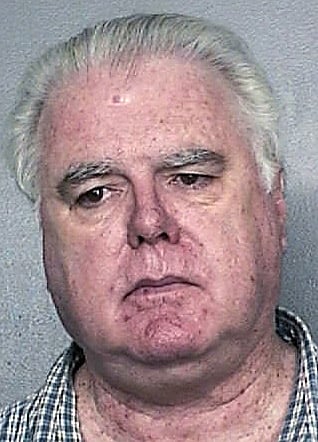 A Pima County jury has convicted a 67-year-old man in the November 1996 pipe-bombing death of commercial real estate developer Gary Triano.
It took the jury 12 hours over two days to convict Ronald Young of conspiracy to commit first-degree murder and of first-degree murder. He is facing life with or without the possibility of parole on each count when he's sentenced on May 3.
Young hung his head and shook it when the verdicts were announced. His attorneys, Walt Palser and Joel Feinman, said they were disappointed but they plan to appeal.
Triano's oldest children, Heather Klindworth and Brian Triano, cried at the news and later hugged two detectives who devoted years to the case.
On Nov. 1, 1996, Triano, age 52, finished a round of golf at La Paloma Country Club around 5:30 p.m. and got into a borrowed Lincoln Town Car to head home, where more than 100 people waited to surprise him for his birthday. He never made it.
A 17-inch pipe bomb filled with 1 pound of smokeless gunpowder was detonated by remote control, killing him.
Triano earned millions investing in Indian gambling halls and other ventures before filing for bankruptcy, and was a one-time City Council candidate.
Police eventually settled on Triano's ex-wife, Pamela Phillips, and her former lover, Ronald Young, as their main suspects.
A month before Triano died, police found a van that had been rented by Young abandoned near his parents' home in Yorba Linda, Calif.
Inside were Phillips' and Triano's divorce papers; a list of people related to Triano, with their car descriptions and where they worked; a map of Tucson; and an 18-day receipt for the Ramada Inn near Triano's house. It was dated July 1996.
Deputy Pima County Attorney Bill McCollum said investigators didn't realize the significance of the items until after Triano's death.
They still weren't enough to obtain an indictment, however. That didn't come until November 2005, when Young was arrested on an unrelated warrant in Florida, and authorities seized his computer, a digital recorder and dozens of computer discs.
During three years of analysis, authorities discovered spreadsheets, e-mails, recorded phone conversations and detailed notes showing that Phillips hired Young to kill Triano for $400,000 plus interest, prosecutors said.
A certified public accountant testified that the first payment of $25,000 was made five months before the killing.
Although they typically spoke only in the vaguest of terms, several of the conversations centered on the rate at which Phillips was paying Young, McCollum and fellow prosecutor Shawn Jensvold told jurors.
McCollum played for jurors a recording made 6 1/2 years after Triano's death on which Young is heard demanding the rest of what he is owed, saying he needed surgery in Mexico. Young warned Phillips that she was "going to be in a woman's prison for murder" if she didn't oblige him.
Young and Phillips were indicted in Triano's death in October 2008. Young was arrested immediately in California. Phillips was arrested in Austria in December 2009 and is awaiting extradition.
McCollum told jurors that Phillips paid Young from a $2 million life insurance policy that Triano had taken out while the couple were still married. Because Triano named Phillips the owner of the policy, he couldn't cancel it after they divorced.
Palser and Feinman, assistant Pima County public defenders, told jurors that prosecutors didn't prove Young killed Triano; they proved only that Young blackmailed Phillips.
When Young told Phillips that she was going to end up in prison if she didn't pay him, she didn't threaten to drag him down with her, and she didn't deny being a murderer. Instead, Phillips simply responded, "Call me back at 4 o'clock," Palser said.
When Phillips told Young that she wanted to go through with "the thing we talked about," she was giving Young permission to find assets she believed Triano was hiding during bankruptcy proceedings, Palser said.
Pima County Superior Court Judge Christopher Browning presided over the trial, which began on Feb. 23.
On StarNet: The At the Courthouse blog, at azstarnet.com/news/blogs/ courthouse, has all of the news from the trial, in case you missed anything.