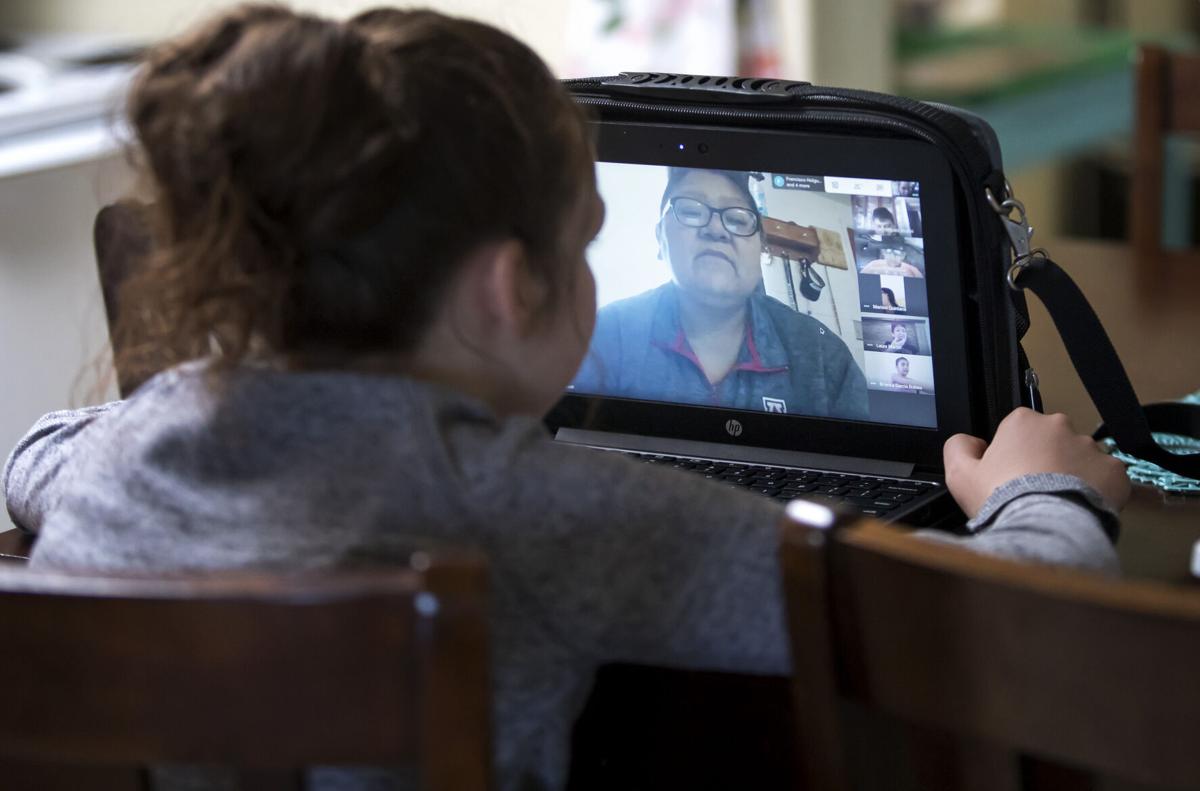 For many Tucson children, next school year will look much closer to normal than it has for the last year and a half. Even masks will be optional in many schools.
Tucson Unified, serving about 42,000 students, will discuss whether to make masks optional at an upcoming board meeting. Ultimately, that decision is up to the board, but Superintendent Gabriel Trujillo has said the district is following CDC guidelines, which still has universal mask-wearing in schools as one of its key COVID-19 prevention strategies.
Other school districts are also considering whether to keep their mask mandate — a prospect that may keep some families with unvaccinated children doing school online.
The Vail School District, for example, made masks optional starting July 1. And some families with younger children have decided to go with the remote option until COVID vaccines become available, says Kelly Pinkerton, Vail's Director of Assessment and Innovative Learning.
But there are other reasons why families may choose remote school, Pinkerton says, including that the flexibility works better with parents' work schedules, families have travel plans during the school year or just because the student prefers remote learning.
All Tucson school districts plan to be fully open for in-person learning next school year, but for families who want to stay remote, most have some online option that, in many cases, is more robust than before. So far, more than 700 Tucson-area children have enrolled in district online programs for the upcoming school year.
School districts keeping a remote option are primarily running a dedicated online school with teachers and resources specific to online, rather than teachers doing double duty with in-person and remote like many did last school year.
TUSD is launching Tucson Unified Virtual Academy, which they're calling TUVA. Enrolled K-12 students will learn from home and have teachers that are exclusively teaching online classes.
The online program will be run out of Santa Rita High, where families can reach support staff by phone or in person, even while the student will stay enrolled at their regular school site.
Keeping the student enrolled in their school means they'll be able to participate in extracurricular clubs, athletics or school events. And if a student wants to return to in-person school at some point in the year, that is an option.
TUVA students will follow a typical school schedule, do both synchronous and asynchronous work, receive support services like counseling and special education services, have the same curriculum standards and instructional pacing calendar as in-person peers, and do all the same district and statewide assessments.
The district will also provide remote students with the devices and hotspots needed for online learning.
The district projects the cost of the online school, which for now will be funded with funds from a federal COVID-relief stimulus package, at $2.42 million for the coming school year, though that estimate is based on having 35 teachers, which could change based on enrollment.
As of June 8, 197 families had selected TUSD's online option, but the district anticipates that number will go up.
TUSD also plans to spend an additional $3 million in WiFi hotspots for families, which will get TUSD a step closer to being a one-to-one district, with every student having access to a device and internet in their home.
While the funding for launching TUVA is coming from a temporary source, the district hopes to keep the online school indefinitely and for it to be self-funded by the end of three years.
Vail has several remote options, including Vail Blended Learning, which the district has had for about a decade and is a combination of online and in-person instruction, and Vail Virtual Live, which is fully remote with dedicated remote teachers. Another component of Vail Virtual Live is Vail Virtual Self-Paced, for students with schedules that don't allow them to be in a virtual class at regular hours.
So far, Vail Virtual has 80 students enrolled, but the district anticipates that number to double before the beginning of the school year.
Vail lost some students in the last year to fully online schools, such as Arizona Virtual Academy, which saw its enrollment nearly double during the pandemic.
"I really believe that we can compete with the other companies out there and the other charters that do this because we have great teachers, and they're going to follow all of the great things that we do in Vail on a daily and weekly basis, but we're not using anybody else's curriculum. We're using our own curriculum," Pinkerton said.
Perhaps one of the most unique ways to attract families who may not be ready or happy with traditional school is Vail's new Micro School.
The Micro School is a support program for K-5 families who are homeschooling, where a dedicated teacher will be working with homeschool families. There will be a classroom in the district for the micro school where enrolled families will have a "buffet of options," Pinkerton says, including reading and math supports, scheduled "read alouds," field trips, PE activities and social activities.
"It's kind of an open book right now," she said. "We're really building the plane as we're flying it, but really trying to make sure that we have supports in case people want supports."
The program will primarily be funded with a grant from A for Arizona, including the teacher's salary and needed supplies, but the district will also get some state funding for the time that students spend on campuses.
The district hopes to have 10 to 30 families enroll in the pilot program.
Amphitheater, serving nearly 12,000 students, has a K12 online option, and anticipates about 450 students will enroll.
Catalina Foothills is still deciding what options it will have for next year.
Flowing Wells, serving about 5,400 students, has an online option for grades 6-12, with 224 students enrolled so far.
Marana Unified has an online option for grades 4-12 that is self-paced for independent learners who are able to prioritize and complete classwork on their own.
Sahuarita Unified, serving about 6,000 students, has an online option with about 220 students enrolled so far.
Sunnyside will have an online option that is self-paced with limited direct interaction with a teacher.
Tanque Verde will be offering some sort of online option.