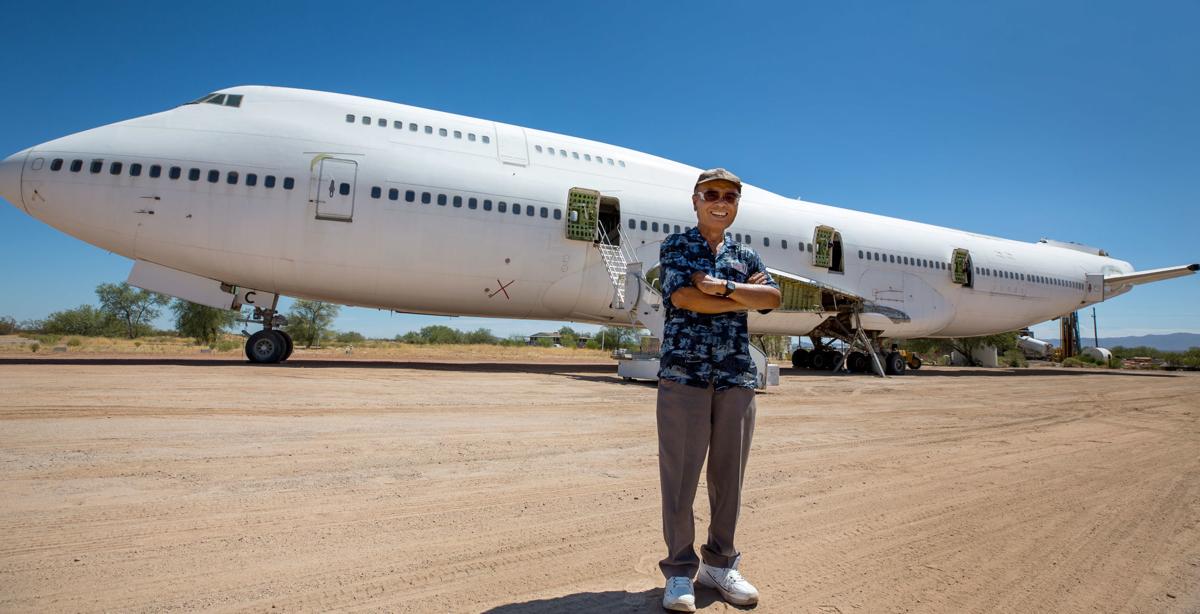 Inventor Toshikazu Tsukii knows how hard it will be to get his next big idea off the ground.
For one thing, the wings aren't attached anymore.
Sometime next year, the retired Raytheon engineer hopes to open a one-of-a-kind aviation-themed store inside the fuselage of an actual 747 jumbo jet parked near Interstate 10 about 30 miles northwest of Tucson.
The airliner-turned-showroom will feature models and designs for Tsukii's patented creations, which include furniture, driveway gates, staircases and entire buildings — all made from old aircraft and their parts.
"I like big things," the 83-year-old said. "My wife thinks I'm more than crazy."
Despite evidence to the contrary, Tsukii insists he's starting small with his shop. Though his 747 contains about 4,100 square feet of potential retail space, he will only use a fraction of it at first to display and sell his inventions.
The rest of the airplane will be fixed up for the enjoyment of visitors, with space for meetings and special events, even weddings.
Tsukii also plans to restore the cockpit to the way it once looked so people can dress up as pilots and pose for pictures.
He said his typical customer will be "somebody crazy, like me, who's interested in aviation history."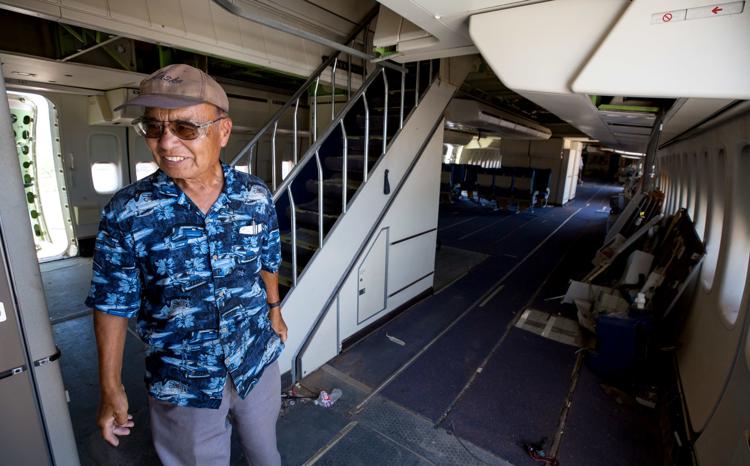 No rest, 26 patents for this retiree
Tsukii was born in Japan in 1937 and served as an air cadet at the Japan National Defense Academy before moving to the United States to study aeronautical engineering, electrical engineering and applied mathematics at Pasadena City College, Wichita State University and the University of Colorado.
He worked for Raytheon for more than 40 years, the last 15 years of it in Tucson, where he served as the missile company's principal engineering fellow.
He retired four years ago, apparently because his job was getting in the way of his side work. Tsukii has registered 26 patents under his own name since then.
He said if someone wants one of his creations, he can have it custom built through his company, AERO Conversion Solutions. If someone wants to start a business based on one of his designs, he can sell a license for the patent, he said.
First, though, he has to get the plans for his repurposed 747 approved by Pinal County.
"It's already built, but it needs a building permit," said Tsukii, whose last name sounds like "ski," so that's what most people call him.
He thinks the timing of his venture is perfect. This year marks the 50th anniversary of the first commercial flight by a Boeing 747 in January 1970.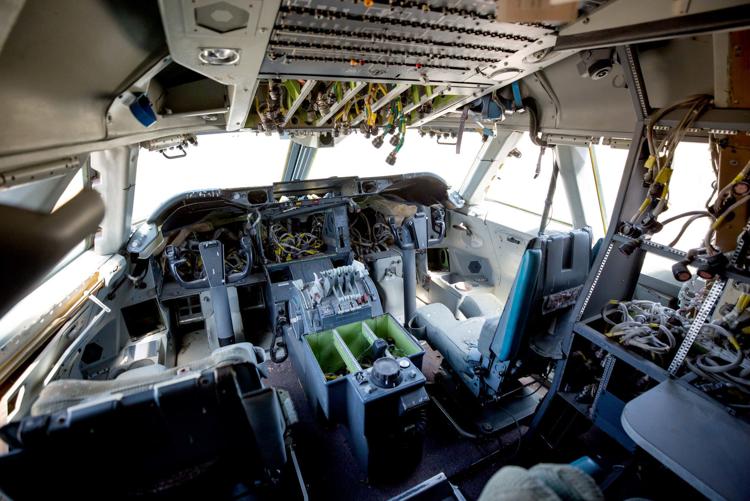 From Brussels to the boneyard
Tsukii developed an affection for 747s when he worked on Raytheon's Patriot Missile program in Japan in the 1990s. The job required him to take dozens of commercial flights back and forth across the Pacific in the famed jumbo jet.
When he went looking to buy one of his own, he said it took him about four years to find one in the condition, price range and location he was looking for.
In its former life, Tsukii's future storefront flew roughly 400 passengers at a time for a commercial carrier called Sabena, which was the national airline of Belgium before it went bankrupt in 2001.
Ads for the failed Brussels-based carrier still hang in the cabin of the aircraft.
According to online records, Sabena operated Tsukii's 747-300 from 1986 until 2000, when the aircraft ended up in the hands of an American investment firm.
It made its final flight roughly 17 years ago, when it landed for the last time at Pinal Airpark to be stored and eventually scavenged for parts and raw materials.
Tsukii declined to say exactly what he paid for it, but the transaction involved "several hundred thousand dollars," he said. A new 747-300 would have cost him about $83 million in 1982, the equivalent of about $227 million today.
Make way for an extremely wide load
Tsukii's old airliner — minus its wings and tail — now sits in a dirt lot on Pinal Airpark Road, a mile and a half west of the interstate.
Towing it there was no easy feat.
The move took place in fits and starts over the last two weekends in June.
The 181-ton airplane had sunk into the dirt after more than 15 years in storage, so the first thing they had to do was jack it up and put gravel under the wheels so they would turn.
Tsukii said he spent hours planning the route to avoid as many obstacles as possible, but they still wound up needing to lift up two sets of live power lines so the three-story-tall aircraft could be towed underneath them.
Another set of power lines was shut off and dropped to the ground long enough for the jumbo jet to roll over the wires.
The moving crew also had to trim some trees and temporarily remove four fences and about a dozen road signs along the 2½-mile path.
The diciest moment came when the 232-foot-long aircraft was towed between two one-story buildings so close together that its horizontal stabilizers passed directly above their roofs. From there, the 747 rolled through a parking lot, just a few feet away from the front door of the Pinal Airpark's bar and grill.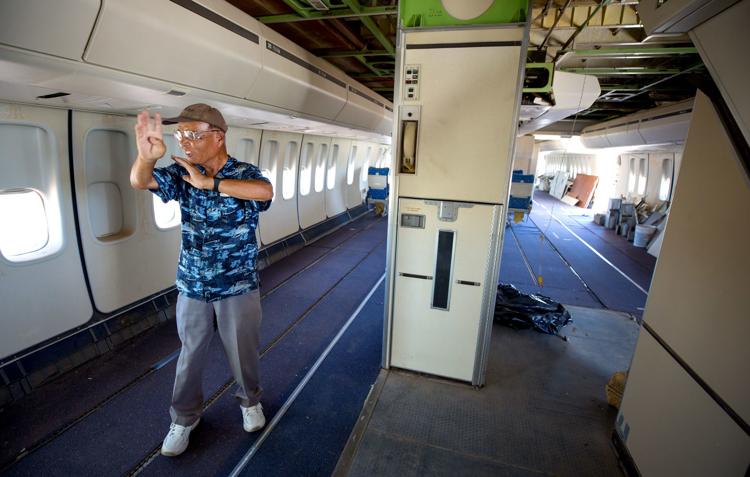 The tortoise and the jumbo jet
Tsukii said they started the journey in the afternoon on June 19 but only made it about a third of the way before they had to quit for the night.
He led the procession in his beat up, old Dodge pickup, driving the route in reverse so he could watch the airplane's progress through his windshield.
When it moved at all, it moved slowly enough for someone to walk beside it without getting left behind. At one point, as a joke, someone put their pet tortoise in the road ahead of the tow tractor to see if the 747 could keep up with the reptile.
The trip hit a snag at the very end on June 20, when the crew discovered the entrance road into Tsukii's property wasn't wide enough for the 90-degree turn the jumbo jet needed to make to get off Pinal Airpark Road.
They had to leave the 747 on the side of the road between Tsukii's lot and the airpark so they could widen the entrance road and finish the move a week later.
Since then, Tsukii and his small crew of employees have been cleaning up and arranging things inside the aircraft. The 747 has 14 toilets and 195 windows, so Tsukii joked that he is always looking for volunteers to help out.
It will take a lot of effort and expertise to get the airliner ready to welcome people on board for the first time in almost two decades. It will also require a few additions, including an elevator so visitors can access Tsukii's store without having to climb the stairs.
"I tell everybody this work is not plane simple," he said, smiling at his pun.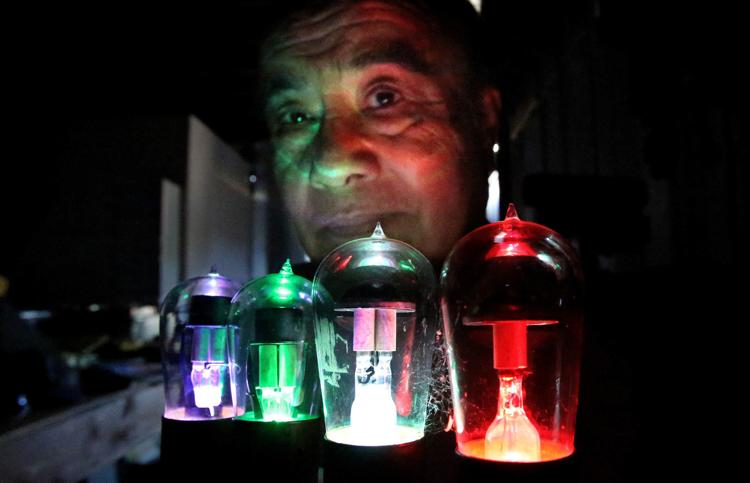 A life of trying out new things
Tsukii isn't flying by the seat of his pants here.
In addition to his work as an engineer, he's a licensed pilot and flight instructor who still goes up in one of his two Cessnas a couple of times a month.
And he knows how to repurpose old airplanes. The guest house at his home in Oro Valley's La Cholla Airpark is made from the nose cone of a 737, the fuselage of two 707s and the tail section of a 727. His nearby swimming pool is encased in the fuselage of a different 747.
"I can't think of my life without airplanes involved," he said.
Tsukii has even designed — and patented — his own aviation-themed casket, complete with a propeller, wings and a tail that fold up for easy burial after its passenger reaches the final destination.
Though his time at Raytheon was certainly rewarding, Tsukii said he sometimes regrets waiting so long to strike out on his own in search of "more fun, more challenges and more risks."
Even so, he's proud to count himself as a member of five different professions: engineer, aviator, inventor, architect and artist.
"The best way to describe my life is moving forward by trying out new things," he said. "I'll probably come up with a sixth thing when I'm 90. Maybe musician."
Eventually, Tsukii hopes to secure a different piece of land right next to I-10, so passing motorists will see his 747 from the highway and stop to take a look.
With enough traffic, he said, he might even open a small sushi restaurant inside the jetliner some day. Or an exclusive hotel with window-seat views for $747 a night, he said with a laugh.
Until then, Tsukii plans to open for business where his jumbo jet now sits along Pinal Airpark Road.
He said he owns almost 4 acres at the site, enough room for two more 747s.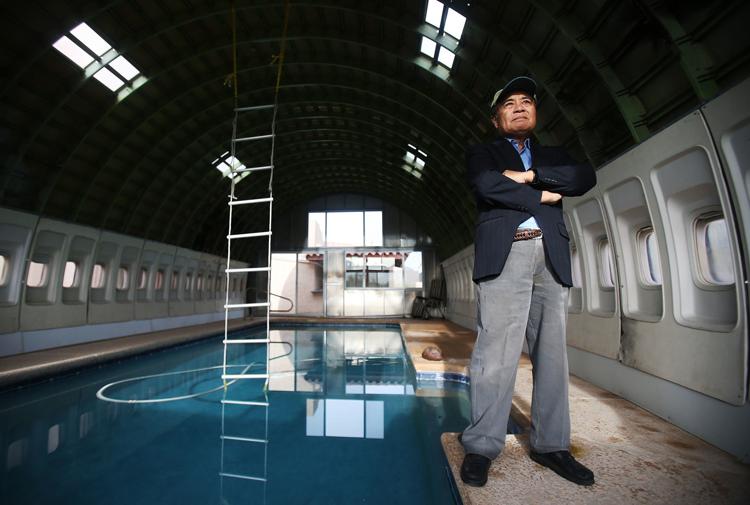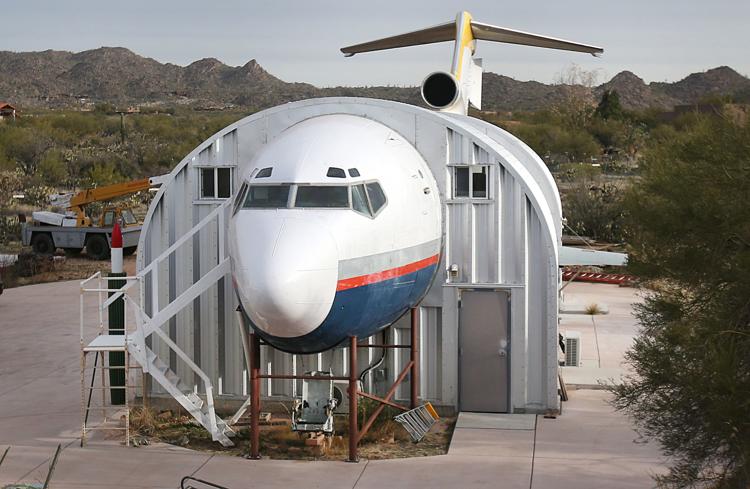 Contact reporter Henry Brean at hbrean@tucson.com or 520-573 4283. On Twitter: @RefriedBrean.