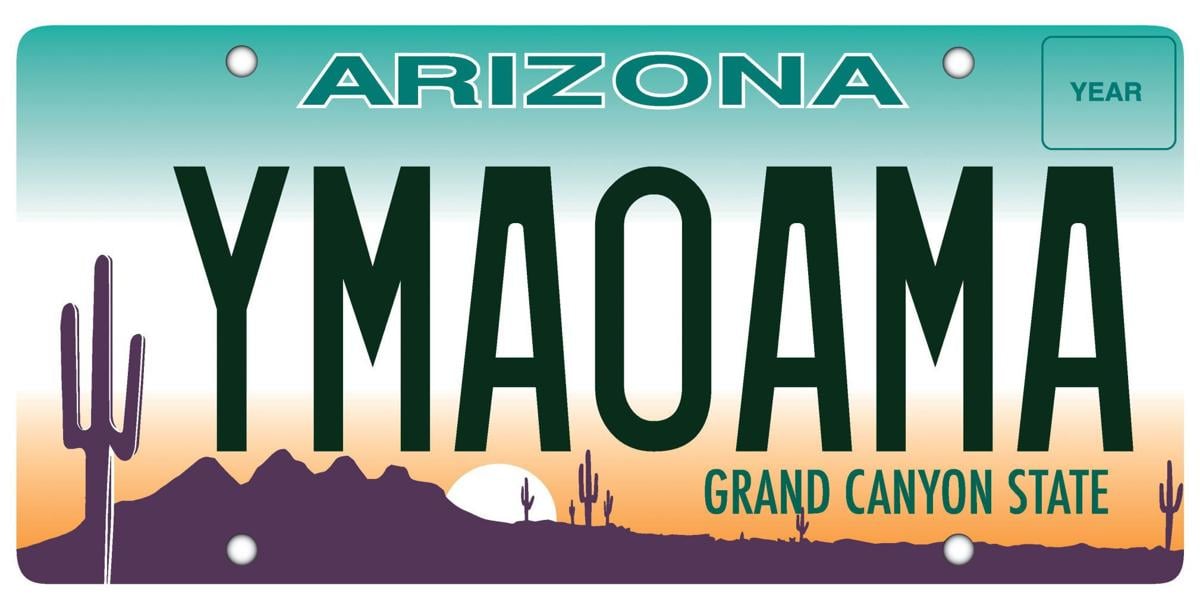 The days of only finding Arizona license plates with sequential numbers and letters are over, the Arizona Department of Transportation says.
ADOT's new computer system installed in late April now gives the department the ability to produce randomly sequenced plates for vehicles. It's a move allowing for a "virtually unlimited supply" of letters and numbers that can fit on plates, including standard and a growing list of specialty plates, the department said.
"So with the switchover, it gave us a lot more flexibility in terms of how the numbers are arranged for license plates, which for the consumer the most notable thing would be we were able to do a lot more specialty plates," said Douglas Nick, ADOT's assistant communications director for customer outreach.
The previous system used for more than 35 years had limitations, especially when issuing smaller plates to be fastened onto motorcycles. "The old system was basically maxed out in terms of how many keys we had available," Nick said.
Specialty plates have seen a consistent revenue jump in the last five years, from $8.7 million in fiscal year 2015 to $11.2 million in fiscal year 2019.
The plate fees also provide funds for charitable organizations. The system is also set up to provide $17 of the $25 initial application fee to charitable organizations connected with the plate of choice.
The plate fees supports organizations like those connected to the U.S. Marine Corps specialty plate. The money generated supports the Marine Corps Scholarship Foundation, providing scholarships for college or trade schools to the children of Marines, Navy corpsmen, Navy chaplains or religious programs specialists attached to a Marine unit, the foundation said.
"Since the program's inception in 2015, almost 23,000 plates have been sold, generating hundreds of scholarships for our very own Arizona students to universities, colleges and technical schools," according to the foundation.
So far in the 2020 fiscal year some of the most popular specialty plates support military veterans, first responders and Arizona Cardinals charities. In total, $9.2 million has been raised from all specialty plates sold this fiscal year.
Arizonans can expect more plates to be added in the future, Nick said.
The new plates will soon support organizations connected with Habitat for Humanity, the Fiesta Bowl and Alzheimer's Awareness, among others.
With an increased capacity to deliver license plates of all kinds, the Motor Vehicle Division is set for anticipated increases in registered vehicles.
In 2019, there were 8.8 million registered vehicles, an increase from 8.5 million registered vehicles in 2018. The numbers reflect all vehicle types needing a license plate.
"You can assume that there will be a growth in the number of registered vehicles of all types just as the population itself grows rapidly," Nick said.
"That's commercial trailers, government-owned vehicles, mopeds, motorcycles, passenger cars, rental cars, taxis, buses, everything.
Down the Road
Mission Road repairs: Construction crews will start road repairs along Mission Road between Helmet Peak and Twin Buttes roads on Monday.
Crews will work from 6 a.m. to 5 p.m. The project should be finished by Aug. 10.
Motorists should expect minor delays while being directed by flaggers and a pilot car through the work zone.
Contact Star reporter Shaq Davis at 573-4218 or sdavis@tucson.com
On Twitter: @ShaqDavis1
Get local news delivered to your inbox!
Subscribe to our Daily Headlines newsletter.