Star contributor Jon Gold lists the A-to-Z of Arizona basketball under coach Lute Olson.
A is for Arenas. Olson was a wiz at making already good players better, and Gilbert Arenas is a perfect example. When Arenas arrived in Tucson out of Grant High in Southern California, he brimmed with potential, even if his game was a bit wild. Olson helped Arenas rein in his decision-making, and Arenas averaged 15.4 points as a freshman then 16.2 as a sophomore before being selected with the No. 31 pick in the 2001 NBA draft. "Agent Zero" then blossomed into one of the best second-round picks in NBA history, and he still credits Olson for his foundational impact.
B is for Bobbi. Olson met Roberta Rae Russell when he was 17 years old, married Bobbi when he was a college sophomore and remained enamored with her until her untimely death from ovarian cancer on Jan. 1, 2001. As popular as Lute is in Tucson, Bobbi may have been even more so.
C is for Craig. Olson's first major recruit for Arizona, Craig McMillan was the Wildcats' first McDonald's All-American. In a way, he opened the floodgates. In future years, Olson would land guys like Sean Elliott and Sean Rooks, Mike Bibby and Richard Jefferson. A member of Arizona's first Final Four squad in 1988, McMillan would go on to have a very Lute-like life as well, finding a home at Santa Rosa Junior College in Northern California, where he's won a national championship and numerous coaching honors and conference titles in nearly two decades at the school.
D is for Damon. One of the best four-year players in Arizona history, Damon Stoudamire became one of Olson's most beloved. Mighty Mouse helped lead the Wildcats to the 1994 Final Four, shared Pac-10 Player of the Year honors with Ed O'Bannon in 1995 and went on to a fruitful NBA career. Watching him ascend in the coaching ranks must've been especially gratifying for Olson, as Stoudamire has the University of Pacific Tigers on the rise.
E is for Elliott. Is there a Lute Olson in Tucson without Sean Elliott? Sure. But for how long? Landing the homegrown hero was a coup for Olson, and their collaborative success brought the coach quick success in Tucson, and helped him cement his local legacy.
F is for Final Four. Olson led five teams to college basketball's ultimate weekend, once with Iowa and four times with the Wildcats. That figure ties him with four other legends — Jim Boeheim, Bobby Knight, Guy Lewis and Rick Pitino — for eighth place on the all-time list. What really stands out, though, is Olson's lasting relevance, as he first took the Hawkeyes to the Final Four in 1980 and last took the Cats to the promised land in 2001. Arizona hasn't been back since.
G is for Grand Forks. Before his senior year of high school, Olson transferred from North Dakota's Mayville High to Grand Forks, which won the state championship in his lone season. Olson's arrival is credited for the title. "If Lute hadn't come to Grand Forks, I don't think we would have won state," teammate Frank Miller told the Grand Forks Herald in 1991. "He made the difference. He was a strong player and everybody looked up to him. He was a leader."
H is for Hall of Fame. How's this for a story: Olson missed his induction into the Basketball Hall of Fame in 2002 because he was in Italy for his son's wedding. Doesn't that say everything about him? Olson was honored that day along with Larry Brown and famed women's coach Kay Yow.
I is for Iowa. Olson got his start in Long Beach, but he earned his bones in Iowa City. It didn't take long for Olson to turn things around: After a 10-16 debut in 1974-75, Olson led the Hawkeyes to a nine-game turnaround, then won 20 games in six of the next seven seasons. The high point? Iowa's 1980 Final Four berth as a No. 5 seed.
J is for Jason. Olson had a thing for Jasons. A year after Jason Terry exited following one of the most sensational seasons in UA history, when he averaged 21.9 points per game in 38.2 minutes for the '98-99 Cats, Jason Gardner arrived in Tucson. Gardner continued to do the name proud, as he too scored more than 20 points per game as a junior.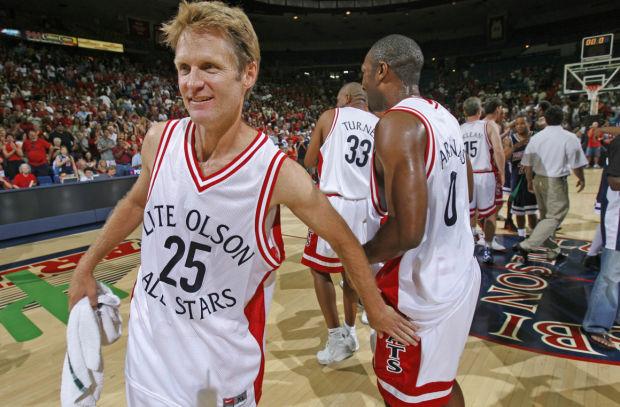 K is for Kerr. Arguably Olson's most prominent protégé, Steve Kerr was an unheralded recruit when Olson plucked him from Palisades High School in Los Angeles. Kerr averaged more than 11 points per game in his four-year Arizona career, helping guide the Wildcats to the 1988 Final Four. Of course, he'd go on to bigger and better things as a title-winning NBA player and coach.
L is for Lester. Ronnie Lester, a star for Iowa out of Chicago, was Olson's first All-American, and the standard by which Olson would gauge his subsequent stars. Lester helped guide the Hawkeyes to the 1980 Final Four, and, had he not been injured 12 minutes into the team's loss to Louisville, Olson believes Iowa would've won the national title.
M is for Mike, Michael and Miles. The M&M&M trio of Mike Bibby, Michael Dickerson and Miles Simon was perhaps the top triumvirate to lace up for Lute. Things came together for the gifted trio in the 1997 NCAA Tournament, when the Wildcats reeled off six straight wins. While Dickerson was bottled up by Kentucky in the title game, Bibby and Simon combined for 49 points, 30 from Simon alone.
N is for North Dakota. The Peace Garden State was the place of Olson's birth, and it remained a piece of him until his final days. Olson was born on a farm outside of tiny Mayville, North Dakota.
O is for Owes. One of the fastest risers of Olson's tenure, Ray Owes goes down as one of Olson's best turnaround stories. Owes averaged just six minutes per game as a freshman but blossomed as an upperclassman, averaging 12.9 points per game as a junior and 15.1 points per game as a senior in 1995, when he was named to the all-conference team.
P is for "Point Guard U." From Eddie Smith to Mustafa Shakur, Olson played the biggest role in turning Arizona into "Point Guard U."
Q is for quality wins. Arizona had a penchant for rising to the occasion under Olson, but never before or after like it did in 1997. Never a stranger to top-5 wins, the Wildcats defeated three No. 1 seeds on their way to the 1997 title, the only team in history to knock off three top seeds.
R is for regional power. For more than two decades, Arizona was not just the class of the Pac-10, but of the West. The Wildcats won or tied for 10 Pac-10 titles during Olson's tenure, and for those who wondered who would assume the Best in the West mantle from UCLA, that would be Arizona. The '97 title remains the last for a team west of Kansas.
S is for Santa Clara. A good coach learns from his mistakes. A great coach learns from his mistakes and is humble enough to put that humility into play. After the Wildcats were upset by Santa Clara in the first round of the '93 NCAA Tournament, Olson gathered his prodigious backcourt of Khalid Reeves and Damon Stoudamire and pledged to let them run. And run they did, all the way to the '94 Final Four.
T is for Tucson. Much like Mike Krzyzewski is synonymous with Durham despite beginning his career elsewhere, Lute Olson was Tucson. Arguably the most famous man in town, he was a beloved figure inside McKale Center and out.
U is for UCLA. Maybe Olson's greatest foil, the UCLA Bruins were the standard out West. Before Olson's tenure, the Bruins had beaten the Wildcats all but twice. A 53-52 Arizona win on Jan. 19, 1985, set the stage for years to come, with the Wildcats winning 27 of their next 43 matchups.
V is for victories. Olson won 776 games in his 34 years as head coach, an average of nearly 23 wins per season. He won 587 games during his UA days, with just 190 losses. Incredibly, Olson won at least 20 games in all but two of his 24 years with Arizona, his first (1983-84) and his fourth.
W is for Walton. How did Olson pry Luke Walton away from UCLA, the alma mater of the great Bill Walton? Well, it helped that Olson was a disciple of John Wooden, who guided the elder Walton through his college career.
X is for X's and O's. Olson was not just regarded as a player's coach, with the ability to connect on a human level with his squad, but as a brilliant tactician. And never one to rest on his laurels, Olson reinvented himself later in his career, molding the "Tucson Skyline" into Point Guard U.
Y is for Yazzie. Olson did not just have the ability to get the best out of his own players, but opposing players, as well. On Nov. 24, 2003, Northern Arizona's Kodiak Yazzie had the game of his life against the Wildcats, scoring 16 points, albeit in a 34-point loss.
Z is for Zahn. One of just two Wildcats whose names started with Z (Michael Zeno, if you're wondering), Andrew Zahn proved that Olson was not infallible on the recruiting trail. Zahn, the 54th-rated recruit in the nation, played just one year for Arizona (2002) before transferring to Biola.
Be the first to know
Get local news delivered to your inbox!