LOS ANGELES — Every time ESPN's Rachel Nichols mentions a former Arizona Wildcat during her one-hour show, her three producers pipe up with the UA's rallying cry.
It's loud enough for the microphones to pick up.
Nichols attended Northwestern, a university that has produced exactly one NBA player in the last 20 years. The ratio of Arizona-to-Northwestern mentions on "The Jump," which focuses on the NBA, is 15-to-1.
"Might even be more than that," says Eitan Cramer, a UA graduate and producer on "The Jump." "Rachel is proud of her alma mater, but the Wildcat influence that we have as a staff is really prevalent — especially when a former Wildcat is mentioned like Aaron Gordon, Andre Iguodala. Or even yesterday, (when) Chase Budinger came up."
Cramer is one of three Arizona graduates who help put together the afternoon show five days a week. The other two UA grads are Danny Corrales and Michael Schwartz.
Corrales, a Tucson native and Pueblo High School product, comes from a family filled with Arizona basketball crazies.
"My mom cashed in her 401K check and took my family to the 1997 Final Four in Indianapolis," Corrales said.
His dedication to the UA only grew when he went to college; from 2003-07, Corrales served as a student manager under Hall of Fame coach Lute Olson. Corrales worked for Enterprise Rent-A-Car out of college, and was recruited by ESPN in 2008. He said his experience in the UA program made him an intriguing job candidate.
"To get into ESPN, I feel like that was mainly Coach Olson," he said. "University of Arizona got me through the door."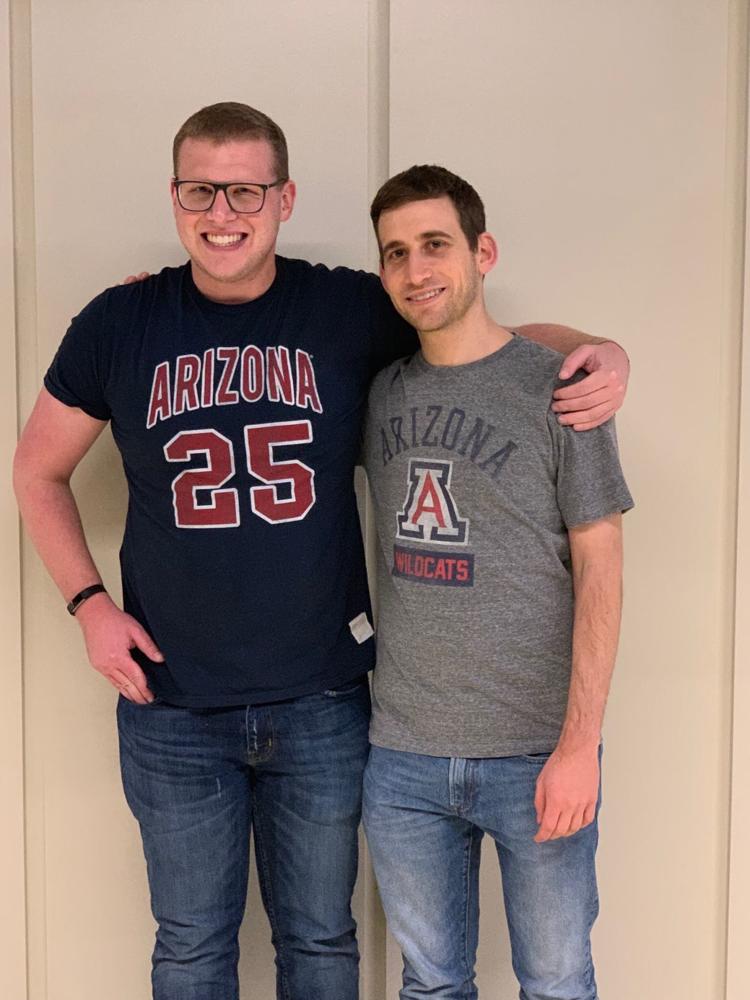 Schwartz and Cramer never worked for the program, but their passion for the Wildcats is the same. Schwartz worked in student media at UA, writing for the Daily Wildcat and producing a UATV show, "Dorm Room Sports Chat," before graduating in 2008. He then ran The Valley of the Suns, a blog about the Phoenix Suns, where he worked with Mike Schmitz — another UA grad who now works as an NBA Draft analyst for ESPN.
Cramer produced KVOA's "CatsCast," a web-only Wildcats sports show, before moving on to ESPN out of college.
Cramer, Corrales and Schwartz each moved west after ESPN opened its Los Angeles studios in 2009. Their mutual alma mater made it easy to get along.
"It was probably a little bit of a coincidence, but it just goes to show how us Arizona people love basketball," Schwartz said. "One of the reasons why I went to the U of A was to cover the basketball team."
"The Jump" debuted in 2016, with Nichols as the host and face of the show. Corrales, Schwartz and Cramer are producers with different jobs. Corrales handles the overall rundown of the show along with statistics. Schwartz creates graphics and adds in-depth stats, while Cramer produces the graphics and videos that go into the show.
Friday's episode of "The Jump" included a panel discussion featuring NBA insider Zach Lowe and former NBA star Scottie Pippen. They talked about the upcoming NBA All-Star Game and Denver Nuggets star Nikola Jokic's one-game suspension, speculated about the trade deadline, and came up with nicknames for former NBA star Bill Russell. They broke down James Harden's skill as a step-back shooter.
It's a show by and for basketball nerds. And it's a lot of hard work.
Each day begins with a 7:30 a.m. talent meeting, followed by four hours of show prep. The show airs at 1:30 p.m., Tucson time, on ESPN2. Sometimes, Nichols will give a shout out to her producers and their basketball-crazy university.
Corrales said he feels like he was meant to be at ESPN.
"At times it's surreal, but mostly it feels organic for who I am and who I'm raised to be," he said.
Like many sports media jobs, working for "The Jump" requires long hours — especially during the NBA Playoffs. But Cramer, Corrales and Schwartz each have a collective passion for basketball. Heck, their office is located 50 steps from Staples Center, home of both the NBA's Lakers and Clippers.
"ESPN has always been the goal. We've watched ESPN ever since we were little kids and I've always wanted to work in sports media and I've always seen ESPN as the No. 1 giant," Schwartz said. "It's really cool. I have a lot of pride coming in to work and seeing the four letters, E-S-P-N, and know that I have a hand in it."