Before going on the final road trip of the regular season to the Bay Area last week, Arizona women's basketball coach Adia Barnes talked about the number of upsets that occur this time of year. Her team nearly delivered.
Arizona fell to No. 7 Stanford by two points when Aari McDonald's 3-point shot at the buzzer rimmed out.
Two days later, the Wildcats blew a 20-point, third-quarter lead at Cal and eventually lost in overtime.
It's been a long time since the UA has been competitive like this.
Barnes and her squad will have two more opportunities to pull off an upset this weekend. Sixth-ranked Oregon (25-3, 14-2 Pac-12) comes in Friday night; the Wildcats will take on No. 9 Oregon State (23-5, 13-3) at 3 p.m. Sunday. This weekend marks the first time the Wildcats have faced a pair of top-10 teams in the same weekend at McKale Center since 2003.
"(Last weekend) showed us we can play with anybody in the country and we can defend anybody in the country at times when we are playing disciplined," said Barnes. "But it's also tough to finish Stanford-Cal-Oregon-Oregon State. That's a pretty darn tough four games. But what are you going to do?
"I always say to my kids, 'We have no pressure.' Because Oregon is supposed to come in here and beat us. Oregon State is supposed to come in here and beat us. So they have more pressure than we do. If we win, we win. If we don't, no one thinks we should win anyway. That should make us feel good."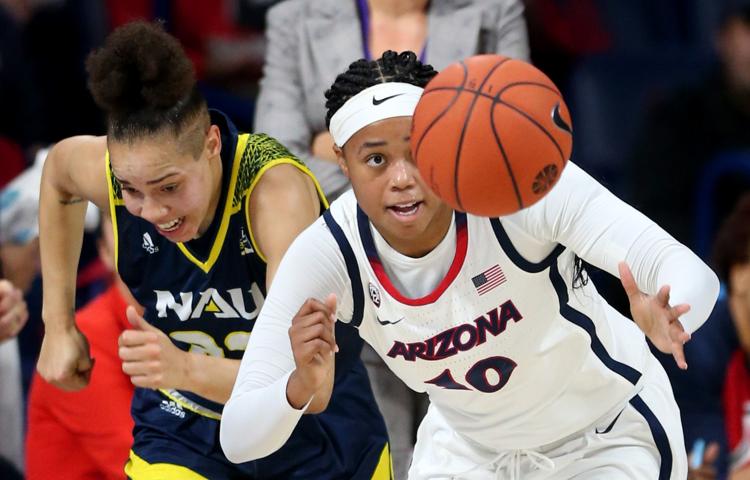 The Wildcats, who appear to be playing some of their best basketball, expect a different result this weekend.
"I can't necessarily pinpoint one thing, but at a certain point you get tired of losing," said senior guard Tee Tee Starks. "Any competitor doesn't want to lose. So when you have a team of them, there's going to be a little extra something everyone is going to give. Somebody is going to give a couple minutes harder on defense, somebody is going to give two more rebounds and somebody is going to give three more points. They are going to dig in and get you a little bit of something to get you over that hump and win those games we're supposed to win.
"I think we just want to win. We want to do great stuff. We want to achieve the goals we set out to achieve. I think when it became reachable for us, I think that's when it kicked in."
It also comes down to coaching. Barnes has found the way to get the most out of her players at the right time of year. It started in the beginning with instilling confidence, trust and belief.
"Coach Barnes believes in us. She has believed in us from Day 1," Starks said. "She believed in us when we went on an 11-game winning streak. She believed in us when we lost three straight. She never lost that faith, that belief in us. She preaches that every day, which is a reason I respect her. If your head coach doesn't believe in you, it's hard to win games. The situation for us is that she believes in us, our coaching staff believes is us, and we believe in each other. That's why we've been able to have the success we've had this season."
Barnes is also in charge of boosting morale. As part of a scavenger hunt on Tuesday, the players ran around McKale Center taking photos in the gymnastics area and with the Lute Olson statue. They made sand angels in the sand pit, and later took trick shots.
Yet Barnes thinks there is one thing contributing to the Wildcats success right now.
"They truly believe we can do special things," she said.
Rim shots
Barnes and the Wildcats gained a verbal commitment for the 2019-20 season on Wednesday from Helena Pueyo, a 6-foot wing from Spain. Pueyo is the latest in UA's so far all-international class of 2019. Arizona already has commitments from forward Sevval Gul of Turkey, forward Birna Benonysdottir of Iceland, guard Mara Mote of Latvia, guard Tara Manumaleuga of Australia and guard Derin Erdogan of Turkey. Playing for the U17 Spanish team in the FIBA World Cup last summer, Pueyo averaged 8.7 points, four rebounds and 2.1 assists per game. She plays for Segle XXI in Barcelona and averages 12.8 points, 3.7 rebounds, and 2.2 assists per game.