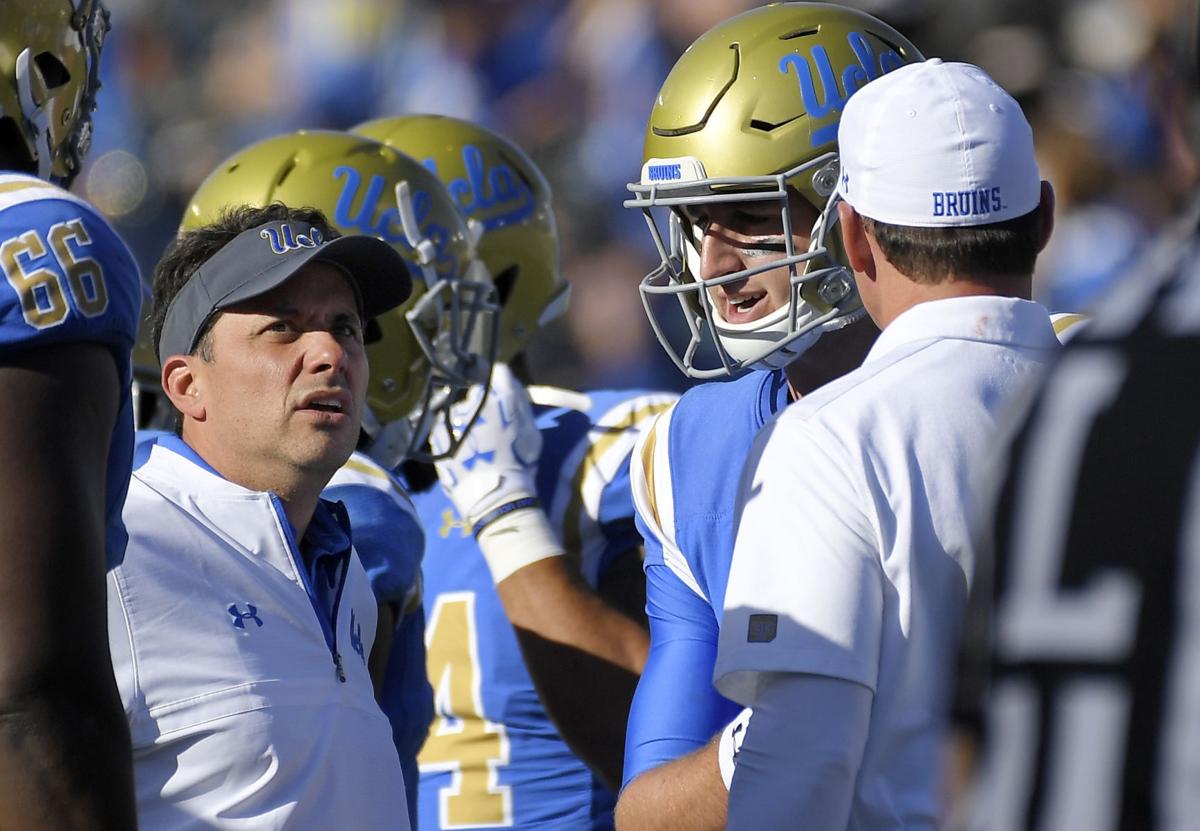 Hunkered down somewhere in the New England Patriots football facility in Foxborough, Massachusetts, Jedd Fisch promised excellence in the new era of Wildcats football.
Fisch, the Patriots' 44-year-old quarterbacks coach, was hired on Wednesday as Arizona's next head coach, replacing Kevin Sumlin.
The first-time head coach has had multiple Power 5 position coaching stops at Florida, Minnesota, Miami, Michigan and UCLA. But the bulk of his coaching career happened in the NFL, with stints with the Houston Texans, Baltimore Ravens, Seattle Seahawks, Denver Broncos, Jacksonville Jaguars and Los Angeles Rams.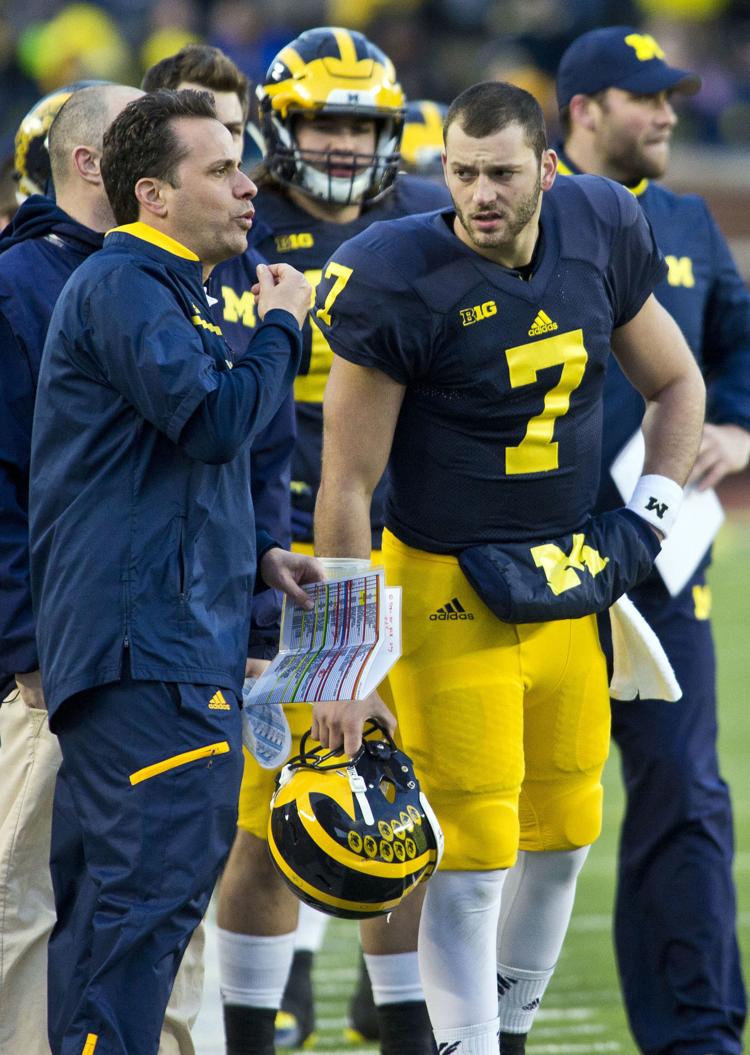 Fisch's titles over the years have included offensive coordinator, wide receivers coach, quarterbacks coach, senior offensive assistant, analyst and even defensive quality control coach. But never has Fisch been a head coach — unless you count the two games he coached UCLA in 2017 after Jim Mora was fired and Fisch was the interim coach.
Fisch said Wednesday it was a dream of his to be a head coach, "and that dream came true today."
Arizona has a new leader for its football program, but who really is Fisch? Here are five things to know about the Wildcats' new head coach:
1. He didn't play high school or college football
Unlike the other recent Arizona coaches, the 44-year-old Fisch never played a down of football prior to coaching.
Fisch wasn't a linebacker at Purdue like Sumlin, a defensive back at West Virginia like Rich Rodriguez or a hard-hitting safety for the Iowa Hawkeyes like Mike Stoops.
Fisch grew up on a different sport.
"My dad was a college tennis player, so I got brought up with a racket," Fisch said in a Pac-12 Networks interview in 2017. "Later on in life, when I was in high school, my mom started dating a head football coach, and that's when my love and passion for the game changed. I said, 'This is the greatest thing in the entire world and I'm gonna coach football.'"
The coach who first introduced Fisch to football was New Jersey coaching legend Bill Roca.
"He was the head coach (at Bergen Catholic High School), and I was his ballboy. He just won state championships and I was right there by his side," Fisch said on Wednesday.
"At the time, I remember telling my mom and my dad that I would one day lead a football team to championships as head coach, but where I wanted to do it was in college football."
2. He's worked with wise football minds
Fisch has worked under coaches who have won 11 Super Bowls — Bill Belichick (6), Mike Shanahan (3), Pete Carroll (1) and Brian Billick (1).
"Jedd Fisch is one of the most outstanding coaches I have worked with and was an excellent addition to our staff this year," said Belichick. "Jedd has gained a wealth of experience in numerous organizations, in college and the NFL, and is ready to lead the Arizona program."
Said Carroll: "Jedd was on my first staff with the Seahawks. I've followed his career closely over the years, and he is highly qualified for the job. Jedd is a gifted offensive mind, and he will do a great job leading and caring for the University of Arizona program."
Fisch landed his first coaching gig as a graduate student under Steve Spurrier at the University of Florida from 1999-2000. For 450 consecutive days, Fisch dropped a hand-written note on the windshield of Spurrier's car requesting to join his staff.
Fisch's tactic eventually worked.
"I'm so grateful that he finally accepted that letter and invitation that I had — and there was a lot of creativity there. It wasn't the same letter every day," he said.
For two seasons, Fisch studied Spurrier and how the nationally-ranked Gators operated as a program.
After a two-year absence from coaching, Fisch landed with the NFL's Texans as a defensive quality control coach. From 2015-16, Fish worked as a passing game coordinator and quarterbacks coach under Jim Harbaugh at Michigan before jumping to the Pac-12 at UCLA for the '17 season.
Fisch returned to the NFL as a senior offensive assistant with the Rams and head coach Sean McVay, who's developed a respected reputation as one of the bright and young offensive minds in football, and coached in L.A.'s loss to the Patriots in the Super Bowl.
3. He interviewed for the Arizona job in 2018
Fisch was a candidate to replace the fired Rich Rodriguez as Arizona's head coach. He interviewed for the UA vacancy, but Heeke and Robbins turned to Sumlin instead.
'Although I didn't get the job then, and I had great disappointment, what I wasn't sure of was what was going to happen next," Fisch said. "I was blessed with the opportunity, between then and now, to have the opportunity to work under Bill Belichick and Sean McVay."
4. He has a daughter at the UA
There's a Fisch already in the Old Pueblo. Fisch's oldest daughter, Zaylee, is currently a student at the UA and Pima College.
"We're gonna be close by, but not too close, because she's got her life to live," Fisch said. "But we'll be around the corner and I can't imagine she wouldn't be thrilled to have her mom and her sisters in town. … We can't wait to watch her continue to thrive in Tucson."
Fisch and his wife, Amber, have three daughters: Zaylee, Ashlee and Kendall — or as Fisch refers to them: "a school of Fisch."
5. He snuck into the O.J. Simpson trial
Fisch initially wanted to become a lawyer, and he majored in criminology at Florida. His father, paternal grandfather and brother were lawyers.
As a pre-law student at Florida, he was fascinated by the murder trial of former NFL running back O.J. Simpson, who was accused of killing Nicole Brown and Ron Goldman in 1994. Fisch was determined to have a seat in the courtroom for the "Trial of the Century," and plotted a scheme to fly out to Los Angeles to watch the trial in person. Fisch flew to California, took a taxi and arrived at Los Angeles County Superior Court at 4:30 a.m. He didn't get picked to attend the day's session because the selection process was a raffle.
"So I had to figure out another way," Fisch said in a sit-down interview with The Post Game in 2017.
Fisch convinced the bailiff to let him through the doors, and he took an elevator to the 20th-floor waiting area.
While waiting, Fisch met Brown's sisters and explained to them his mission to watch the trial live. The Browns offered Fisch a family pass for the next day in court, but it was canceled. Two days later, Fisch repeated his 4 a.m. routine to get selected but failed once again.
"There's gotta be a way to go with the defense team to get in," he said.
Fisch waited for Simpson's "Dream Team" — lawyers Johnnie Cochran, Robert Shapiro, F. Lee Bailey, Robert Kardashian, Alan Dershowtiz and Barry Scheck — to arrive. Then he tailed them into the courthouse elevator.
"I found my way through that lane and walked in with those five into the elevator," he said.
After a polite exchange, Shapiro granted a seat to Fisch for the day. At last, Fisch's resilient personality awarded him a spot in the courtroom.
"Being at that event and meeting those people was huge," Fisch said.