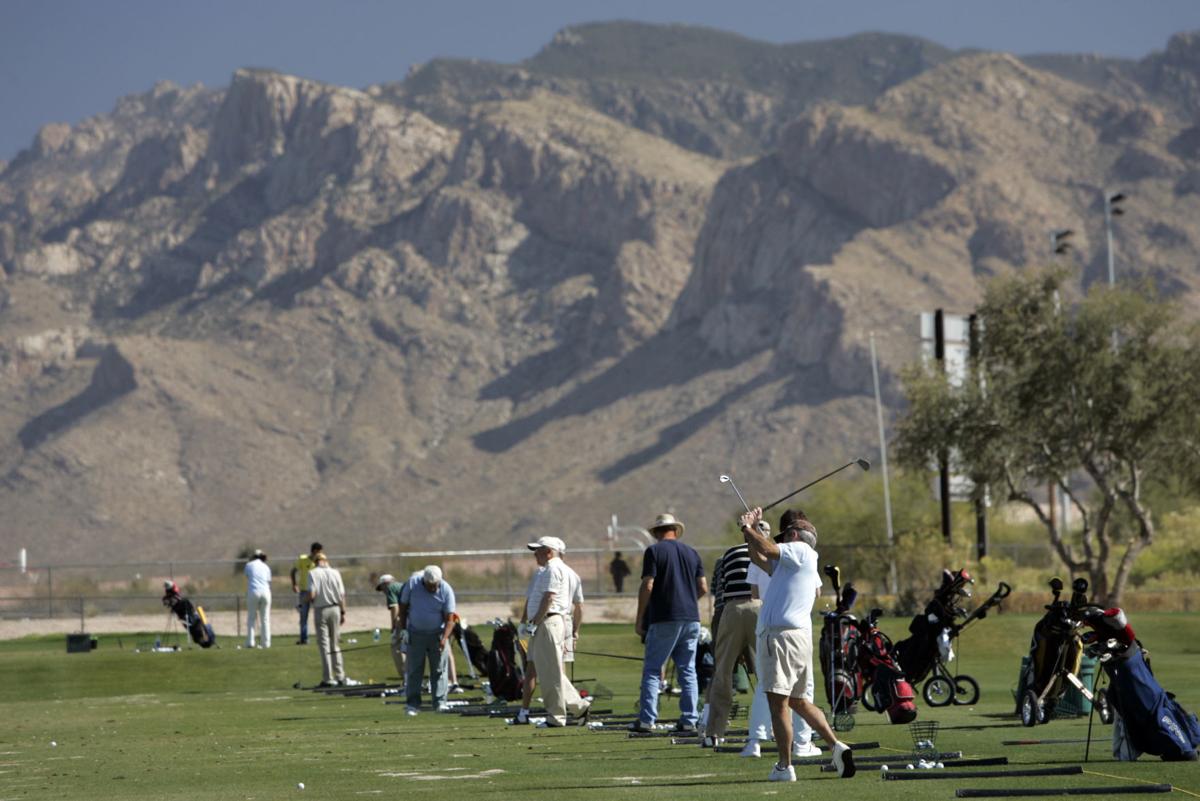 Rich Mueller was a golf instructor at the Catalina Family Golf Center 25 years go, one of four standalone Tucson driving ranges that were so busy they often had waiting lines to get an available space.
Hitting a bucket of old golf balls used to be a high form of American entertainment, fully different from the costly, tech-inspired, beer-served-cold TopGolf operations that now pass for a driving range.
But in 1995, driving ranges thrived.
That was when the Kevin Coster movie "Tin Cup" was being filmed in Tubac, Sonoita and at Jack Nicklaus' trendy La Paloma Golf Course. One day, producers from Tin Cup showed up at Mueller's East Golf Links Road driving range and inquired about the "picker," the caged vehicle that retrieves thousands of golf balls each day.
The Hollywood people bought the picker, the same one you see in Tin Cup. They built a weed-ravaged "driving range" near Sonoita and pretty soon Costner, Cheech Marin, Don Johnson and Rene Russo were on scene filming a romantic comedy that grossed $76 million.
That's a lot of old golf balls.
I bring this to your attention because Rich Mueller, graduate of Amphitheater High School, the University of Arizona and former member of the Australiasian Golf Tour, now lives a latter-day version of "Tin Cup," where money is tight and the golf future is uncertain.
For 16 years, Mueller has been the vice president and managing partner of Crooked Tree Golf Course, the only fully public golf course on Tucson's Northwest side, and one of the few Tucson golf facilities not operated by unfamiliar corporate faces.
For the first 26 years of its existence, Crooked Tree was known as Arthur Pack Golf Course, but when Mueller took on a massive restoration project in 2003 he thought it needed a more golf-centric identity. Thus, the name now reflects hundreds of mesquite trees that line its 18 well-manicured holes.
It almost sounds like a country club, but Crooked Tree Golf Course is about the last golf property in Southern Arizona at which you'd expect to hire a caddie and spend a hundred dollars to get a tee time.
There's nothing rag-tag or Tin Cuppish about Crooked Tree. It's a first-class operation, all of it stemming from Mueller's insistence that a muni course doesn't have to be sloppy, shaggy or short on professionalism.
Mueller prefers not to talk about the politics of leasing Crooked Tree from Pima County — it is the county's only golf course — but he does confirm that his lease with Pima County expires on June 30 and that the future of this Tin Cup of the 2020s is uncertain.
Mueller's group — Wildcat Golf Partners, LLC — was unable to reach an agreement with Pima County when the lease expired last summer. They agreed to put a Band-Aid on the deal and keep Crooked Tree operating for another year.
There will be no Home Owners Association to save Crooked Tree, as was the case with financially-struggling Arizona National and many Southern Arizona's golf facilities. There are no homes bordering Crooked Tree. It is a 100 percent desert landscape.
And because Wildcat Partners pays Pima County for the right to operate Crooked Tree — which included about $2 million in start-up renovations 16 years ago — it doesn't fit the model that the City of Tucson uses for its five golf courses. The City of Tucson pays deep into six figures to Troon Golf, formerly OB Sports, to operate Dell Urich, Randolph, Fred Enke, El Rio and Silverbell.
The fear from the golf community is that Crooked Tree will cease operation and lie dormant like nearby Golf Club of Vistoso, a once-superb facility that was shuttered two years ago when Oro Valley homeowners and a Canadian bank couldn't agree on terms.
That golf course, designed by Tom Weiskopf, was only 22 years old. Crooked Tree, designed in part by Lee Trevino, began operations in 1976. That might as well have been 1896 given the stunning financial and numerical declines in American golf the last 20 years.
"In 1995, there were 76,000 rounds of golf played at Crooked Tree," Mueller says. "Last year we had 38,377 rounds. The math doesn't work."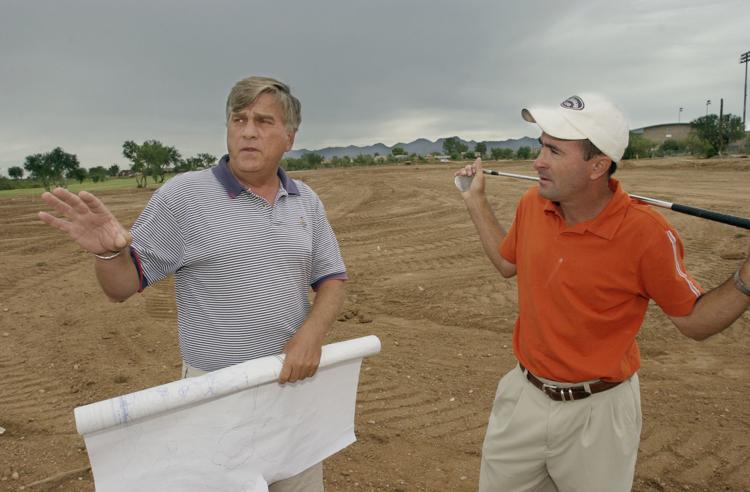 When Mueller's firm bid to manage Crooked Tree in 2003, there were 16 total bids. Last year? One. Mueller's.
Since the golf industry was flush in 2000, nine courses have been built in Southern Arizona, ranging from four courses and 81 holes at Dove Mountain to the newest, Sewailo Golf Club at Casino del Sol.
The overbuilding of golf courses has imperiled Crooked Tree and just about every course in Tucson. Many say the decline of Tucson golf is a participation issue, but that's not it. It's a facilities problem.
"We cannibalize each other," says Mueller. "Everybody gets a smaller piece of the pie."
Even though Crooked Tree's annual number of rounds has diminished from 50,000 in 2006 to last year's 38,377, it is probably among the four most-used golf courses in the greater Tucson area, challenging the Highlands at Dove Mountain, the Views Golf Course in Oro Valley and downtown Tucson's Dell Urich Golf Course.
On Monday — Martin Luther King Day — Crooked Tree's tee sheet looked like something out of the '90s. Singles were waiting to get a spot on the first-tee at 1 p.m. This is the high season in Tucson golf; snowbirds were everywhere at Crooked Tree. Its driving range — one of the best in Southern Arizona — was so busy for so long that the "picker" driver probably worked overtime.
But this is January. Once the snowbirds retreat to Wisconsin and Iowa, there will be no line in the pro shop. The picker will not be overworked.
The developers who recklessly overbuilt Tucson's golf inventory in the '90s are responsible for the uncertain future of our golf courses like Crooked Tree.
"When I started here in 2003 my premise was that this would be a blue collar, available and affordable public facility and it's still that way," says Mueller. "Unfortunately, we're trying to find out if it's sustainable."
A lot of people say that a golf course like Crooked Tree is inevitably doomed. That's not right. Crooked Tree and those like it — neighborhood facilities functioning essentially as non-profit operations — should be an essential part of golf's future.
Contact sports columnist Greg Hansen at 520-573-4362 or ghansen@tucson.com. On Twitter: @ghansen711