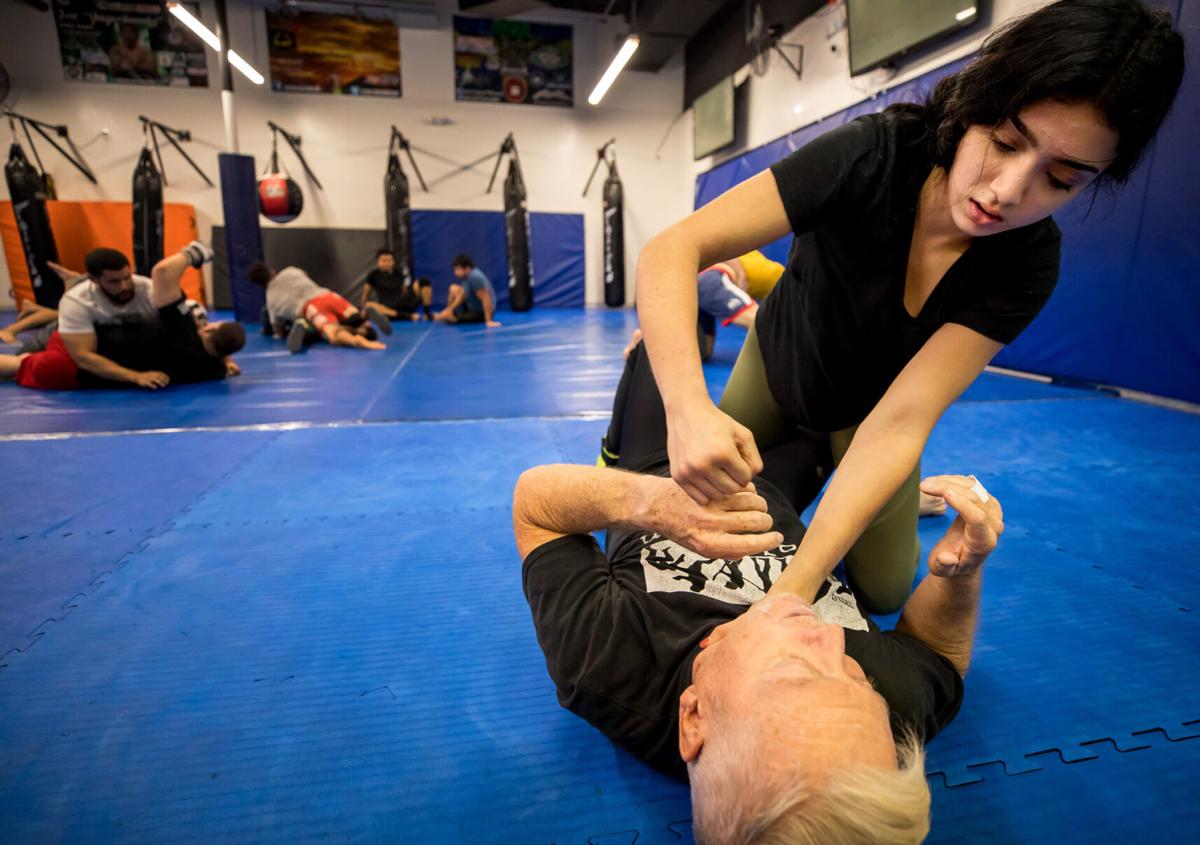 Jamie Ledbetter sits outside a fighting cage at her northside MMA gym surrounded by medals, belts and banners exalting the mostly male fighters with whom she trains, and explains how she fills her days.
She's involved with the For Inspiration and Recognition of Science and Technology (FIRST) Robotics Competition through Sonoran Science Academy (SSA), where she is a junior.
Her passions are STEM and MMA. There are training sessions at APEX and NAGA fights and team T-REX and NHS, and, well …
"Everything is an acronym," she says.
Ledbetter, 16, is much more than a fighter and a future engineer. She carries a 4.7 GPA and ranks at the top of her class. She's also involved in student government and in math and robotics clubs that compete at a national level.
At one point last year, Ledbetter ranked in the top-200 in the country for math — and first in Arizona among jiujitsu competitors age 16 and under.
It's all part of her detailed life plan.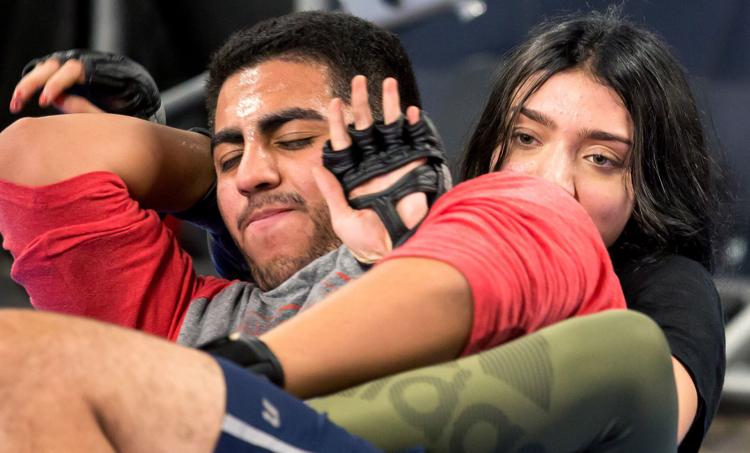 'She's made a name for herself here'
Ledbetter moved to Tucson from Dallas with her parents and younger sister in 2009 and started attending SSA, where her love of math and robotics grew.
Her passion for martial arts stemmed from STEM.
Ledbetter, an aspiring engineer, has long told her parents that she wants to attend college out of state. Georgia Tech and MIT are at the top of her list.
Ledbetter's father, Jimmy, told her that she'd have to learn to defend herself if she was going that far away by herself.
Jimmy Ledbetter had tried to introduce his daughters to self-defense years earlier, signing up them up for a kids' class at APEX Mixed Martial Arts, 4343 N. Oracle Road, Suite 195.
Ledbetter's younger sister, who was 9 at the time, hated it; she started crying as soon as the boy she was grappling with began to sweat on her. Neither girl wanted to go back.
Jamie Ledbetter's second experience in martial arts, however, was life-changing.
"It was a women's MMA class, but it was the last one because there weren't enough people," Ledbetter said. "I was only going to do it for a few months to get some good understanding, but I loved it. It was my favorite thing to do. It already felt like family on my first day here."
For the rest of that summer, Ledbetter spent eight hours a day at the gym, taking classes, working out and staying late to help clean.
Mike Herndon, one of Ledbetter's trainers, calls her "the best student you would ever want to have."
"She works her butt off," he said. "She understands everything. She just gets it. She's made a name for herself here."
Jimmy Ledbetter refuses to take credit for his daughter's success and is humble when it comes to talking about his experiences competing in jiujitsu. But it's his passion for the sport that got her in the door. As an 11-year-old growing up in Pittsburgh, Jimmy Ledbetter started taking martial arts to help build his confidence. When he moved to Dallas in 1997, he began training and competing in Brazilian jiujitsu. He is firm in his belief that the study and practice of martial arts can truly help kids.
The younger Ledbetter soon fell into a routine.
The then-14-year-old would wake up at 6:30 a.m. to work out before going to SSA, where she'd stay until at least 5 p.m. because of her obligations with the robotics team. From there, she'd head back to APEX, where she worked on grappling, striking and judo.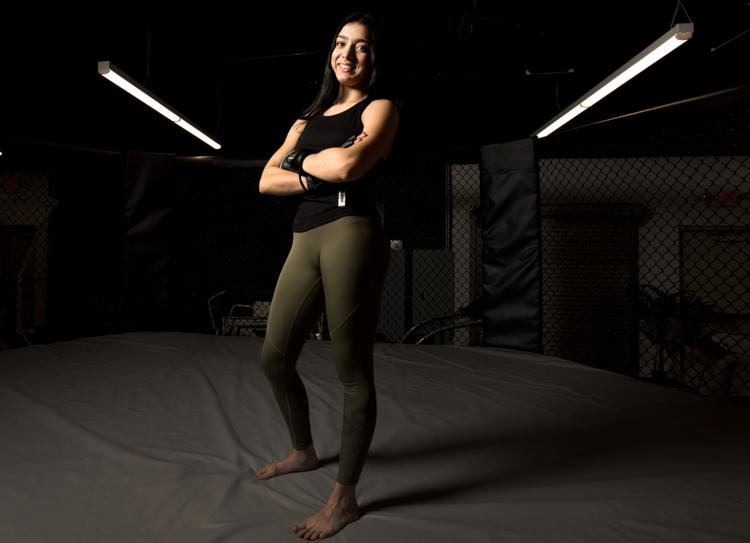 Ledbetter still spends more time at APEX than she does at either of her parents' homes.
Of course, her routine has changed because of the COVID-19 pandemic. Ledbetter has a hybrid-learning schedule, and, because of it, can now sleep until 7:45 a.m. most days. On the days she doesn't attend in-person classes, there is plenty of time to work out.
Ledbetter loves the technical aspect of martial arts, which reminds her of the math and robotics she so adores. Ledbetter's dark eyes light up when she talks about them, and while it's clear she loves them all, she knows her fighting career comes second to her dreams of becoming an engineer, small business owner and, later, politician.
Ledbetter embraces her intelligence, repeatedly calling herself a nerd. She has been taking part in math competitions since the third grade, and attending robotics camp since she was a sixth-grader. She mentors younger students in robotics when she's not otherwise occupied with her leadership positions on student council and the school's chapter of the National Honor Society.
"The robots, they're just crazy. They're incredible," Ledbetter said of the 4-foot tall, several-hundred-pound robots that her team, T-REX, builds. "I like to be busy. If I'm ever at home for more than four hours and I'm not sleeping, I have to leave."
Ledbetter was at a robotics competition in California when the pandemic hit.
"March 14, the night before, they said it was going to go on," Ledbetter said. "The next morning we wake up at 5 a.m., we all get ready to go and they call us and it's all over. We had to unpack 2,000 pounds of stuff and put it into a trailer and go home."
The break helped Ledbetter recalibrate herself. She got her driver's license during the pandemic after spending weeks fighting with the Motor Vehicle Division to get her appointment deemed a necessary service. She has found a little more balance and some rare free time.
When APEX closed down due to the city mandate, Ledbetter trained at the park. She spent four or five hours a day working out after she finished her self-paced school work and AP tests. Ledbetter pushed herself hardest during the hottest summer in Tucson history, and came into this school year both physically fit and a candidate for SSA's valedictorian.
Ledbetter has enough credits to graduate from SSA at the end of the year, but will stay; she wants a full high school experience.
And she's getting it: The junior is running for student council vice president this year and aspires to be president next year. She'll be taking the SATs in the spring and is looking forward to attending the prom.
Ledbetter only recently told her friends and teachers about her involvement in fighting. Everyone was surprised.
"I was always the scrawny nerdy kid. I was so small and I always followed the rules. I was very uptight," Ledbetter said. "I've had teachers come here and watch me fight. I've had my classmates come here. I tell other kids that if they're interested they can let me know, but there's some aspects of the gym that I like being surrounded by the people here."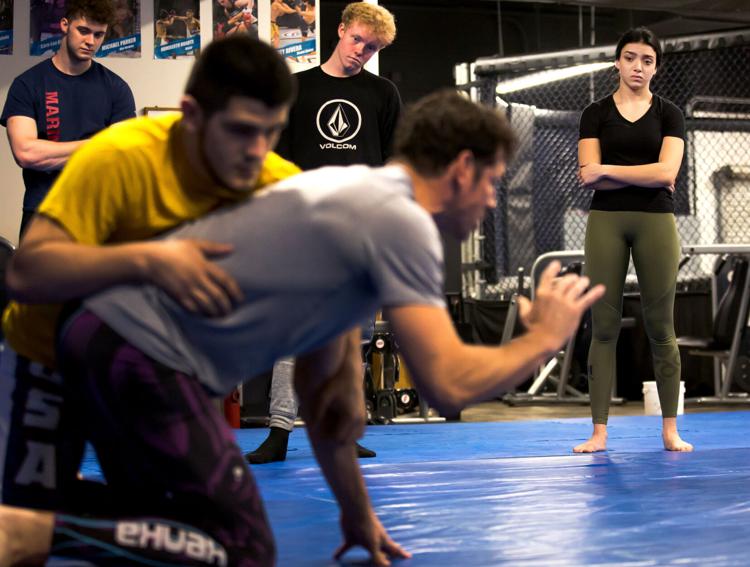 'Since I came here, I've always had a plan'
While it may seem like everything she tries comes naturally to her, Ledbetter put in five months of MMA training before her first fight.
In March 2019, Ledbetter competed in her first North American Grappling Association tournament, taking home the gold for beginners in her weight and age class. Five months later, she took home another gold in her second NAGA tournament — this time in a different age and weight class. In the months in between, she placed second in the Arizona State Judo Open as a yellow belt. She's since moved up to green belt.
Ledbetter has competed in non-sanctioned "smoker" fights at her gym, taking on a 22-year-old last year. She's used to training with the much older men at APEX, including gym owner Joey Rivera and trainers Herndon and Lizzie McMullin.
In November, Ledbetter will compete in the U.S. Muay Thai Open West, returning to the mats after a months-long break from competition.
In the next NAGA event, slated for the spring, she'll compete in three divisions: Two types of grappling (Gi and No-Gi) for her age group and adult grappling.
At 5 feet 6 inches and 130 pounds, Ledbetter is one of the slighter fighters at her gym. Because of that, she must be more technically sound to win.
"I'm always the smallest person here, and usually the closest person to my weight is 150 pounds still," Ledbetter said. "I don't have the muscle. I can't 'muscle' any moves on anyone, except for the occasional new person."
While trainers and fellow fighters consider her the baby of APEX, their respect for her skills as a fighter — and a future leader — is apparent.
While Rivera would like his top young pupil to stay in Tucson, he won't hold her back.
Nothing, it seems, can stop her.
"I have a plan. Since I came here, I've always had a plan" Ledbetter said. "Joey calls me 'Big Brain.' He knows engineering is the plan."
Contact reporter Caitlin Schmidt at cschmidt@tucson.com or 573-4191. On Twitter: @caitlincschmidt.