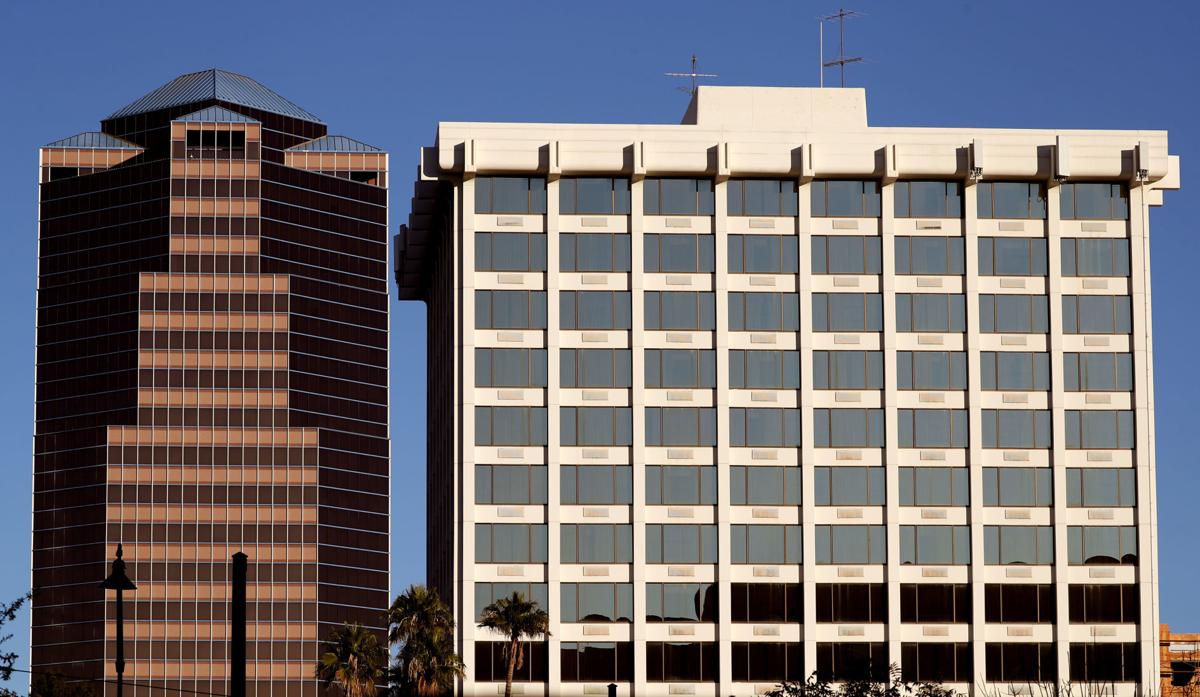 Tucson's tallest downtown building may soon be accepting overnight guests.
Developers plan to convert eight floors of the 23-story tower at 1 S. Church Ave. into a hotel. The top floors would remain offices.
Scottsdale-based Opwest Partners plans to pour more than $38 million into the project and put in about 150 hotel rooms; 1,500 square feet of meeting space; a 4,000-square-foot restaurant and bar; and outdoor patios and a marketplace.
"The adaptive reuse of the existing asset to a vertical mixed-use property consisting of a boutique lifestyle hotel and a renovated office asset will create an offering that does not currently exist in the market," developers say.
Marriott, Hilton and Hyatt are said to be in discussions about branding.
Developers asked the Rio Nuevo board for eight years of insulation from property taxes using the Government Property Lease Excise Tax tool and for site-specific sales tax revenue sharing of up to $1 million.
The proposal has been unanimously approved by the Rio Nuevo board, subject to a required financial analysis.
Tyler Kent, managing partner with Opwest, told the board the development is expected to bring in $1.6 million in annual tax revenue in the fourth through ninth years and reach $1.9 million in the 10th year.
After Year 10, that revenue is projected to reach $2 million per year based on taxes on office rental, restaurant and bar sales, the 12% hotel rate and the $4 per night bed tax.
"We're really excited about this project," Kent told the Star. "It's an iconic building."
There are several steps ahead before any work can begin, such as discussions about signage on the building.
But the goal is to be open for guests by the end of 2021.
"When you look at downtown, it's come a long way and still has a little way to go," Kent said. "Quality hotels will impact the Tucson Convention Center in a positive way and we want to be part of that."
Opwest Partners is an investment and development firm with expertise in mixed-use, hospitality, resort, residential, entertainment, office, retail and recreational properties.
The company has offices in Tucson and Phoenix and has invested in and developed more than $4.5 billion in real estate throughout the United States, including the Curio Hotel in Scottsdale; Montage Beverly Hills in California; Montage Deer Valley in Park City, Utah; the Pendry Hotel in San Diego; and the Everly Hotel in Hollywood.
The tower's local owners, who bought the property in 2015, will continue to manage the office tenants, said co-owner Zachary Fenton.
"The hotel will add some nice amenities to the building which will benefit the office tenants ... the ground-floor restaurant, for example," he said.
Built in 1986 by Sundt Corp., One South Church was first known as the United Bank Tower, then Citibank Tower, Norwest Tower and UniSource Energy Tower until 2011, when it went back to being known by its address.
It was designed by Curtis W. Fentress, of Fentress Architects, and its exterior is a combination of glass and granite. The rose-tinted glass is from Belgium and the granite was quarried in Finland and finished in Italy.
The tower has three floors of underground parking and 75 spaces will be dedicated to the hotel.