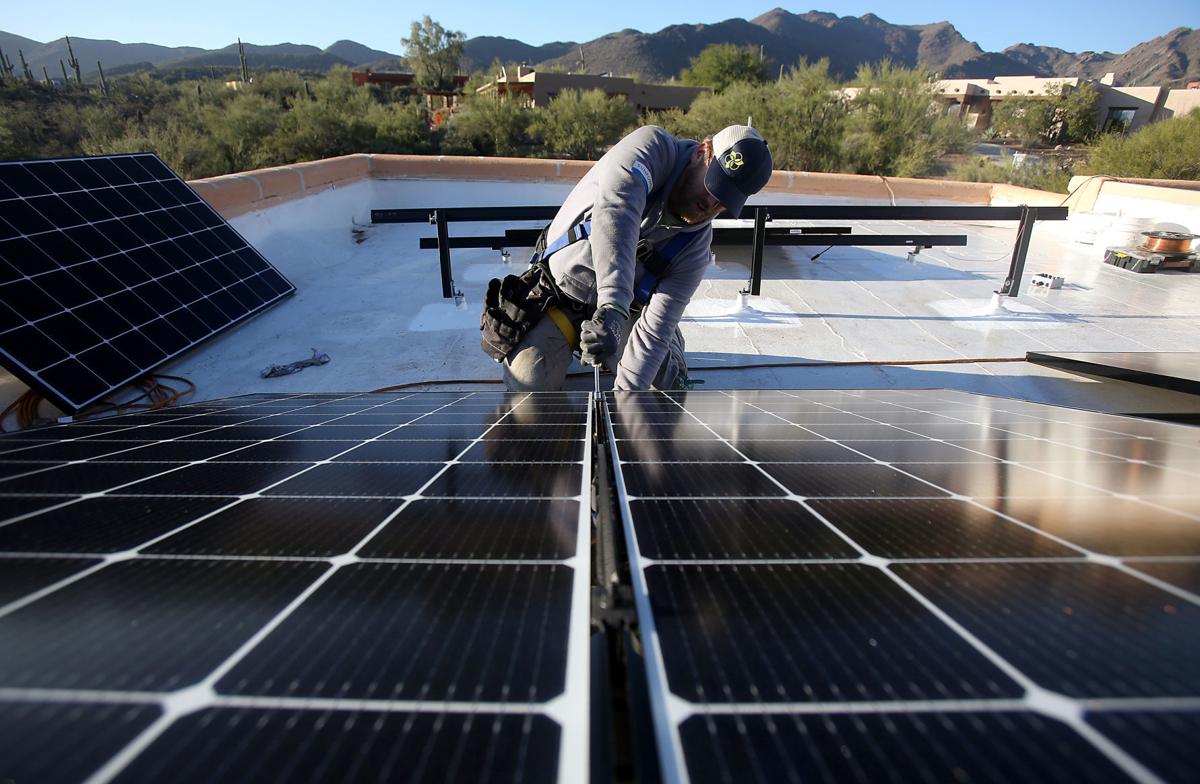 In a move that could make the installation of grid-connected renewable-energy and battery systems easier and cheaper, the Arizona Corporation Commission has preliminarily approved a long-awaited set of rules governing how such off-grid power sources connect to state-regulated utilities.
Tucson Electric Power Co. and other Arizona power companies have been connecting customer-owned rooftop solar and wind systems for years, under procedures spelled out in renewable-energy compliance plans.
But the new rules will set statewide standards for interconnection of such distributed generating systems and include provisions for emerging home battery storage systems.
After more than a decade in the making, the draft rules for distributed generation facilities are expected to be formalized and considered for final approval within a few months.
The draft Arizona rules provide a streamlined "super fast track" process for approval of systems with a maximum rated generating capacity of 20 kilowatts or less, a fast-track process for systems of less than 2 megawatts and a longer "study track" process including in-depth facility studies for projects greater than 2MW.
The rules also include measures to make sure distributed generating systems don't adversely affect reliability or system and worker safety.
Joe Barrios, a spokesman for Tucson Electric Power Co., said the company supports the draft interconnection rules.
"We're satisfied with the draft rules, which preserve measures that allow for the timely installation of distributed energy systems without sacrificing reliability or safety," Barrios said, adding that the rules set clear expectations for utilities and installers alike.
In practice, Barrios said, TEP now connects most residential rooftop solar systems to the grid within several days of being notified that construction has been completed.
Environmental and energy-efficiency advocates cheered the Corporation Commission's move.
"Without these interconnection rules, Arizonans seeking to install clean energy technologies often face a patchwork of requirements and procedures that differ from one utility to the next, which can be costly and time consuming to navigate," said Ken Wilson, an engineering fellow with the nonprofit environmental group Western Resource Advocates.
Wilson said the rules will create a bigger market for solar panels and other distributed clean energy and boost the number of projects, giving consumers more options and boosting the economy.
Arizona is somewhat late in adopting statewide interconnection standards, as most states have already enacted such standards, but an energy-efficiency advocate said the Arizona rules will be worth the wait.
"The rules are among the most cutting-edge policies in the country because they account for emerging technologies, such as battery storage," said Jeff Schlegel, Arizona representative for the Southwest Energy Efficiency Project.
Utilities and regulators are backing incentives for battery systems often installed with rooftop solar as a way to boost clean generating sources and reduce peak power consumption that drives the construction of excess power-plant capacity.
Some Arizona utility customers with rooftop solar already have installed Tesla's Powerwall or other new home battery systems, allowing them to store power and use it during peak demand periods when rates are higher.
Arizona Public Service has a pilot program with special rates for "behind the meter" technologies including battery systems, load controllers and electric cars, as well as a limited pilot offering utility-owned home battery systems.
TEP in its pending energy-efficiency plan has proposed a special rate for customers to charge battery systems during off-peak hours.
The Corporation Commission said a notice of proposed rulemaking for the interconnection rules is expected to be published in the Arizona Administrative Register on Feb. 15, starting a formal public comment period during which the commission will accept written comments.
The commission will also hold proceedings to receive oral comments on March 28 in Tucson, and on March 29 in Phoenix. Times and locations for the oral proceedings will be included in the rulemaking notice.
The Corporation Commission could consider final adoption of the rules as soon as April.