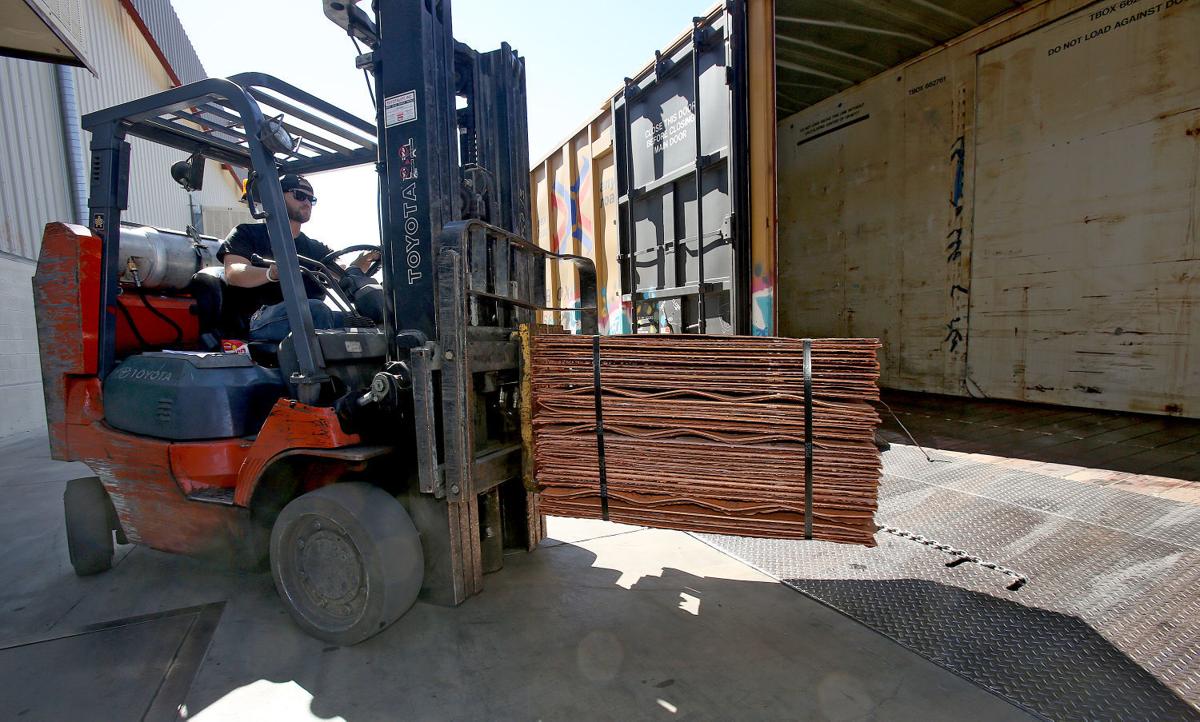 Plans for the largest industrial warehouse ever built on spec locally are underway at the Port of Tucson.
Officials say there is no confirmed user at this time, but rumors are swirling that the 800,000-square-foot warehouse is intended to woo a specific distribution center to Tucson.
Pre-annexation and development of several Port of Tucson parcels are on Tuesday's City Council agenda. The parcels are in the city's Ward 4 and on county property.
John Moffatt, Pima County's economic development strategic planning director, declined to comment on the plans. Officials at the Port of Tucson, a family-owned business, did not respond to a phone calls, and several city and county officials told the Star they were unable to comment at this time.
The building would be the second-largest in the Tucson area.
The largest, Target's fulfillment center on the city's southeast side, is 975,000 square feet. Companies with that size footprint in Arizona include Amazon, Walmart and Target .
In a letter written by Rory Juneman from the Lazarus, Silvyn & Bangs law firm to the city's zoning inspector, the development was described as "a warehouse and distribution center to fulfill online retail orders."
The use includes receiving, storing and shipping products, including automotive, appliances, electronics and software, grocery and alcohol, office supplies, toys and video games.
The letter states the warehouse will handle customer returns, light assembly, 3-D printing and direct product pickup by customers from automated kiosks.
"Throughout most of the year, the project is projected to have a maximum of approximately 1,500 employees working onsite at one time. During the peak shopping season (i.e. November through December) the project will have a maximum of 1,900 employees working onsite at one time," the letter states.
The letter says about 80 acres will be developed with the remaining 15 acres consisting of land reserved for future expansion.
The warehouse will be a one-story structure with a maximum height of 60 feet, 64 loading docks, 398 tractor-trailer parking spaces and about 2,500 vehicle parking spaces.
Dubbed "Project Wildcat at Century Park Development" a local engineering firm has applied for a development concept permit on 94.4 acres of land at 6701 S. Kolb Road, county records show.
A certificate of occupancy has been requested by June 2019 and a public hearing for annexation will be scheduled no later than Sept. 15, 2018, city records show.
Sources in the industrial real estate market told the Star the spec building is intended to lure a specific distributor to Tucson, but even if that company doesn't come, the city needs more industrial space, as vacancy rates have dropped to 12-year lows.
Having 800,000 square feet of new industrial space, which could be split to accommodate smaller users, is a good investment for Tucson, industry insiders say.
Vacancy rates in the industrial market for the last quarter of 2017 were 8.2 percent. Those rates had not been below 10 percent since 2006.
"Industrial sales remain brisk, with continued interest in investment as well as strong owner/user properties," Picor's Marketbeat report shows.
"Construction activity continues to center around build-to-suit for users, as opposed to speculative investment construction."
The report predicts stable occupancy rates, rising rents and solid sales of industrial properties in 2018.
"However, in the event that the Rosemont Copper mine commences construction or another large employer lands in Tucson and absorbs some of our larger long-term vacancies, the outlook will improve quickly given that there is very little functional vacancy remaining in the market."