Idea scribbled onto notepad evolves into multibillion-dollar Oro Valley company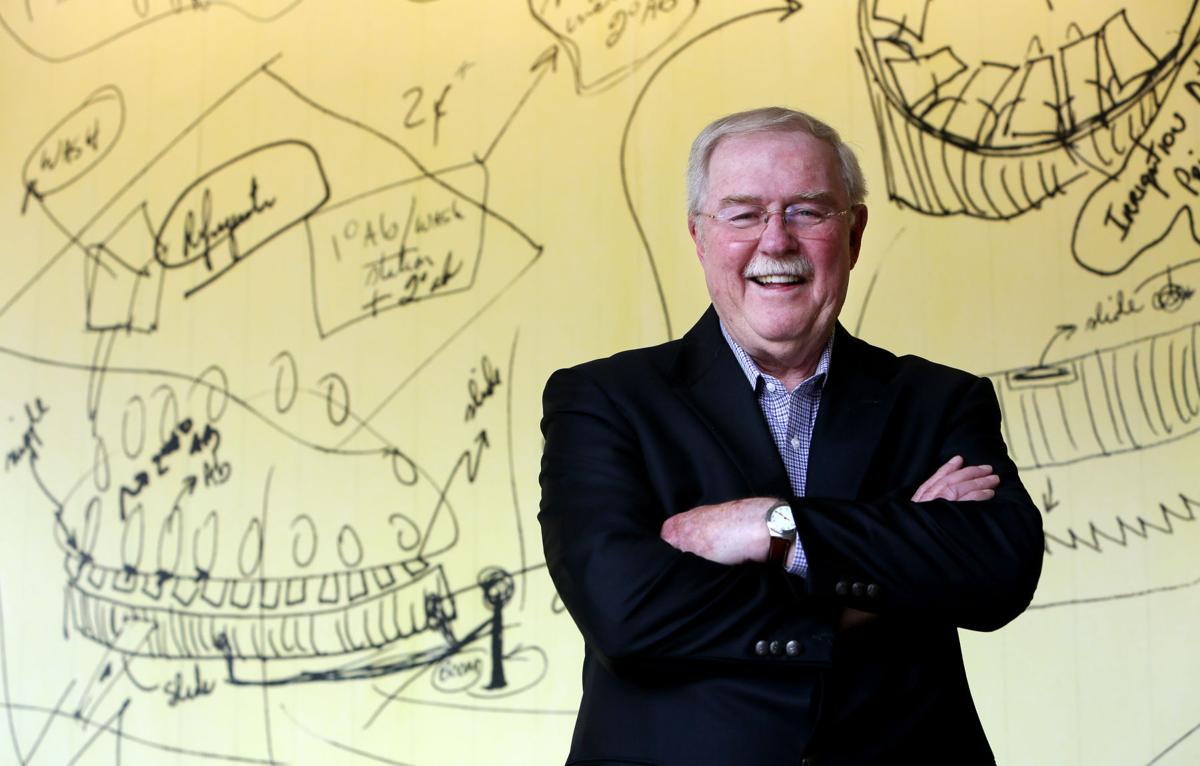 Thirty-two years ago, University of Arizona pathologist Dr. Thomas Grogan set out to radically change the practice of medicine and improve care with an automated system to rapidly test biopsy tissue for cancer.
He did just that, and in the process of spinning his technology out of UA labs and into hospitals, he created a multibillion-dollar company that has become the poster company for UA technology transfer.
Grogan's brainchild, Ventana Medical Systems, is now also known as Roche Tissue Diagnostics. The company employs more than 1,300 people at its Oro Valley campus, where as part of Swiss drug giant Roche it is leading an effort to create tissue tests to match cancer patients to promising drug therapies.
But Grogan — who retired from Roche Tissue Diagnostics/Ventana on Sept. 30 — is the first to admit that success didn't happen overnight.
"It took me 25 years to become an overnight success," Grogan says.
That's an old joke, for sure, but Grogan has valid claim to it after guiding Ventana from an idea scribbled on notepads to create one of the world's leading diagnostics companies.
Along the way, Grogan endured endless trips wooing investors, serious legal challenges and a hostile corporate takeover.
Passionate yet soft-spoken, the 72-year-old Grogan says it was all worth it as Roche/Ventana has grown into a global player in diagnostics since its $3.4 billion acquisition by Roche in 2008.
"It's something that to me now that is very gratifying — we sell instruments in more than 100 countries and those instruments are made right here in Tucson, in Oro Valley," he says. "I was going to have a sign made for the manufacturing (department), saying 'This is not China.' "
With a new title of "founder emeritus," Grogan is settling into a retirement plan that still has him mentoring and kibitzing on projects at Roche/Ventana part-time as he catches up with family.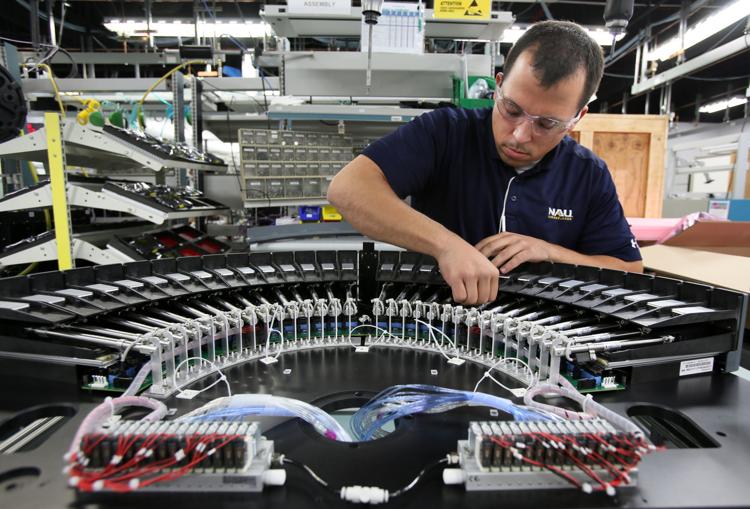 PERILOUS PATH
With Grogan stepping back, Ventana is still prospering and growing, more than doubling its Oro Valley employee count since the Roche deal and rolling out several new companion diagnostics that help match patients to specific cancer drugs.
Ventana is approaching $1 billion in annual revenue and looks to accelerate its development of companion tests, Grogan said.
But Ventana could have been thwarted almost anywhere along its perilous development journey.
Grogan founded the company in 1985 with local businessman Ross Humphreys, but at that time it was against state law for public employees to take ownership stakes in companies spun off from university research.
Grogan credits his former boss, former UA pathology department head Dr. Jack Layton, and former UA President Henry Koffler for convincing the Legislature to change the law to allow Ventana to move forward.
David Allen, a UA vice president who heads Tech Launch Arizona, the school's technology commercialization arm, said it took "an incredible amount of fortitude" for Grogan to shepherd Ventana from lab to market in the 1980s, when the state was not committed to university technology transfer.
"Having a model like that in this community has enabled other people to see the potential and the impact the university can create," said Allen, who since his arrival in 2012 has developed Tech Launch Arizona into a supportive ecosystem for faculty inventors.
In the lab, Grogan said he was blessed with a dedicated staff of fellows and grad students early on who helped him with his initial work to use monoclonal antibodies, developed in the mid-1970s, as an indicator of cancer in tissue biopsies.
Grogan developed the idea for his first automated slide-staining instrument for biopsy tissue with his research assistants, crudely sketching out the carousel design on a legal pad.
The original sketches were turned into wallpaper now hung in Ventana's lobby, along with a plaque of Ventana's original patents including the student research associates.
He credits Chuck Hassen, an engineer from MIT, with converting his crude drawings to computerized designs that were used to build a prototype initially cobbled together from hardware-store parts in a garage-like industrial space off West Grant Road. Hassen still works for the company as a mechanical engineer.
Though Ventana found early seed money from local investors, Grogan criss-crossed the nation to find the millions of dollars in venture capital needed to make the company succeed.
After receiving 35 rejection letters over two years, number 36 was an offer from the Chicago-area venture fund Crabtree Partners, led by investment manager John Patience and Jack Schuler, former president of Abbott Laboratories.
With the backing of Patience and Schuler, other investors joined in.
"It's as though we were Seabiscuit, and people would look at us and say, 'That's a pretty scrawny horse, but if those two guys are betting on that horse, you better put money on it,'" Grogan said.
Ventana sold its first instrument in 1991 and six that year.
One of those six initial machines went to the famed Cleveland Clinic, which was looking to transform its labs and became Ventana's model customer.
In need of capital to drive development, Ventana took its stock public in 1996, when it offered just two instruments and was still losing money.
Grogan credits two former Ventana executives brought in by Crabtree, the late Christopher Gleeson and Hany Massarany, with leading the company into profitability after a decade of losses as the company expanded and developed new products, and for bringing a strong work ethic from their Australian background.
"We set a culture which was not hierarchical, where everybody counted and he knew everybody's name," Grogan said of Gleeson, who died of brain cancer in California in 2014.
Grogan said like any startup company, Ventana had its highs and lows.
He recalled defending Ventana against a string of patent lawsuits, including one involving a former employee who left for a competitor that later sued Ventana for patent infringement. An eight-year legal battle with the former CytoLogix ended in 2000, with Ventana winning on some counts but paying a $49 million settlement that included rights to the disputed technology.
Grogan says one of the best moments with the company came in 1996, when Ventana went public and he and other Ventana employees ceremonially rang the opening bell on the floor of the Nasdaq Stock Exchange.
"It was a fabulous experience — it just gives you a chill down your spine," he said.
Gleeson had come up with an idea to have each department vote on one employee to join the group of 25 for the bell-ringing ceremony, he said.
"I stood on that stage with a young lady who was born and raised in Hermosillo, Mexico, and she was in our reagent manufacturing group," he recalled. "And they ring the bell and she said to me, 'I'm living the American dream.'"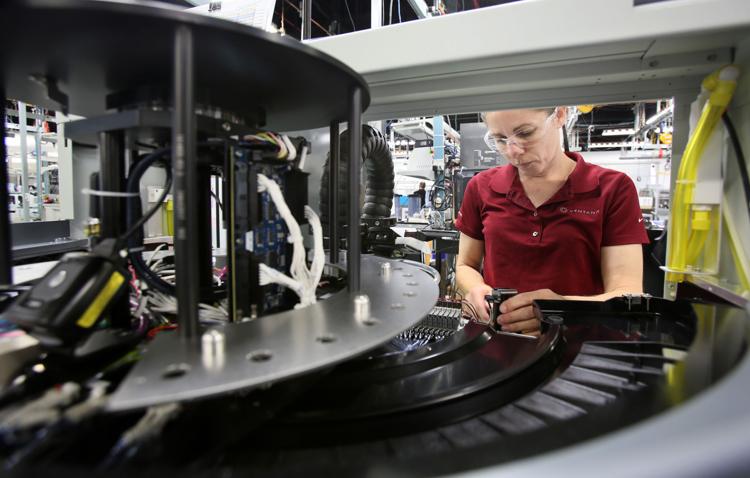 SWISS TAKEOVER
Ventana initially rejected Roche's bid for the company as a hostile takeover in 2007, but after Roche upped its bid, Grogan and the board finally agreed.
"We've grown, we've globalized it and we've tied it to the highly valued pharma, so for me it's been a very good association with the Swiss," Grogan said.
Ventana — which still exists as a company and brand but also is known as Roche Tissue Diagnostics — has won U.S. Food and Drug Administration approval for six new companion drug tests for breast, lung and other cancers.
"We still have runway," Grogan said. "The big thing now is all the drugs that relate to immunotherapy, that are directed to the immune response to the tumor. You need to look in that biopsy and see what's going on. That's the fastest-growing part of our business, and pharma is very keen on that."
In Grogan's retirement announcement, Roche Tissue Diagnostics President Ann Costello said Grogan has dedicated his life to the service of patients.
"Through his pioneering work in automating tissue diagnostics, he created a world where patients and their doctors have faster and more accurate information to guide therapy and ensure patients have the best treatment possible," Costello said in prepared remarks.
Tech Launch's Allen said Ventana is not only a UA tech-transfer success story but it has spawned a "beget tree" of other promising local biotechs as former Ventana execs started new companies.
Accelerate Diagnostics, a startup that has developed a new type of rapid test for blood infections, was founded and is led by several Ventana veterans, including CEO Lawrence Mehren — with major venture capital backing from Crabtree Partners.
Another Tucson startup, HTG Molecular Diagnostics is headed by T.J. Johnson, a former Ventana business executive, along with several other Ventana alums.
Both companies are publicly traded on Nasdaq.
"Because of Tom, we have three publicly traded, hardcore biotech companies here in town," said Nina Ossanna, chair of the BioIndustry Organization of Southern Arizona and vice president of Tucson-based Pharos Diagnostics.
"There's lot of people who have gone through (Ventana) and gone on to do some pretty significant things, and that's pretty big," Ossanna said.