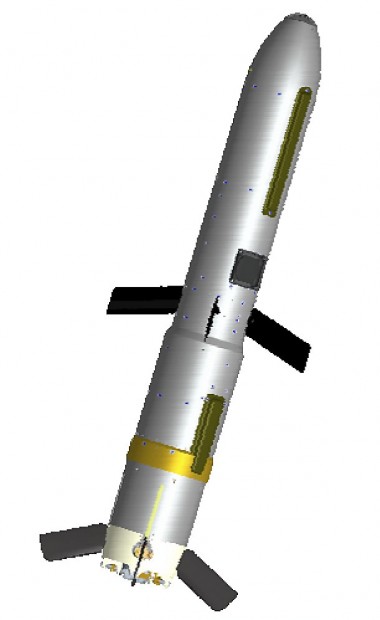 Tucson-based Raytheon Missile Systems is quietly vying for a key role in America's remote-control war on insurgents and terrorists.
Raytheon has developed a small guided missile called the Griffin for the U.S. military for use on weapon platforms including unmanned aerial vehicles, or UAVs.
It's unclear whether the Griffin has been used yet in the recently stepped-up campaign of U.S. military drone attacks on insurgent targets in Afghanistan, or the controversial UAV attacks in Pakistan widely attributed to the CIA.
Raytheon declined to comment on the Griffin, citing restrictions imposed by the military. The company plans to discuss the program this week at a UAV conference in Denver.
But Army officials have publicly discussed some details and confirmed unclassified information about the program.
Raytheon's Griffin is being developed along with other small guided munitions to be carried on UAVs such as the Predator and the Army's smaller Hunter UAV, Major Gen. James R. Myles, commanding general of the U.S. Army Aviation and Missile Command, said in a presentation to an Army advocacy group.
Since May 2008, Raytheon has won more than $40 million in Army contracts for Griffin munitions, according to Pentagon contracts data.
The Griffin is being developed as a complement to the Viper Strike, a small, unpowered guided munition made by Northrop Grumman Corp. for use on UAVs including the Predator and Northrop Grumman's Hunter drone, said an Army spokesman who confirmed and clarified Myles' remarks.
The Viper Strike and Griffin systems should not be considered competing technologies, said Dan O'Boyle, a spokesman for Army Aviation and Missile Command.
"Both munitions have separate and very distinct capabilities that are complementary to one another," he said in an e-mail to the Star.
Myles said in his remarks that the Army was considering putting the Griffin on the Hunter UAV, possibly sometime this year.
In clarifying comments, the Army spokesman said there have been "preliminary discussions" about putting lighter-weight munitions on current Army UAVs, to increase the number of weapons that the craft can carry and to increase "loiter time" - time spent circling an area - by reducing payload weight.
Other Army documents note that Raytheon invested its own funds for much of the Griffin development work, reusing proven components from existing weapon systems.
The system, which can be adapted to a variety of ground and air vehicles, was highly successful in testing and was in low-rate initial production as of mid-2009, according to Army documents.
The Griffin's maneuverability and accuracy reduce the risk of "collateral damage" - civilian casualties and damage, the Army says.
About 3 1/2 feet long and 35 pounds, the satellite- and laser-guided Griffin packs a 13-pound warhead.
The 3-foot long, 44-pound Viper Strike carries a warhead weighing just 2.3 pounds.
By comparison, the Hellfire missile fired by Predator UAVs weighs about 100 pounds, including a warhead weighing about 20 pounds.
The ability to use precision guided munitions to deliver smaller warheads is sought to limit collateral damage - both physical and political.
President Obama has continued an escalation of UAV attacks in Afghanistan and Pakistan that started with President George W. Bush in June 2008, said Bill Roggio, editor of The Long War Journal, which tracks UAV strikes daily as part of its online reporting on the war on terrorism.
The U.S. military offers little information on such strikes, and the CIA has not formally acknowledged its involvement in Pakistan, said Roggio.
The New America Foundation, a nonprofit centrist think tank, has counted 147 reported drone strikes in northwest Pakistan since mid-2004, including 51 in 2010. Roggio reports similar totals.
Estimates of the number of people killed in those attacks vary widely - from 1,047 to 1,592 - as do the ratio of civilians killed, the group notes.
Based on its analysis, the New America Foundation estimates that a third of the fatalities were "non-militant." Roggio said his count is about half of New America's.
Whatever the number, the attacks have prompted a backlash in Pakistan and elsewhere in the world community, prompting military planners to search for smaller weapons to limit civilian casualties.
"This is a political war; it's a war of perception," said Anthony Cordesman, Arleigh Burke Chair in Strategy at the Center for Strategic and and International Studies in Washington, D.C.
"When you can start producing a lower ratio of collateral damage, that's how you win this kind of war."
P.W. Singer, senior fellow in foreign policy at the Brookings Institution, said the move to smaller munitions has been enabled by technological advances and driven by the need to limit the collateral damage.
"The nature of the targets has changed," said Singer, author of "Wired for War: The Robotics Revolution and Conflict in the 21st Century."
"The Hellfire missile was designed to go after Soviet tanks. It's a little bit big for using against a single insurgent leader in Fallujah," Singer said.
Other small guided munitions still under development for use with UAVs include Lockheed Martin's Scorpion, an unpowered, precision-guided munition that is 21 inches long and weighs less than 35 pounds.
Raytheon Missile Systems is Southern Arizona's largest employer, with more than 12,000 local full-time-equivalent employees at the end of 2009, according to the Star 200 survey of the region's major employers.
The business news you need
With a weekly newsletter looking back at local history.