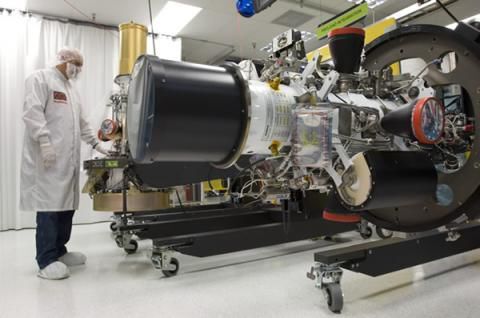 Shares in Raytheon Technologies Corp. rose Tuesday after the company reported fourth-quarter revenue and profits that beat analysts' expectations.
The parent of Tucson-based Raytheon Missiles & Defense posted fourth-quarter sales of $16.4 billion and adjusted sales of $16.6 billion, as the COVID-19 pandemic continued to pummel its commercial aviation units, Pratt & Whitney and Collins Aerospace.
The company posted net income of $146 million, or 10 cents per share, after 64 cents per share in nonrecurring charges including accounting adjustments related to the April 2020 merger of United Technologies Corp. and Raytheon Co. that formed Raytheon Technologies.
When adjusted for the special charges, Raytheon's adjusted earnings per share of 74 cents and its adjusted sales of $16.6 billion beat analyst expectations.
After jumping more than 4% in early trading, Raytheon shares closed Tuesday at $67.20, up 92 cents or about 1.4%.
CUTTING COSTS, SAVING CASH
Raytheon Technologies CEO Greg Hayes said the fourth-quarter results exceeded the company's expectations as it continued to control costs and reap the financial benefits of the merger.
"In 2021, our strategy of harnessing next-generation technologies across our resilient and balanced portfolio will continue to drive differentiated value for customers and advance our industry leadership for years to come," Hayes said, adding that the company remains committed to returning $18 to $20 billion to shareholders in the four years following the merger.
The company issued an updated financial outlook for 2021, forecasting sales between $63.4 billion and $65.4 billion, lower than analysts' estimates, and an adjusted earnings per share of $3.40 to $3.70, on the high side of analyst's estimates.
The company authorized a $5 billion share repurchase program in December and plans to repurchase at least $1.5 billion of shares in 2021.
The special fourth-quarter charges against earnings included 29 cents of acquisition accounting adjustments, 29 cents related to certain Middle East contracts, 5 cents for the economic impact of COVID-19 and 5 cents in restructuring charges, partially offset by other items.
AVIATION units hammered
Raytheon is cutting more than 15,000 jobs at its commercial aviation businesses as they continued to suffer from the impact of COVID-19 on air travel.
Aircraft engine maker Pratt & Whitney reported a 20% drop in fourth-quarter sales on an adjusted basis, as plummeting commercial aviation work was partially offset by an increase in military orders including sales of F-135 engines used in the F-35 fighter jet, while quarterly operating income plunged 78%.
At Collins Aerospace, which makes aircraft avionics and other components, adjusted fourth-quarter sales were down 32% from last year and operating profit plummeted 92%, Raytheon said.
DEFENSE SEGMENTS remain STRONG
Raytheon Missiles & Defense reported fourth-quarter sales of $4.4 billion and an adjusted operating profit of $586 million, and 2020 annual sales of $11.7 billion with an operating profit of $1.4 billion.
Major bookings by the Tucson-based unit in the fourth quarter included $354 million for a classified program; $240 million for production of StormBreaker precision-guided glide bombs for the Air Force; $234 million for TOW (Tube-launched, Optionally-tracked, Wireless-guided) anti-tank missiles; and $217 million for an radar sustainment program for the Missile Defense Agency.
Raytheon Intelligence & Space, which provides space-based and airborne sensors, radars, and cyberwarfare capabilities, posted fourth-quarter sales of $3.8 billion and an operating profit of $355 million.