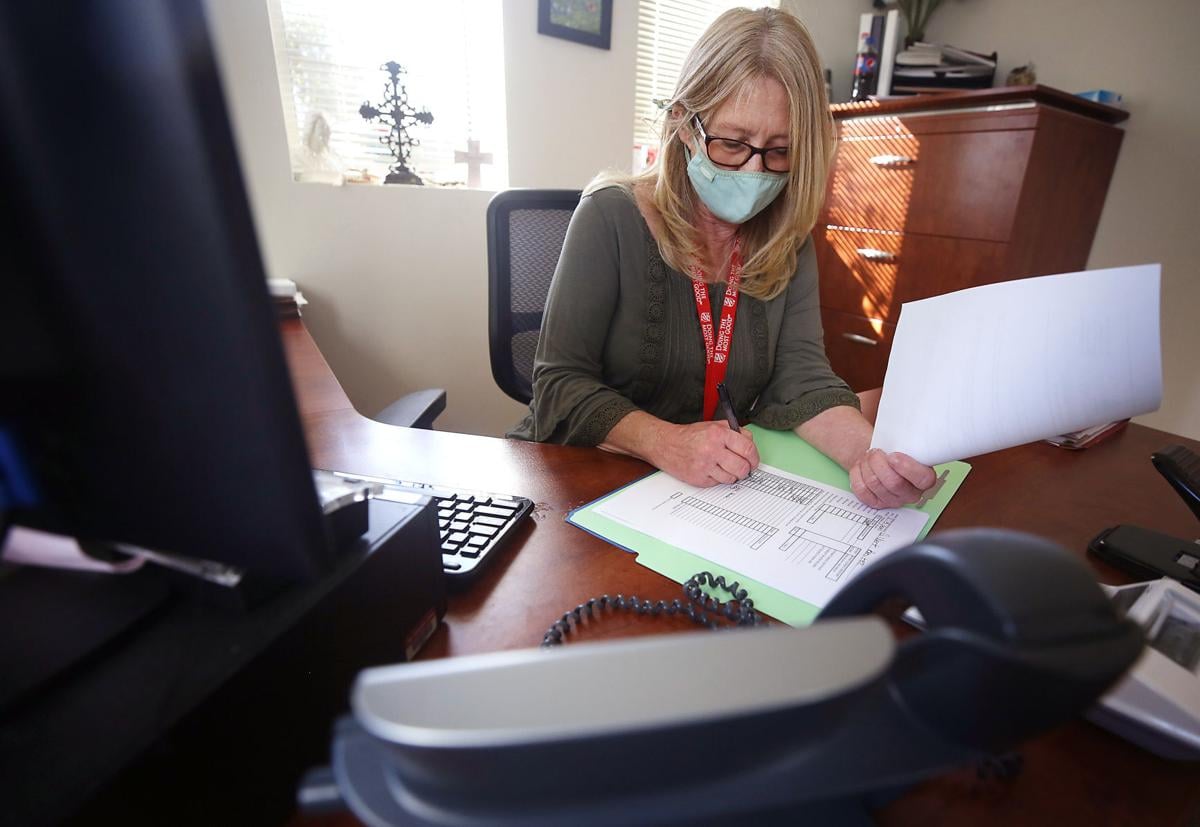 Thousands of Tucson Electric Power residential customers are now eligible for low-income discounts since state regulators recently raised the income threshold to help more customers cope with the COVID-19 pandemic.
But just how many of those customers will take advantage of the discounts is unclear, though TEP has upped its enrollment efforts at the urging of consumer advocates.
As part of new TEP rates approved in late December, the Arizona Corporation Commission raised the maximum qualifying income level for the utility's Lifeline low-income discount program statewide to 200% of the federal poverty level, from 150%, and increased the flat monthly discount to $18 from $15.
That came after the ACC in mid-December adopted the higher income limit as part of an order requiring state-regulated utilities put delinquent customers on long-term payment plans amid the pandemic.
Under the new 200% threshold, customers qualify for TEP's Lifeline rates if they have gross income for the past 12 months at or below $25,520 for a single ratepayer, increasing to $34,480 for a couple, $43,440 for a three-member family and $52,400 for a family of four, and incrementally increasing about $9,000 for each additional family member.
Because of differences in how incomes are accounted for by household size, it's difficult to calculate exactly how many TEP customers now qualify for Lifeline discounts.
However, an Arizona nonprofit that advocates for low-income ratepayers estimated during the rate case that as many as 60,000 of TEP's roughly 390,000 residential customers may now qualify.
Wildfire, a Phoenix-based nonprofit aimed at ending poverty, pushed to raise TEP's income eligibility level to 200% of the poverty level, which it said would bring the utility in line with other utilities around the state and nation.
The group contended that TEP's Lifeline program has been underenrolled and urged the company to increase enrollment to 30,000 customers under the new rules, from about 18,000 now.
"We're just trying to ensure that energy becomes as affordable as possible for the families who are seeking that assistance and for additional families that may just be over the 150% poverty guideline but still really need that assistance," Wildfire Executive Director Cynthia Zwick said
STAYING CONNECTED
Besides bringing TEP in line with other utilities, the increased income eligibility limits will eliminate an issue where some consumers receiving bill-paying grants through the federal Low Income Home Energy Assistance Program (LIHEAP) were not eligible for TEP's Lifeline discount, Zwick said.
While the basic income eligibility level for LIHEAP funding is 150% of the federal poverty level, some consumers gain eligibility under an alternative income threshold at 60% of the median state income — which in some cases is higher than the 150% of poverty level, she explained.
Zwick said Wildfire based its estimate of 60,000 TEP customers who may be eligible for the Lifeline discounts based on the utility's customer base and data showing that, before the pandemic, 17.7% of Tucson residents lived below the federal poverty line.
In 2019, the median household annual income was $53,379 for the Tucson Metropolitan Statistical Area, which is comprised of Pima County, according to U.S. Census Bureau estimates.
Median income for families — households of two or more related people — was higher at $66,727, and the median for families including a married couple was even higher, at $81,511.
TEP has not made any estimate of how many of its customers may qualify for Lifeline discount rates, or how many additional ratepayers qualify under the higher income threshold, spokesman Joe Barrios said.
"We don't know who is eligible until they tell us," he said.
But out of an estimated 404,739 households in Pima County — where the average household size was 2.42 persons — 47%, or more than 190,000, had annual income of $49,999 or less, Census data shows.
And out of an estimated 248,813 families in Pima County in 2019, 36.5% or nearly 91,000 had income of $49,000 or less, the agency reported.
"I don't have any expectation that we will get to that 60,000 mark," Zwick said. "But I think if we can help more families get a bit more of a discount on their rates, it's good for the families but it's also good for the company, because if they can stay connected and current on their bills, they're in a better situation overall."
"EVERY LITTLE BIT HELPS"
The $18 monthly discount may not seem like much, but every little bit helps especially with unemployment running high amid the pandemic, Zwick said.
"It's sometimes underappreciated just how much difference that amount of money makes, in some cases just being able to stay in their home," she said.
At Wildfire's urging, TEP has improved a process for automatic enrollment of low-income customers through social-service agencies that also provide LIHEAP utility aid, rental assistance and other aid.
Those agencies, such as the Pima County Community Action Agency, Interfaith Community Services, the Salvation Army and Chicanos Por La Causa, are able to vet the applications and provide assistance as part of a broader, case-based approach, TEP's Barrios said.
"If they qualify, they are automatically enrolled, so we rely on the due diligence of those agencies to verify the customers are in need," he said.
Even so, TEP continues to stress the importance of customers contacting the company as soon as they know they will have trouble paying their bills, to set up payment plans and tap into bill-assistance programs.
TEP also recently launched an online enrollment process for the Lifeline program.
Customers can apply for Lifeline rates using an online form or download an application that can be emailed, faxed or sent via regular mail.
Those without internet access can call TEP and have an application form sent to them, Barrios noted.
Customers attest they fall under the income limits for their family size and authorize TEP to contact any authority necessary and to supply documentation to verify the accuracy of the information.
Lifeline program participants are required to reapply every year.
THROWING MORE CUSTOMERS A LIFELINE
Wildfire's Zwick said TEP is making progress.
"I think all utilities have an underenrollment issue, that's not necessarily a criticism of the company, because I think TEP has done a lot with outreach," she said. "What we're encouraging is that this becomes an even higher priority, to make sure families are aware of all the bill assistance that is available."
TEP's Barrios said the company is doing what it can to widen its outreach on Lifeline and other programs to help low-income customers.
"We understand this has been a tough year for a lot of customers, and they need support," Barrios said. "They need to be informed and we were in favor of (expanding) outreach over the last year, encouraging them to simply talk to us — call us and tell us your circumstances and how we can help, and maybe we can let you know about the resources that are available in the community."
TEP promotes Lifeline and other programs through its regular marketing tools like bill inserts and online postings, and an improved auto-enrollment process and online applications should help more customers.
Zwick said she'd like to see TEP do more, perhaps with radio spots and social media.
TEP has boosted direct assistance to ratepayers from its corporate coffers.
The company has doubled, to $300,000, its annual corporate contribution to Wildfire and agreed to fund $600,000 worth of one-time, $250 bill credits for customers who are delinquent on their bills and would be disconnected if not for a current moratorium on shutoffs.
PAYING FOR BILL DISCOUNTS
While those corporate contributions don't affect rates, the Lifeline discounts come at a cost to other ratepayers who essentially must make up the lost revenues, as TEP rates are adjusted to fulfill the company's revenue requirement and allowed profit.
Under the former income eligibility rules, Lifeline participants saved a total of about $3.2 million in 2018 from the monthly discount when it was $15.
TEP estimated increasing the monthly discount to $18 would boost the overall cost of the program to about $3.8 million — not factoring in additional customers signing up under the higher income threshold.
That revenue lost from the Lifeline discounts amounts to about $7 a year for each TEP customer.
During TEP's rate case, Corporation Commission member Justin Olson unsuccessfully tried to amend the rate order proposed by a hearing judge to keep the Lifeline eligibility threshold at 150% of the federal poverty level, arguing that it was unfair to increase subsidies paid by other ratepayers and citing TEP's increased contributions to bill-assistance funding.
But the other four commissioners voted down Olson's amendment, citing the great need created by the pandemic.