After a decade of planning, Tucson International Airport broke ground Thursday on the biggest construction project in the airport's 72-year history — an airfield safety enhancement project expected to last at least five years and cost some $300 million.
The project will include construction of a new, full-length parallel runway, new center and outer aircraft taxiways, relocation of munition storage bunkers used by Raytheon, a new emergency aircraft landing arrestor cable system and sound insulation in some area homes.
During a socially distanced ceremony at TIA, a Federal Aviation Administration official said the project will help make the airfield safer by reducing runway "incursions," when planes, people or ground vehicles enter runways and related protected areas without authorization.
With an airfield design dating back to the 1950s, TIA has had problems with certain "hot spots" where the number of incursions were unacceptably high, said Mark McClardy, FAA Western-Pacific regional director.
TIA has had some close calls but has not recorded any collisions resulting from incursions.
"The airport is safe today," McClardy said. "But just like you put a median on a freeway, you want to enhance it as much as you can."
"It really got to the point where there were some stubborn hot spots for runway incursions that had to get addressed, and the only solution was changing the airfield geometry," he said.
McClardy and other speakers at the groundbreaking lauded the cooperation among the stakeholder group that planned for the project, besides the Tucson Airport Authority including the city of Tucson, Pima County, the Air Force, the Air National Guard and Raytheon.
To make the project work required a complex series of land acquisitions and swaps to reconfigure the airfield and give Raytheon more buffer space to the south, with some transactions still to be finalized, Tucson Airport Authority President and CEO Danette Bewley said.
"This is a really complicated and complex project that required a team effort," Bewley said. "We may not have always been on the scrimmage line at the same time, but we got over the goal line."
The cost estimate for the project has grown from $218 million a few years ago to an estimated $300 million. Construction will be done in phases to avoid disrupting air service and airport tenants like Bombardier Aerospace.
The Tucson Airport Authority expects about 90% of funding for the multi-year project to come from the Federal Aviation Administration's Airport Improvement Program, which is funded by airfare and aviation-fuel taxes. The rest will be funded by airport revenues and state grants.
The new main runway is expected to be operational by 2023 and the entire project is planned for completion in 2024 or 2025, with the pace of construction largely dictated by the release of federal funding.
Speakers including Pima County Administrator Chuck Huckelberry and Tucson Mayor Regina Romero cited the critical role of FAA funding and Sen. Martha McSally (R-Arizona) and Rep. Ann Kirkpatrick (D-Tucson) for their support of the project.
McSally said the groundbreaking had special meaning for her because of her former role as commander of an A-10 squadron at Davis-Monthan Air Force Base.
The addition of a new full-size parallel main runway will increase capacity and safety at TIA, McSally said, noting that her unit sometimes used TIA for additional training but operations were sometimes limited when the airport's main, 11,000-foot runway was too busy or briefly shut down.
The replacement of the current, 8,400-foot parallel runway with a wider, full-length parallel runway will help provide more flexibility for military training while preparing TIA for future capacity expansion when air transportation recovers from the COVID-19 pandemic, she said.
"It's going to increase opportunity — once we defeat this virus, and we will — for increased air transportation into Tucson for all the people in the world to visit our wonderful community," McSally said, adding that as a pilot she also looks forward to the additional and redesigned taxiways.
Photos: Groundbreaking ceremony for large safety project at Tucson International Airport
Tucson Airport Authority Airfield Safety Enhancement Project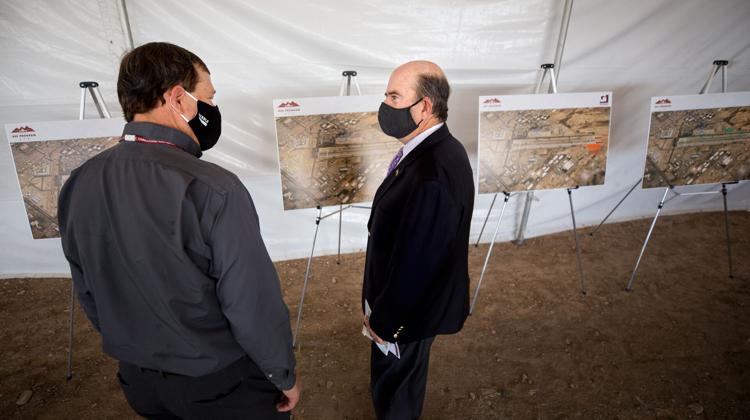 Tucson Airport Authority Airfield Safety Enhancement Project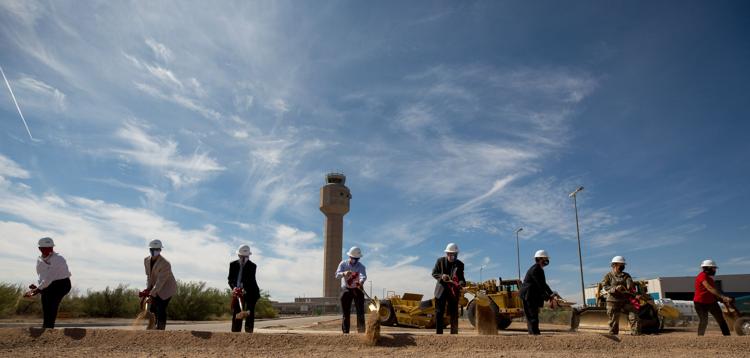 Tucson Airport Authority Airfield Safety Enhancement Project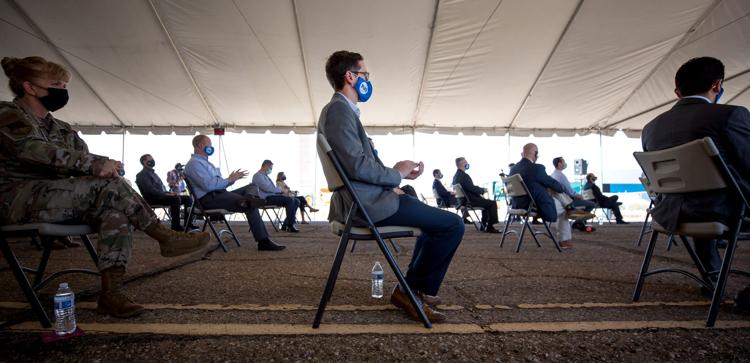 Tucson Airport Authority Airfield Safety Enhancement Project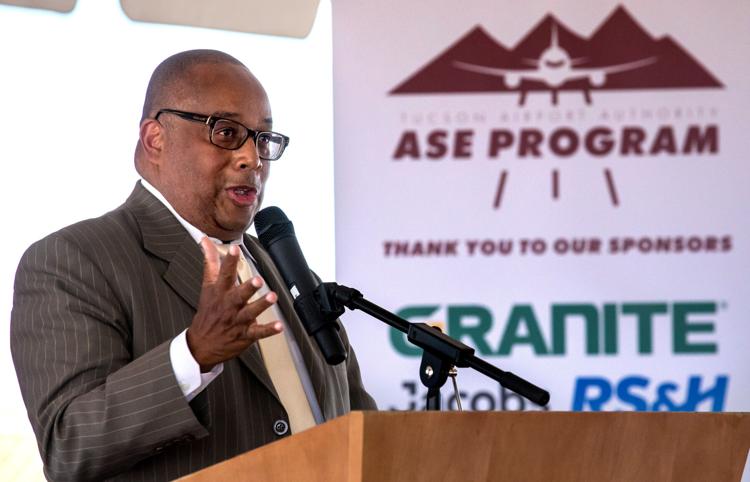 Tucson Airport Authority Airfield Safety Enhancement Project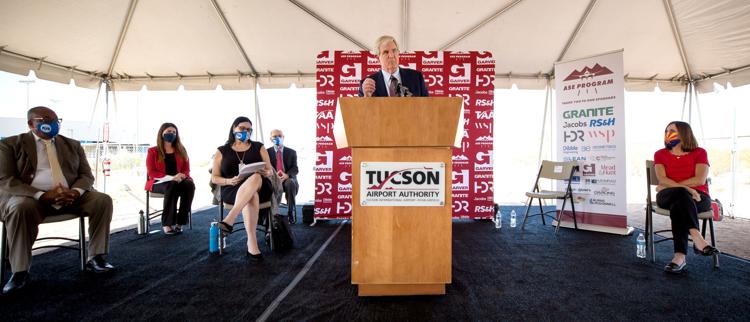 Tucson Airport Authority Airfield Safety Enhancement Project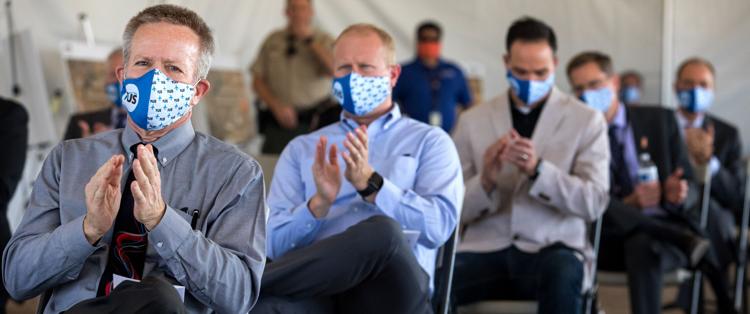 Tucson Airport Authority Airfield Safety Enhancement Project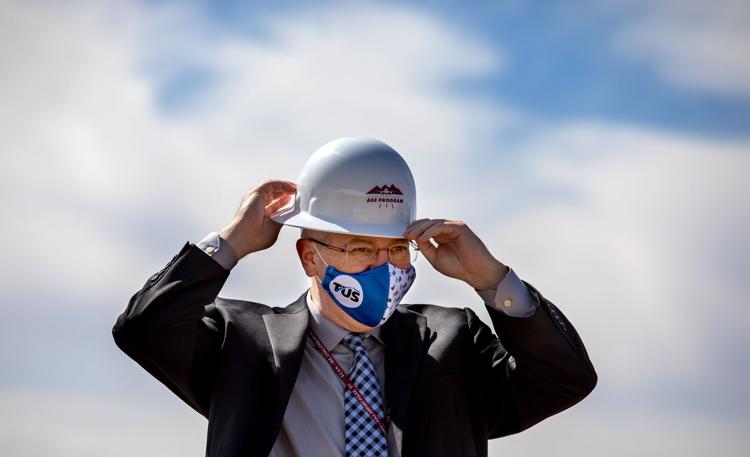 Tucson Airport Authority Airfield Safety Enhancement Project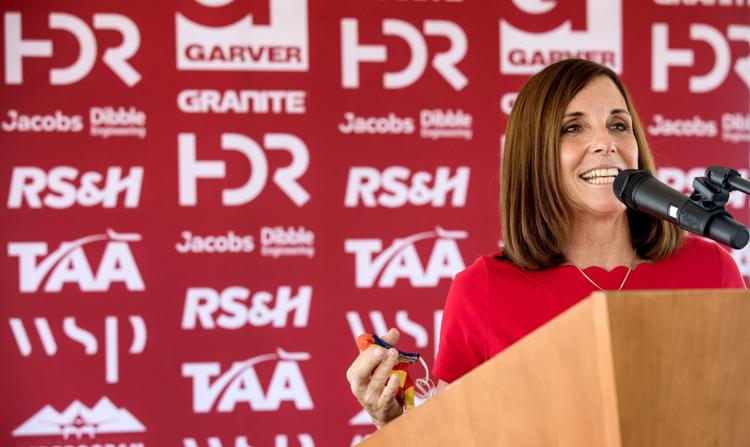 Tucson Airport Authority Airfield Safety Enhancement Project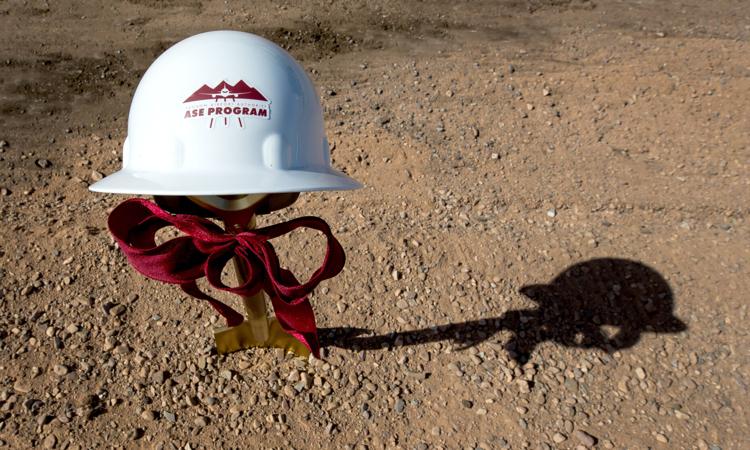 Tucson Airport Authority Airfield Safety Enhancement Project
U.S. customs agency unveils new facility at Tucson airport
The iconic air traffic control tower at Tucson International Airport is now home to a new customs facility.
Officials with Customs and Border Protection and the Tucson Airport Authority unveiled the facility on Friday, which came after a $1.8 million renovation of the 1950s-era tower that has T-U-C-S-O-N in large letters on its exterior.
The tower, at 7081 S. Plumer Ave., went largely unused after air traffic controllers moved to a newer tower on the west side of the airfield in 2016, according to the Airport Authority. Until recently, customs officers worked out of the main terminal, which presented congestion and parking problems.
"We are excited for CBP to be in their new facility at Tucson International Airport. Their new facility provides a great first impression for our arriving international customers," Danette Bewley, TAA president and CEO, said in a news release.
"The location and the appealing atmosphere of the facility truly welcome business leaders and VIPs to TUS when arriving to our Port of Entry."
"We could not be happier with the new location," U.S. Customs and Border Protection's director of field operations, Guadalupe Ramirez, said in the news release. "This expansion will allow for future growth of international flights into our area, adding a boost to the economy."
The airport is a designated port of entry that receives international passengers and cargo that customs officers must inspect.
Customs officers at the airport processed nearly 2,000 aircraft arrivals in 2019, along with more than $1.1 billion worth of international merchandise. They also conducted more than 8,225 Global Entry and SENTRI interviews, according to the Airport Authority. The earliest availability for Global Entry appointments is April 2021.
Community partners and stakeholders attend a hybrid groundbreaking ceremony for the start of Tucson Airport Authority's (TAA) Airfield Safety …