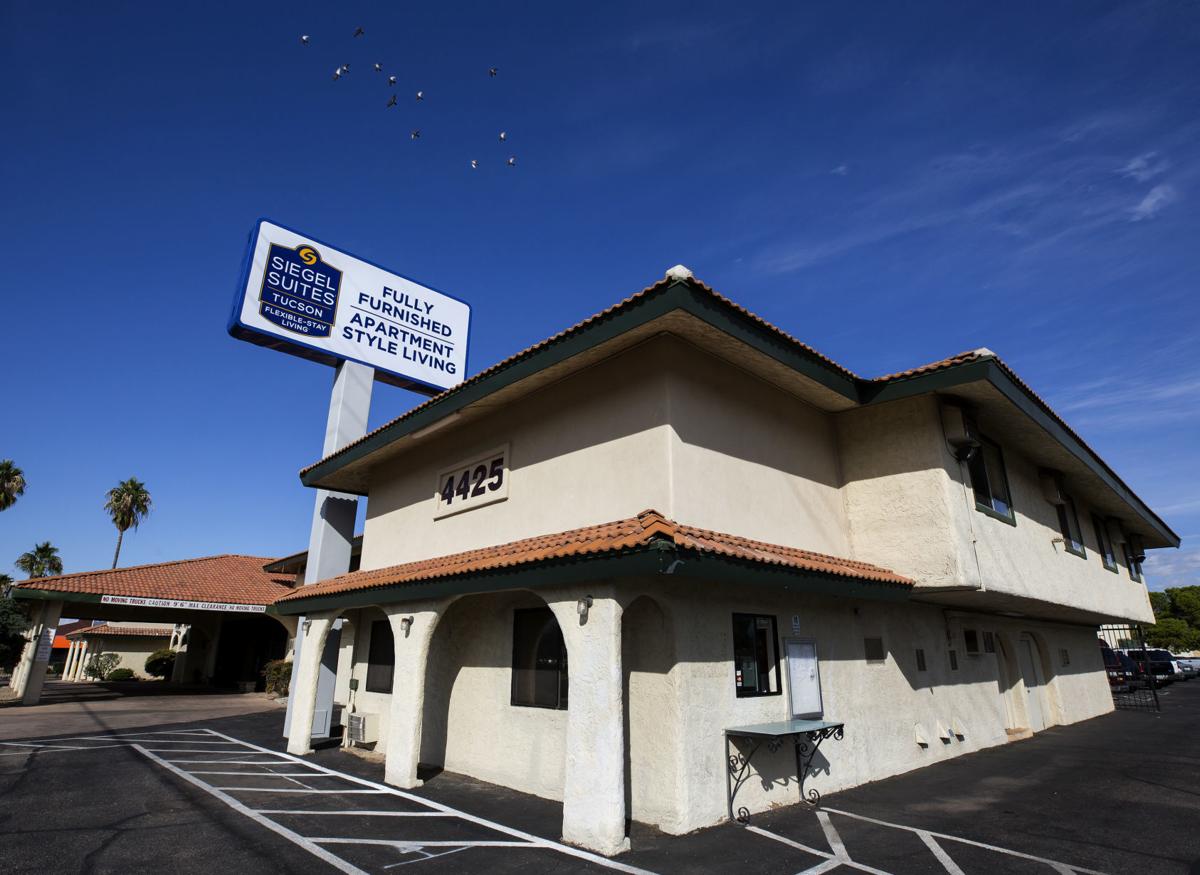 A Nevada real estate investment company has bought a flexible-stay rental complex on Tucson's east side.
The Siegel Group Nevada, Inc. bought the former Palm Court Inn, 4425 E. 22nd St., for $6.10 million.
The 210-unit property just east of South Columbus Boulevard is comprised of five, two-story buildings with a pool, a laundry facility, and studio and one-bedroom units.
"We have been bullish on the Tucson market for a while and when the opportunity to acquire this property came up, we jumped on it," said Michael Crandall, Siegel's senior vice president.
The rebranded Siegel Suites will operate as affordable, flexible apartments with a minimum one-month commitment to rent. . Aside from the complex's cosmetic upgrades, the units will also be renovated, Crandall said.
The company's other Tucson property, Siegel Select, is located at 4800 S. Butterfield Drive, near South Palo Verde and East Irvington roads.
Other recent commercial transactions include:
AM Family Properties LLC sold the 41-unit complex at 5570 E. Hampton St. for $2.6 million to Devington LLC. Brian Bowers, of 520 Realty, represented the seller Danny Roth. Ed Mandelberg, of Keller Williams, represented the buyer.
Other One LLC bought a 3,986-square-foot office building at 5102 E. Pima St. from Alexandra Siegal for $450,000. Andrew Sternberg, with NAI Horizon, represented the buyer and Jon O'Shea, with Vast Commercial Real Estate, represented the seller.
Bodycentral Physical Therapy PC leased 3,893 square feet in Monte V Corporate Center, 3501 E. Speedway, from Monte V LLC. Richard M. Kleiner, with Picor, represented the landlord and Janine Irvin, with Mark Irvin Commercial Real Estate Services LLC, represented the tenant.
CJS Enterprises LLC, doing business as Cory Jean Success, leased 1,890 square feet in North Tucson Business Center, 3845 N. Business Center Drive, from NTBC Trust Partners LLC. Robert C. Glaser and Paul Hooker, with Picor, handled the transaction.
Ni Hao Tea LLC (Boba Tea) leased 1,500 square feet in Swanway Plaza, on the southeast corner of Broadway and Swan Road, from Swanway Investors LLC. Greg Furrier, with Picor, handled the transaction.
GB Salon leased 1,044 square feet at 6530 E. Tanque Verde Road from La Plaza Investors LLLP. Cameron Casey, of Oxford Realty Advisors, represented the tenant and David Carroll, of Romano Real Estate, represented the landlord.
Information for Tucson Real Estate is compiled from records at the Pima County Recorder's Office and from brokers. Send information to Gabriela Rico, grico@tucson.com