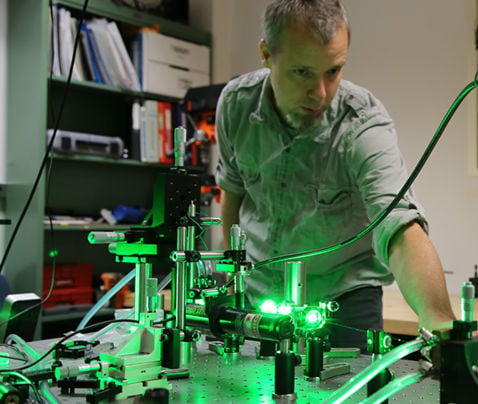 UAVenture Capital Fund, a Tucson-based venture capital fund focused on University of Arizona technology spinoffs, has invested in three startups developing specialized lasers.
UAVenture Capital Fund II LLC announced investments in DeUVe Photonics Inc., CThru Lasers Inc. and Wavelength Unlimited Technologies Inc., based on inventions by UA professor of optical sciences Mahmoud Fallahi and UA assistant optics research professor Chris Hessenius, both "nationally known experts in laser technology applications."
The amounts of the investments were not disclosed. UAVenture Capital co-founder and CEO Fletcher McCusker has said its individual investments typically average about $2 million.
"Mahmoud and Chris have been working together for several years and have developed commercial applications for laser technologies far superior to anything available today," McCusker said in announcing the funding. "Both professors are researching and developing state-of-the-art products that are world-changing."
Yet each startup is focused on different types of lasers and markets:
DeUVe Photonics is developing deep-ultra-violet short-wave-length technology to address an unmet need in the 230-400 nanometer wavelength range with higher performance in power, reduced size and efficiency. Potential applications include detection of biological or chemical substances for defense, mining safety and surveying and rapid inspection of semiconductor chips.
CThru Lasers is developing several technologies including multi-color-multi-wavelength lasers, visible lasers and near-infrared lasers for many uses in the tunable-laser market, such as extremely large light displays in sports venues, underwater and space communications and medical 3D imaging.
Wavelength Unlimited Technologies' technology uses near-to-far infrared lasers to scan for "spectral fingerprints" or to "see inside" substances, with applications such as drug-purity testing and security screening for hazardous materials.
Since its founding in 2017, UAVenture Capital has invested in a dozen UA technology spinoffs.
After raising $20 million for its first fund and investing in six startup companies, UAVenture Capital began raising money in January toward a target of $100 million for a second fund.