There are staycations and vacations.
And then there's the "daycation" — one day to escape the everyday and dive into a pool much larger than the one in your backyard or your community center.
That one comes with poolside cocktails and food service.
For our money, we love JW Marriott's Starr Pass Resort pool with its lazy river that meanders ever so calmly. Yes, we are the ones in the tubes just floating in endless loops.
And that 235-foot waterslide at the Ritz-Carlton Dove Mountain in Marana is worth the scenic drive. The cost of admission also includes access to the hot tub and complimentary sunscreen.
At Marana's other resort, Omni Tucson National, you can use the pool and the whirlpool. We like to do that double-dip action: Dive into the pool to cool off then slink into the whirlpool to relax and heat up. Dive, dip and repeat throughout the day.
Some of the resorts offer membership packages that give you unlimited access for a monthly fee if you want to extend your daycation. The day passes are only available for weekdays; check with resorts for additional restrictions. To link to most of the hotels offering passes, visit resortpass.com
JW Marriott Resort and Spa
3800 W. Starr Pass Blvd.; 792-3500 or marriott.com
Cost and what it gets you: Because of its central location, there's high demand for the resort's day passes, which means you should call in advance. But the wait will be worth it when you grab a tube and start floating with nary a care in the pool's lazy river. They also have a waterslide and a lounge deck for sunbathing that's perfect for sipping cocktails or nibbling a bite from the resort's "plunge to go" poolside dining service. Prices start at $45 for adults, $25 for children.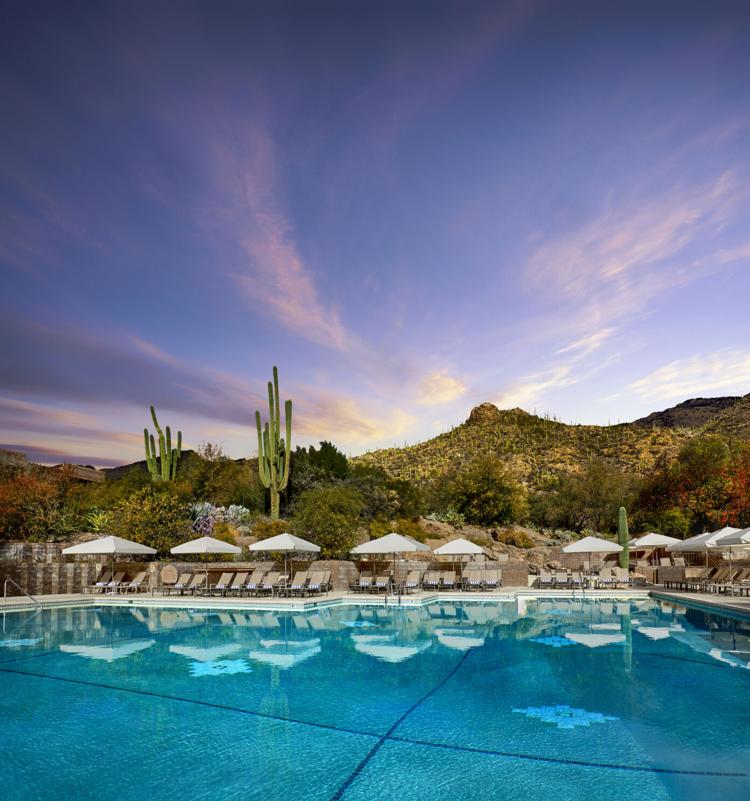 Loews Ventana Canyon Resort
Cost and what it gets you: You just can't beat the view from the pool of majestic towering saguaros set against the backdrop of the Catalina Mountains foothills. Loews has two pools and offers complimentary afternoon treats. Day passes start at $30 for adults, $15 for children, but the resort is holding off on opening its facilities to non-guests until its occupancy rates drop. Resort officials said they are averaging 80% occupancy on weekends, so they advise folks to call ahead to see if the pool is open for non-guests.
Ritz-Carlton Dove Mountain Resort
15000 N. Secret Springs Drive; 572-3000 or ritzcarlton.com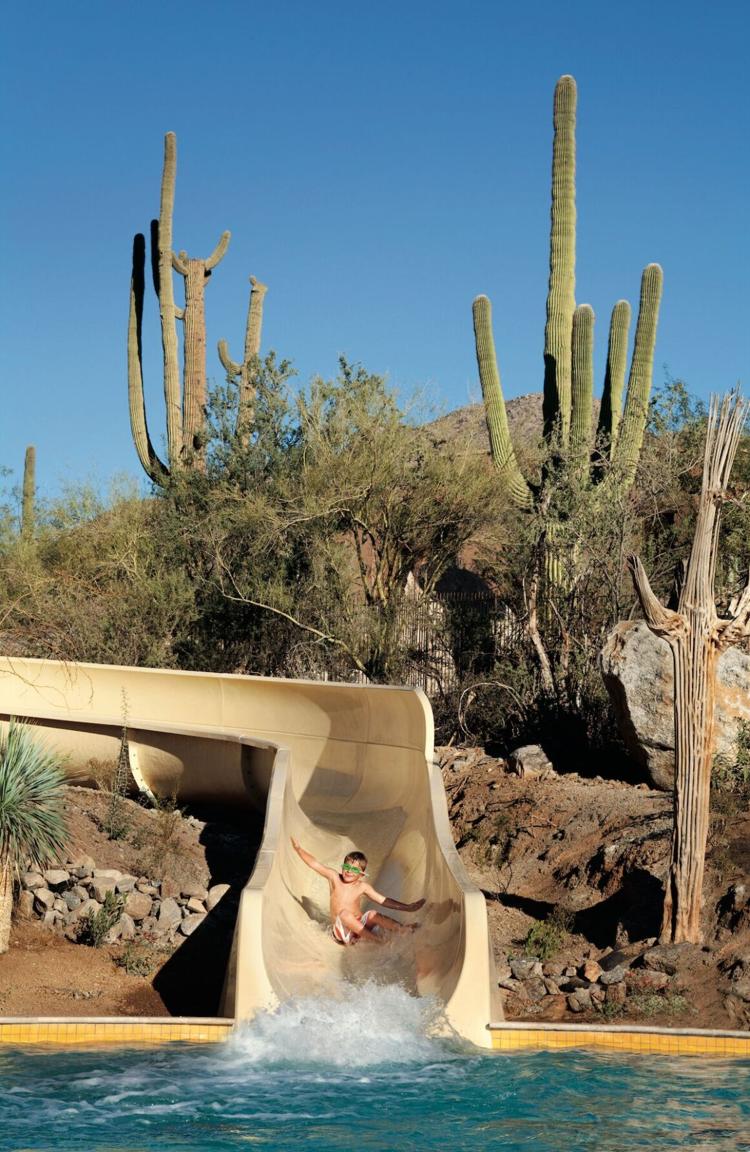 Cost and what it gets you: For $55 for adults, $25 for kids, you get access to two pools, a kiddie splash pad and the resort's monster 235-foot waterslide — one of the biggest water slides in the state. You can also order poolside eats from the resort's Turquesa Latin Grill, and they throw in complimentary sunscreen in case you run out.
Omni Tucson National Resort
The cost and what you get: The Omni is best known as a golfer's paradise with lush greens that once upon a time would be filled every winter with the latest crop of top pros. (Phil Mickelson, who last month shocked the golf world with his improbable PGA Championship win at the age of 50, played the Tucson Chrysler Classic in 1997 on that course.) But the resort's sparkling blue Sweetwater outdoor pool is pretty snazzy as well. The pool deck sets against a stunning backdrop of the nearby Santa Catalina Mountains and the pool itself is a sparkling blue invitation to jump in and stay awhile. With the poolside cocktail service, that won't be a hard ask for many guests. Day passes start at $35 for adults, $25 for kids, and it includes use of the resort's tennis courts, sauna and whirlpool.
The Tuxon Hotel
The cost and what it gets you: The pool bar is the big attraction for this year-old boutique hotel off the freeway. Although it's perfectly family friendly, hotel officials admit the big draw for the Tuxon pool is the party, and on weekends they light it up. Friday nights feature live music, Saturday nights are pool parties and Sundays are for Mexican bingo. The bingo and live music are open to the public at no cost; Saturday night events will open up to day pass holders when the hotel's occupancy drops. Day passes start at $35 for adults, $17 for kids.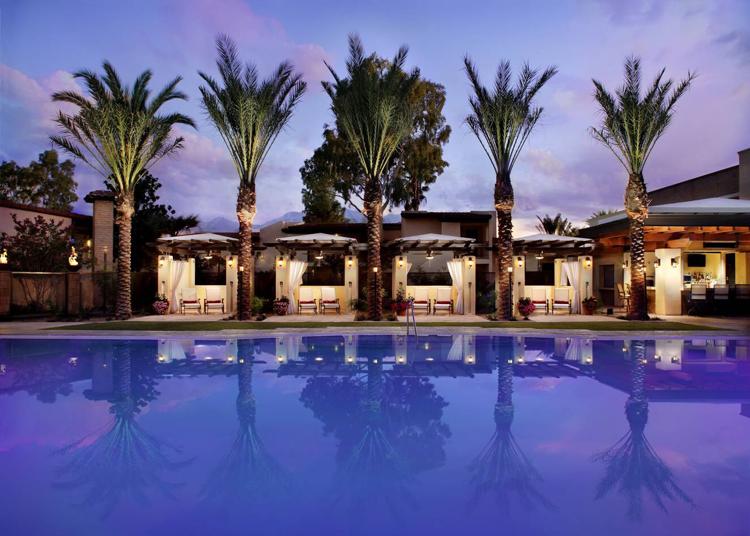 DoubleTree by Hilton
The cost and what you get: With things opening up in our post-COVID universe, we can once again start dreaming in days, not hours. Which is perfect when you think about filling a day at Reid Park. You got the zoo, the park's walking trails and then, the perfect cool-off, a dip in the pool at the DoubleTree by Hilton at Reid Park. It's $20 for adults, $10 for kids — $5 more for weekends — and the price gives you access to the pool and the hot tub. No frills, just a simple, cool, wonderfully welcoming pool in a location that is, for Tucson, a little slice of tree-shaded heaven.
Public pools
If you're looking for a real bargain, consider taking a dip at a local public pool where summer swim season is officially underway.
Entrance to city pools is free through Aug. 4. Admission to Pima County pools is $1 for children age 17 and under, $3 for adults ages 18 and up. Discounted admission is available for adults and children who qualify; learn more at pima.gov/pools.
The eight Pima County pools that are open are:
Kino Pool, 2805 E. Ajo Way
Los Niños Pool, 5432 S. Bryant Ave.
Flowing Wells Pool, 4545 N. La Cholla Blvd.
Manzanita Pool, 5110 S. San Joaquin Ave.
Picture Rocks Pool and splash pad, 5615 N. Sanders Road
Wade McLean Pool, 12000 W. Emigh Road
Catalina Pool, 16562 N. Oracle Road
Ajo Pool, 290 E. Fifth Street
A ninth county pool at the Northwest YMCA is closed for renovations.
Two county splash pads are also open daily from 8 a.m. to 7 p.m.
Warden Family Splash Pad, 5110 S. San Joaquin Ave.
Brandi Fenton Splash Pad, 3482 E. River Road
Per Pima County policy, everyone is required to wear masks when entering county buildings and anyone who is not fully vaccinated is advised to wear masks in public places when distancing from others cannot be maintained.
The city of Tucson opened 12 of its pools on June 3. They are:
Amphitheater Pool, 125 W. Yavapai Road
Archer Pool, 1665 S. La Cholla Blvd.
Catalina Pool, 2005 N. Dodge Blvd.
Clements Pool, 8155 E. Poinciana Drive.
Edith Ball Adaptive Recreation Center, 3455 E. Zoo Court
Fort Lowell Pool, 2900 N. Craycroft Road
Mansfield Pool, 2275 N. Fourth Ave.
Oury Pool, 665 N. Hughes St.
Purple Heart Pool, 9800 E. Rita Road
Quincie Douglas Pool, 1563 E. 36th St.
Sunnyside Pool, 1725 E. Bilby Road
Udall Pool, 7200 E. Tanque Verde Road
Visit bit.ly/3wSzr3C for hours and other information. At city pools, masks are optional for those who are vaccinated and recommended for anyone who isn't.