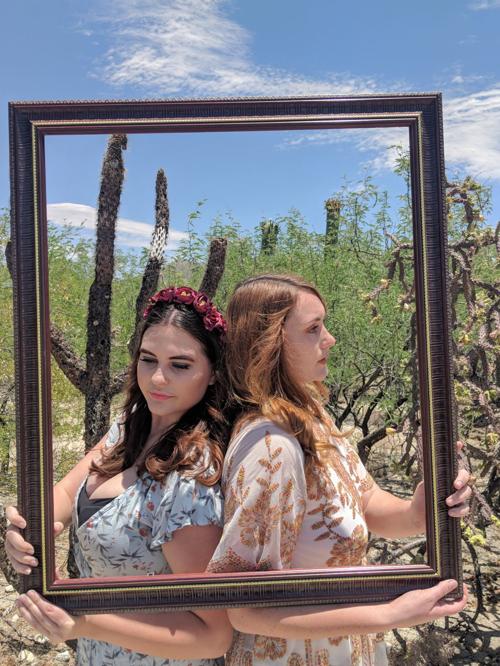 You won't have to wait until January to get a fix of the Tucson Fringe Festival's creative fever.
While the annual festival generally concentrates on new plays, the organizers are mixing it up for the first Blending Forms event. Fifteen artists who work in a variety of mediums will pair up and combine their talents to create an original piece.
The seven duos, plus one solo performer, include local dancers, poets, sculptors, comedians, opera singers and muralists.
"I'm really loving the openness the artists have," says the festival's Executive Director Maryann Green, "It's going to be really cool to see the kinds of art they can create when they're given what some may see as a challenge, but they're seeing it as an opportunity."
Emily Gates, a Tucson-based actress, will work with visual artist Delaney Thomas to create a "living painting" inspired by Mother Nature and influential women in history, such as Jane Goodall.
Gates, who is used to working with artists within the theater world, says the piece gives her and Thomas the opportunity to experiment with performance and visual arts.
Thomas will paint a landscape backdrop as well as Gates' face; Gates will perform an original script as Mother Nature.
"We look at a painting as a conception, someone's view of somebody else … but what does the subject have to say? I'm going to break out of the frame and tell my truth as Mother Nature," Gates says.
Thomas says folklore from different cultures and the Disney film "Moana" provided inspiration for their depiction of Mother Nature, which she hopes will spark a conversation about environmentalism.
"I think because everybody is focused on environmental conservation at the moment and because we're all becoming more aware of it, it will stand out," Thomas says.
For Gates, she's looking forward to seeing the character she's creating come to life through their half-static, half-performance piece.
"As a woman, I'm so excited to tell a story about strong women, inspired by strong women and to just tell the truth about the female experience," she says.
Gates, who also performed in the eighth annual Tucson Fringe Festival earlier this year, says she and Thomas were able to get as creative as they wanted for their project because the festival lets artists work without major limitations or censorship.
"They said if you can do it in the space and it's legal, do it," Gates said with a laugh.
Gates and Thomas will debut their artwork at the event on July 20 at the historic Steinfeld Warehouse Community Arts Center in downtown Tucson.
Maryann Green says Blending Forms will allow audiences to witness what "fringe" is all about and learn about how to get involved with next January's ninth annual Tucson Fringe Festival.
The performing arts festival, slated next for Jan. 9-12, features a collection of original plays that are selected lottery-style, giving artists an equal opportunity to stage their works. The Tucson Fringe Festival has drawn artists from around the country.
Jesse Tellez is a University of Arizona journalism student apprenticing at the Star.