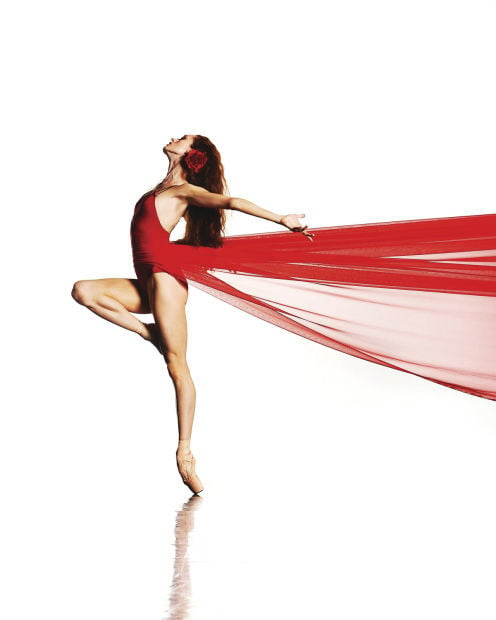 Editor's note: Ballet Tucson ended its 2017-18 season March 18. Author Jennifer Lee Carrell, the Star's former dance critic, takes a look at the last performance and the company's season.
On March 17, I witnessed a marvel of rare beauty: I went to the ballet.
Under the artistic direction of Mary Beth Cabana and assistant director Chieko Imada, Ballet Tucson has achieved an exceptional quality and depth unusual even in cities many times Tucson's size. The final program of the 2017-2018 season was beyond breathtaking for a reason that can be summed up in two words: Jenna Johnson.
She is a world-class ballerina; last weekend, she blazed through "Carmen" and "The Swan" with meteoric grace. Following both works, gasps threaded the darkness, punctuated by whispers of "amazing" and "astonishing." Then the audience roused itself into ovations, catcalls, shouts of "Brava!" The woman on my left leaned over to say that before retiring in Colorado, she'd been a professional dancer and dance teacher in the Bay Area; for 25 years, she and her husband had season tickets to the San Francisco Ballet. She motioned toward the stage. "But this … this was extraordinary."
I grew up on stories of my grandmother watching Anna Pavlova, followed my aunt idolizing Margot Fonteyn and Rudolf Nureyev, and spent my youthful savings to see Mikhail Baryshnikov, Cynthia Gregory and Natalia Makarova. I served, for a time, as the Arizona Daily Star's dance critic, and I have thrilled to performances by the New York City Ballet, American Ballet Theatre, Ballet Nacional de Cuba, the Royal Ballet, the Bolshoi and the Kirov, among others.
Johnson's artistry holds up in that class. Her technique is fine to the point of invisibility, all pure line and fluid strength that absorbs audiences into the fluid whole of the dance rather than catching on the wonders of specific moves. She is ethereal innocence one moment and sensual ferocity the next. Like fire, she is impossible not to watch.
Her acting is as electrifying as her dancing. She does not vanish into a role, like Meryl Streep, but shines with the incandescence of silent film stars and icons of Hollywood glamor: Katharine Hepburn, Joan Crawford, Elizabeth Taylor.
She devours roles of dangerous women, notably Medusa and Odile (the black swan of "Swan Lake"). Her return last weekend as Carmen was a tour de force (this production premiered in 2011). Flickering through laughter, fury, despair and joy, Johnson exulted in Bizet's glorious music and ballet master Daniel Precup's seductive choreography. From sidelong glances to the mocking Flamenco tap of her pointe shoes, from poses flung out like dares to her final death throes, she was spellbinding.
Then came "The Swan," a brief solo created in 1905 for Pavlova that since has become a litmus test for great ballerinas. The least dip into mediocrity is cringe-inducing, so that performing it requires either courage or craziness. Johnson was riveting. While her feet trembled with delicate beauty, her arms — both the great beat of swan's wings and the liquid rippling of rivers — elevated her performance into the stratosphere. Her "Swan" was a three-minute eternity of heart-stopping awe.
Throughout the past season, other dancers also regularly captured the eye. With marvelous musicality and legs that never seem to end, soloist Taylor Johnson (no relation to Jenna) can slip from buoyant charm to feline elegance. Sierra Sebastian is a young dancer to watch, a spitfire with comic verve and sunny grace. Last weekend, her drunken mischief in "Birthday Variations" was laugh-out-loud funny. Principal Megan Steffens exudes fragile vulnerability.
Among the men, Mauricio Vergara matches long, lithe power with a wicked sense of humor. Guest artist Vasily Boldin dances with classical purity, while whirlwind Denis Maciel is always fun to watch. 
From Petipa to Balanchine, Ballet Tucson embodies the great classics with finesse. The company also continually challenges and rewards with new choreography. In the past two seasons alone, Cabana and Imada have paired their apparently boundless creativity to premiere works ranging from dark steampunk fairy tale ("Jekyll and Hyde") to a Dia de los Muertos delight ("Spirit Garden"), to sleek contemporary ballet ("Tribute to Leonard Bernstein"). Precup's "Perseus and Andromeda" and "Love Songs" stand among the company's most sensuous works.
With increasing frequency, the company dances to brilliantly-performed live music.
This past weekend, Mark Schneider's "Saddle Up!" set a twist of ballet, square dance and country-Western two-step to the Bill Ganz Western Band's lovely renditions of cowboy classics. Though the choreography veered at times into cowboy cliché, the live music prompted the dancers into infectious joie-de-vivre.
The 2017-2018 season showed that Ballet Tucson is a wonder not to be missed. By all means, go to the "Nutcracker," but as any dance fan will tell you, to really experience ballet, see something — anything — else, as well. At its best, Ballet Tucson will do what great art does: It will stop time, fill your heart and mind with awe, and send you spinning among the stars.
Jennifer Lee Carrell is a novelist; from 1999-2001, she was the Star's dance and classical music critic. Her 10-year-old daughter is a student in the beginner levels at Ballet Arts, the affiliated school of Ballet Tucson.
Stay up-to-date on what's happening
Receive the latest in local entertainment news in your inbox weekly!