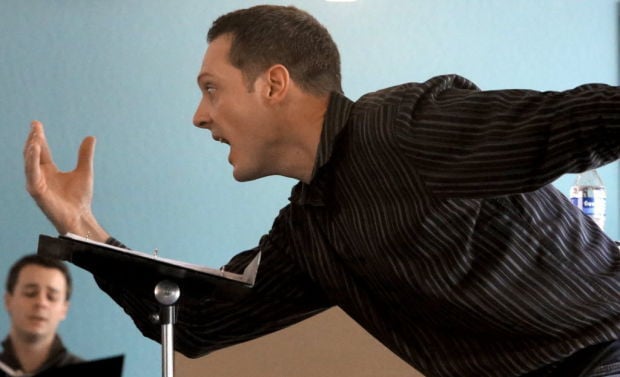 After years of being mistaken for everything from the Tucson Chamber of Commerce to Arizona Friends of Chamber Music and even an upscale interior design firm, Tucson Chamber Artists is changing its name.
Beginning July 1, the professional choir founded in 2004 by Eric Holtan will be known as True Concord Voices and Orchestra — True Concord for short.
"We've had really great success. Every year we've just gotten bigger both at the box office and in contributed gifts. We have really been establishing our reputation for providing, at a very high level, a unique musical offering in the community," Holtan said, adding that there's been one stumbling block along the way: the name.
"We think that we could grow more and reach more people if we removed that obstacle," he said.
After eight years of toying around with the idea of a name change, the TCA Board of Directors this year set it as a priority ahead of the September release of TCA's Stephen Paulus recording project. The disc, likely to be issued nationally on a major label, includes "Prayers and Remembrances," the 9/11 piece TCA commissioned in 2011 from the late Paulus to commemorate the 10-year anniversary of the terrorist attacks, said TCA spokeswoman Mary K. Davis.
Paulus spent a week in Tucson working on the CD with the chorus in May 2013. Two months later he suffered a devastating stroke that eventually led to his death last October.
"If we are encountering issues locally with our name, what will happen when we go national?" Holtan said.
Holtan said the new name was inspired by a stanza in Shakespeare's Sonnet No. 8: "If the true concord of well-tunèd sounds / By unions married, do offend thine ear / They do but sweetly chide thee / who confounds in singleness the parts that thou shouldst bear."
In addition to being the name of New Hampshire's capital and a word used to describe a peace treaty, "concord" also has a musical definition: harmonious combination of simultaneously sounded tones, according to Merriam-Webster online.
Contact reporter Cathalena E. Burch at cburch@tucson.com or 573-4642. Twitter: @Starburch.