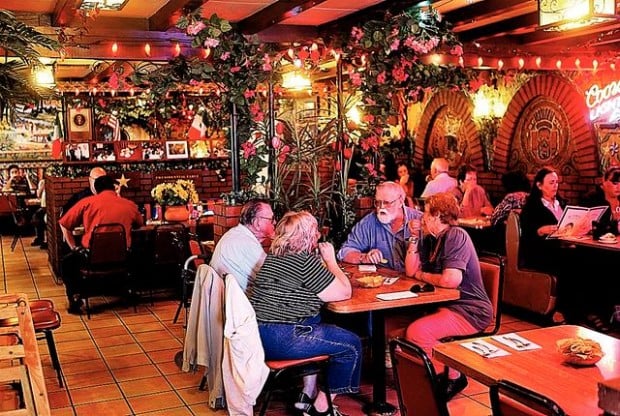 Manager Ernesto Lopez III points to a laminated piece of paper hanging on the wall by the cash register, showing what Bill Clinton ate when he visited 10 years ago this month.
The list is long: a birria taco, a bean tostada, a chile relleno, a chicken enchilada, a beef tamale, a side of beans, rice, a tortilla and two slices of a cheese crisp.
Even before the president stopped by, "My Little Nest" was among the most popular destinations on South Fourth Avenue. There is always a wait to be seated. Inside, tightly packed diners are enveloped by swaths of tropical flowers and Mexican folk art.
"Last year we had a few slow months, but we kept our heads above water," says Lopez, who manages Mi Nidito with his brother Jimmy. "We have very good food and very good service. Reasonable prices."
Mi Nidito has fed a number of celebrities over its nearly six decades. Portraits of famous faces smother the walls, and the spot where Clinton feasted is now called the President's Table.
The restaurant has become a celebrity itself — not bad for a place that was almost a tortilla factory. When Lopez's grandparents, Ernesto and Alicia Lopez, started the business in 1952, they were deciding between opening that or a restaurant.
It's been a family affair ever since. Lopez and his father, who has worked at Mi Nidito for 50 years, did much of the decorating. His uncle painted the Aztec warriors almost 40 years ago, and his nephew Jerry Lopez is a busboy.
"We usually have more family members working here, but some moved on and have other jobs," he says.
Will his children take over the restaurant someday?
"We're waiting for the fourth generation to grow up and see," he says. "Our plans are to keep it going."
A visit from President Barack Obama wouldn't hurt.
1813 S. Fourth Ave., 622-5081.
• Owners: Ernesto Lopez Jr. and Yolanda Lopez.
• Known for: Chile rellenos, birria.
• Most expensive item: The President's Plate ($12.25), an abridged version of what Bill Clinton ordered.
• Least expensive item: The buttered tostada ($2.85).
• Cost of margarita: $5.75.
Andi Berlin is a University of Arizona journalism student who is apprenticing at the Star. Contact her at 573-4179 or at
starapprentice@azstarnet.com
.