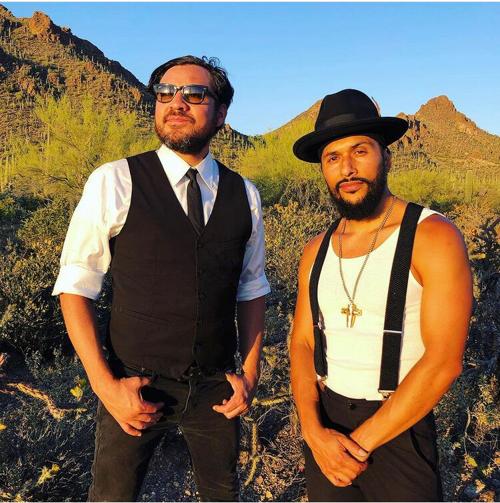 The cumbia-mambo-Latin rock fusion band under band leader Sergio Mendoza went from Jazz Festival opening act for the Grammy-winning salsa and Latin jazz outfit Spanish Harlem Orchestra to top billing for their own show at Hotel Congress. It will be the band's first Tucson gig since playing a pair of sold-out New Year's Eve events at Congress in December 2019.
"We're excited to play a hometown show. We are super excited," Mendoza said of the band's Jan. 22 show on the Hotel Congress Plaza Stage, 311 E. Congress St.
After the jazz festival last week lost headliners Jon Batiste ("unforeseen circumstances") and Herb Alpert (health concerns), festival Executive Director Khris Dodge announced that Orkesta Mendoza was stepping in to help fill the void.
The event will be the band's fourth concert since returning to live music last October for the World Expo in Dubai. They played a pair of shows in Denver, as well.
"It was a crazy trip to go out there (Dubai) for one show," Mendoza recalled.
Orkesta Mendoza, with lead singer Quetzal Guerrero, will play a few tracks off their album "Curandero," which came out in April 2020 as the country and world were shut down because of the COVID-19 pandemic.
"So we weren't able to learn those songs and play those songs live until recently," Mendoza said.
The Jan. 22 show will feature the full 10-piece band with a trio of trumpets and percussionists.
"We love playing here in town," Mendoza said. "We get to have a bigger band, we get to play with our favorite local musicians. So we are super excited. It's going to be fun."
The Jazz Festival kicks off Friday, Jan. 14, with the double bill of the Dave Stryker Quartet and the Eric Alexander Quintet at Fox Tucson Theatre at 7:30 p.m. Tickets are $36.50 to $59.50 through foxtucson.com.
Also on the opening weekend:
TJF Jazz Jam at Hotel Congress, 311 E. Congress St., noon to 5 p.m. Saturday, Jan. 15.
"Petite Fleur" from Adonis Rose & New Orleans Jazz Orchestra's NOJO 7 featuring Cyrille Aimée, 7:30 p.m. Saturday at Fox Tucson Theatre, 17 W. Congress St.
Lee Ritenour and Dave Grusin at 7 p.m. on Sunday, Jan. 16, at the Fox.
The annual Downtown Jazz Fiesta with festival artist-in-residence Kendrick Scott, 11 a.m. to 5:30 p.m. on Jan. 17, at Hotel Congress Plaza.
Sammy Rae & the Friends at 191 Toole, 191 E. Toole Ave., at 8 p.m. Tuesday, Jan. 18.