Troy Neiman has turned trash into art.
The Los Reales Landfill has been getting upgrades, and one of them is Neiman's sculpture, made entirely of recycled materials.
His charge for the public art piece was to use materials that wouldn't degrade. That led him to incorporate metal, glass bottles, plastic and even tires . Neiman wanted the sculpture to resemble a wave that emulates the landscape of a scrap metal yard.
"You have these huge mountains of metal that might be like 20 feet tall, and then there's these little items like a bicycle wheel or barbecue grill or something. Even if it's like mushed up and angled you can kind of spot it," he says .
He used bird sculptures left over from a previous piece to show the contrast with wildlife.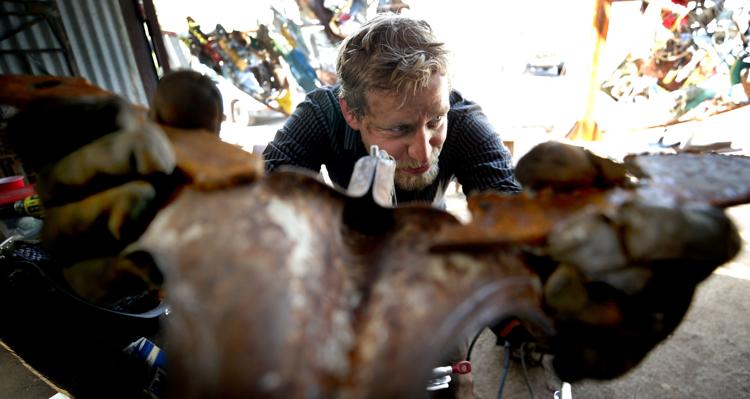 "It's not just big piles of trash that are kind of blowing around," Neiman says about the landfill. "They're very on top of covering things up right away … but there's definitely tons of birds that fly around the truck as they're covering things up and dumping things off."
One of the biggest challenges was figuring out how to present the idea of a recycled piece without having the materials when he made his proposal. The piece evolved as Neiman found new recycled items that fit well together.
Neiman moved to Tucson in 2003 from Madison, Wisconsin, where he received his welding diploma. "After I moved here I'd see a lot of scrap metal like bike racks and trash cans made of old bike parts," Neiman says.
The bike racks he saw were made by BICAS (Bicycle Inter Community Art and Salvage), where he's worked for several years. BICAS is a non profit that helps low income people get access to bicycles for transportation. A big component of the organization is to make public art out of recycled bike parts and scrap metal.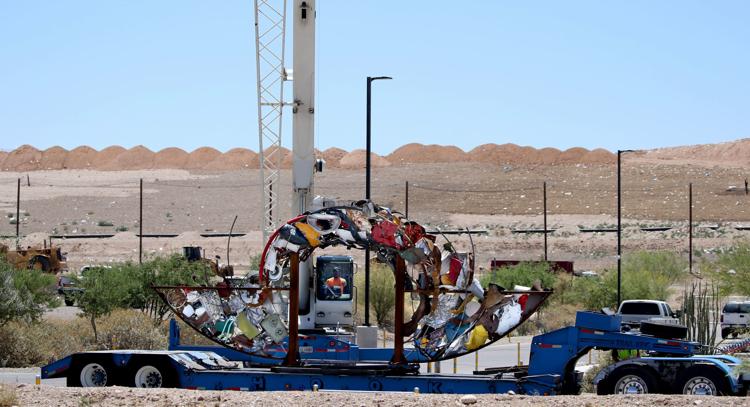 Neiman's sculpture is part of the city's 1-percent-for-art program.
The sculpture was moved from his studio with a crane. It rode in a truck along the frontage road as it made its way to the landfill. There, Neiman bolted the sculpture down and added finishing touches with recycled brick and multi-colored glass bottles.
The sculpture is located along the main entrance road of the Los Reales Landfill at 7161 S. Craycroft Road.