Every now and then, history needs a face-lift.
Stabilize a little foundation here, replace some decomposed bricks there, throw in a little metal framework and before long, it has the potential to remain stable for a couple generations longer.
Such is the case with the main headquarters of the Empire Ranch, north of Sonoita. It started out small, just four rooms, but over time it ballooned to 22 rooms from 1871 to 1886.
Privately owned until 1988, the ranch is now under the administration of the U.S. Department of Interior's Bureau of Land Management. It has since been designated as a Las Cienegas National Conservation Area.
The BLM, which has been committed to the preservation of the ranch's structures for future generations, has been working with the Empire Ranch Foundation, a private, nonprofit organization that started in 1997 to develop support to preserve the structures for recreational and educational purposes for the general public.
Both the BLM and the foundation have been working on the current repair work to preserve the Empire's aging ranch house and surrounding buildings as funding allows, said Alison Bunting, the foundation's historian and archivist.
It was pretty bad, she said, adding, "the roof was not attached to the walls."
The BLM designated more than $1 million through deferred maintenance for the restoration of the structure.
The degree of restoration was debated, Bunting said. It was decided to primarily stabilize the structure, leaving walls a patchwork of various colors.
About 80 percent of the exterior wall cement stucco was removed and replaced with lime plaster, which is more compatible with the structure's adobe bricks, according to the BLM and the foundation.
Because adobe deteriorates after sustained contact with moisture if it does not dry properly, lime plaster is used to protect the bricks. The lime plaster breathes and allows moisture to escape.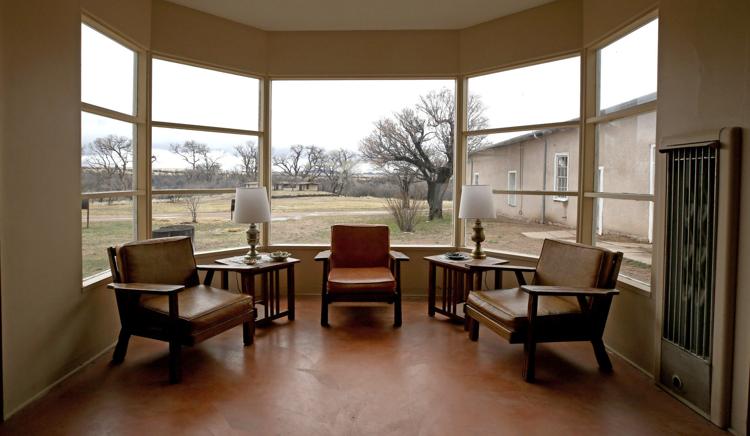 During the renovation, damaged adobe bricks were also replaced.
The task fell on Eric Means, with Means Design & Building, to make the repairs, which began with the stabilization of the ranch house in the spring of 2017. That work was completed in late 2018.
Repairs were made to stabilize the walls to withstand an earthquake by reinforcing the soil below the masonry foundations, removing damaged blocks and replacing them with new material.
In some places, Means said, they had to replace old beam supports and rebuild surfaces of adobe walls with new mortar that matched the old repair work.
At the same time, they wanted to preserve the natural patina to match the surrounding parts of the building.
Metal framework and new adobe were added above the ceilings to secure the walls and roofs
The yard was re-contoured so water would drain away from the house.
In one of the newer sections, the Children's Addition, which was built with lumber around 1886, had wood flooring that was considered unsafe so it had to be reinforced.
Concrete stem walls were added to support the floor.
"By preserving these buildings," Bunting said, "we can ensure that future generations will learn about and appreciate Arizona's rich ranching history."