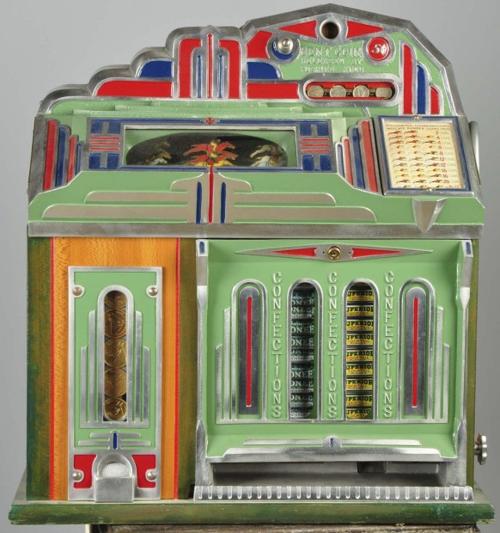 Q: I have several pieces of carnival glass, but I can't find any maker's marks. The carnival glass on eBay all has marks. Any info?
A: Here are two news flashes: First, any smart collector does a "whoa!" when absolutes such as "all," "always" and the like are used. Plus, when I checked eBay for carnival- glass bowls, four of the first six listings were for unmarked glass. So much for that "all."
The simple truth is that most early carnival glass was not marked. The same goes for later pieces, but more on that to come.
To clue readers, carnival glass is pressed and iridized glass. Originally made in the United States, central Europe and other parts of the world, it has an iridescent surface achieved by spraying the blank before firing. Think of molded-glass bowls, pitchers, tumblers, vases, and a huge variety of other shapes topped with a colored iridescent oil slick and you get the visual impact.
The glass is made to this day, but serious collectors go for examples made between 1905 and 1940. Prices range from mid five figures to under a dollar.
Wildly popular and affordable, early carnival glass was often a premium earned at carnivals or included with the sale of a household product. Sometimes, it was a handout from local merchants.
A collector for decades, California shows-only dealer Gary Lickver has sold carnival glass since 1986, primarily at glass-specialty shows throughout the country. He hits about 30 shows a year and recently appeared at the American Carnival Glass Association (ACGA) convention in Ohio.
Looking over images sent by the reader, Lickver pegged the pieces as 1970s products by the Indiana Glass Company of Dunkirk, Ind. Identifiable by shape, they are Indiana's version of carnival glass, and too recent to interest serious collectors. Seen at flea markets, they retail about $10. Indiana glass was not marked, and the company used a stain coating that tends to wear off.
Like most glass, carnival glass has taken a hit in recent years.
"You find a lot of so-so glass on eBay," said Lickver, "because people are trying to make money off what they have."
Reach Lickver at glickver@hotmail.com. The "Standard Encyclopedia of Carnival Glass: 12th Ed." by Mike Carwile is an excellent reference.
Q: I inherited pieces of Blue Willow china marked, "Made in Occupied Japan." Does the mark add value? Or is the opposite true?
A: Possibly the most collected china pattern, Blue Willow has been made for a long time by many companies, worldwide.
In the collecting world, the Made in Occupied Japan mark appeals because it places wares in a defined time frame. Mandated for all goods made there during the 1945-1952 U.S. occupation of Japan, the mark fixes items at a specific time and place. So yes, for some buyers, the mark is desirable.
On the flip side, OJ china is not known for its quality. Intent was to rebuild the nation, not produce outstanding wares. So today's pricing for OJ Blue Willow also depends on maker, condition, and quality.
Q: I have binders filled with Civil War letters from long-ago family members. Who can I contact to determine their value?
A: In letters, value depends on who is doing the writing, on content (what the letters are about) and context (why the words matter). As example, an officer's field report describing preparatory activities by a famous general on the eve of a significant battle would be important. A routine letter home by a soldier describing his lunch - less so.
Not all old letters have value in today's market, but the Civil War is a big collecting field. If intent is simply to determine value, I suggest hiring a qualified appraiser. If the object is a possible sale, you can approach auction houses that sell historic paper and documents.
To view Civil War letters that sold at auction and what they brought, key www.liveauctioneers.com. Note the auctions where they sold.
When the dispersal of a private collection brought $1.8 million at Morphy Auctions in Pennsylvania recently, the $36,000 top seller was a Superior 5-cent horse-racing slot machine that also dispensed treats. The lifetime collection of a discriminating buyer, the collection brought heated bidding.
Q: In what year did Indiana Glass begin carnival-glass production? Was it 1969, 1973, 1971, or 1974? Bonus points if you can name the colors made and how long production lasted.
A: Indiana began carnival glass in 1971. Production in iridescent greens, blues, and golds lasted about 10 years.
Source: "A Century of Indiana Glass" by Craig Schenning (Schiffer, $29.95).
Danielle Arnet welcomes questions from readers. She cannot respond to each one individually, but will answer those of general interest in her column. Send e-mail to smartcollector@comcast.net or write Danielle Arnet, c/o Tribune Media Services, 435 N. Michigan Ave., Suite 1400, Chicago, IL 60611. Please include an address in your query. Photos cannot be returned.