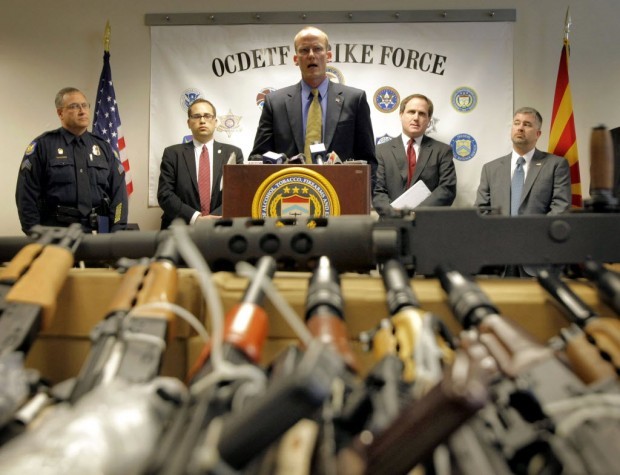 Bill Newell, the ATF agent who has become notorious in the investigation of Operation Fast and Furious, also played a role in the precursor operation, Wide Receiver. (I wrote a follow-up story on Wide Receiver for Sunday's paper, based on unreleased emails and a journal kept by the Tucson-based confidential informant.)
What exactly Newell's role was is as yet unclear as yet. 
Newell, you may know, was the special agent in charge of the Phoenix ATF division, which includes Tucson, from June 2006 to May this year. At a Jan. 25 press conference, when asked if guns were allowed into Mexico as part of Operation Fast and Furious, Newell replied "hell no" — an assessment that quickly was revealed as false.
Newell had not yet assumed control of the Phoenix division when Wide Receiver began in February 2006, but he was in full control when a second, probably more prolific phase of the operation began in 2007. This was when Tucson firearms dealer Mike Detty built a case against Carlos Armando Celaya and associates.
Detty believes Newell was aware that guns were going to Mexico as part of Operation Wide Receiver. 
"My thing was, Tucson office didn't do anything without getting approval from Phoenix, meaning Bill Newell," Detty told me in an interview. "He knew damn well that those guns were crossing the border."
Detty said as much in a Feb. 2, 2011 email to ATF agent Robert Maynard, citing this Arizona Republic story: "What the hell is Newell thinking. He's going to lose his career over this. You, I and everyone in the Tucson office know that guns crossed the border as part of the investigation."
When I asked Detty Friday which investigation he was referring to in this email, he said it was Operation Wide Receiver.
Another key question arising about Operation Wide Receiver has been what role, if any, Mexico's government played in the operation. Detty said he was told by the agents handling him that Mexican officials would be conducting surveillance or interdictions when guns got to the other side of the border.
Detty, owner of Mad Dawg Global Marketing, now suspects that wasn't the case, and that the agents handling him were lied to by their superiors. 
But it isn't clear yet whether Mexican officials approved Wide Receiver and failed to follow up or if they were in the dark. Recently released emails between Newell and a White House national-security official show that Newell, a fluent Spanish speaker, did go to Sonora and speak with officials there, at least in 2010.
On Sept. 2 last year, Newell wrote to Kevin O'Reilly in the White House:
Headed to Tucson, will get you the info today. Went to Hermosillo, Sonora on Tues/Wed and met with new PGR Delegado. He granted us access to the 30 gun August 4th seizure in Nogales, Sonora and by doing so we are now able to forward 7 separate firearms trafficking cases to the Arizona USAO. He wants to do more of the same so I'm setting up a meeting with him and USA Dennis Burke for later this month. I also met with CG at Consulate in Hermosillo and briefed him on meetings.
ATF Phoenix Field Division (AZ and NM)
On another subject, Detty wrote me an email yesterday to clarify some issues related to his pay for working as an ATF informant. 
In regards to the rewards-I was told on every case I worked that I would receive a reward. Lucero Aguilar and family, Medina-Ramos-Rutlege and Wide Receiver. While it is understandable that I would not receive a reward for a case that has not come to conclusion (Wide Receiver) it was not cool of the AUSA [federal prosecutor] to cancel a reward for a case she was not even involved with. I assumed a considerable amount of risk in every one of these cases and provided ATF with information that they would never have been able to obtain, so yes, I believe that I am entitled to a reward, especially since I was told I would receive one. It was never something that I demanded as a condition of cooperation.
Detty also noted that the $17,400 he received in pay was for three years of hard work that prevented him from writing his usual complement of magazine articles on guns. He usually writes about 30 a year, he said, but wrote only 19 total in 2007 and 2008 because of his informant work for ATF.
In an interesting passage of his 594-page journal detailing his informant work, Detty muses on why he's bothering to do it. He concludes that his actions come from a sense of duty and give him, among other things, a sense of purpose. He also says:
"Who knows what the future holds, but I will take my chances with the cartel boys to try to buy myself a little retirement security. Social Security, Mad Dawg style."
Clearly the operation hasn't ended up giving Detty any additional security, social or otherwise.
Be the first to know
Get local news delivered to your inbox!