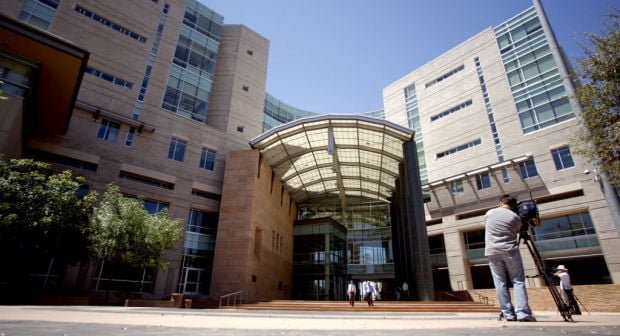 Federal district courts in Arizona are already working at capacity and can't take more prosecutions, their chief judge said Monday. He was responding to the U.S. attorney general's announcement that the Department of Homeland Security is now referring 100 percent of unauthorized border crossings for prosecution.
"We can only do what we do now," said U.S. District Court Judge Raner Collins. "We are at our limit."
In fiscal 2017, more than 14,000 people were sentenced to prison for crossing the border illegally (entry and re-entry) in the District of Arizona, according to data compiled by the Transactional Records Access Clearinghouse at Syracuse University.
Last fiscal year, the Border Patrol made nearly 39,000 apprehensions in its Tucson sector and close to 13,000 in its Yuma sector — numbers that could potentially mean doubling the number of prosecutions if everyone is prosecuted. While a person can be apprehended more than once in a given year, the recidivism rate among the agency's arrestees has decreased significantly over the years.
"If you cross this border unlawfully, then we will prosecute you," Attorney General Jeff Sessions said Monday. "It's that simple."
This includes parents who come with their children. "If you are smuggling a child, then we will prosecute you and that child may be separated from you as required by law," Sessions said. "... So if you're going to come to this country, come here legally. Don't come here illegally."
In the first four months of the year, the Florence Immigrant and Refugee Rights Project, an Arizona-based organization that provides free legal services to those in immigration detention, has seen 135 cases of parents separated from their children, said Lauren Dasse, the group's executive director. It had 213 cases in all of 2017, she said, up from 190 the previous year.
"We have concerns, especially when we talk about prosecuting every single immigrant," Dasse said.
"If you are fleeing extreme violence and you are trying to keep your family safe, to know that you may be separated from your children for months or years once you reach the border, that's a terrible choice to have to make as a parent," she said. It could lead to more parents choosing to be deported and potentially facing serious harm or death if they return to their home country, rather than pursuing their cases for asylum, she said.
"We also fear that this could lead to wrongful prosecution of asylum-seekers and create massive backlogs and further strain the judicial system," Dasse said.
Sessions said the actions are necessary given the recent increases in apprehensions along the border, especially of parents with children. So far this fiscal year, the Border Patrol has made about 31,000 apprehensions in the Tucson sector and nearly 14,000 in the Yuma sector. The fiscal year ends in September. About half of the apprehensions in Yuma are from family units.
While apprehensions in the Tucson sector are higher than they were during this time last year, they are still lower than the nearly 40,000 apprehensions the Border Patrol made during the same period in 2016, Customs and Border Protection data show.
"I haven't heard of anything being increased except Border Patrol agents and the military, the National Guard," Collins said. "I haven't heard anybody saying anything about an additional judge, an additional clerk or even an additional paperclip" for the federal district courts.
To help deal with what he called the "Southwest border crisis," Sessions announced last week more immigration judges and 35 new prosecutors, including six for Arizona. The U.S. Attorney's Office in Arizona employs about 170 federal prosecutors, according to its website.
Already, 81 percent of federal prison sentences in the District of Arizona in fiscal year 2017 stemmed from illegal border crossings.
A fast-track program that handles the bulk of border-crossing prosecutions processes about 75 people daily, and the court can't handle any more, Collins said.
Southern Arizona has already seen a 71 percent spike in Operation Streamline prosecutions so far this fiscal year as Sessions pushes for zero-tolerance for illegal border crossers. About 8,500 border-crossing prosecutions went through Operation Streamline from Oct. 1, 2017, through April 19, compared to about 5,000 during the same time last year.
In 2010, when an expansion of the program was considered, the late District Court Judge John Roll wrote that "the addition of what sometimes seems to be an inexhaustible number of law enforcement agents and federal prosecutors in the Tucson division has now produced a tsunami of federal felony cases, far beyond capacity." The court would need additional judges, courtrooms, chambers, detention space, clerks, interpreters, pretrial service officers, attorneys and security to meet the demand, he wrote.
The Arizona District Court had one of the nation's biggest caseloads when a judicial emergency was declared in 2011 — when judges handled nearly 9,000 criminal and about 25,000 petty-offense cases.
"All I know is that there's only so much work you can do with the staff you have," Collins said Monday.
Reporter Curt Prendergast contributed to this report. Contact reporter Perla Trevizo at ptrevizo@tucson.com.