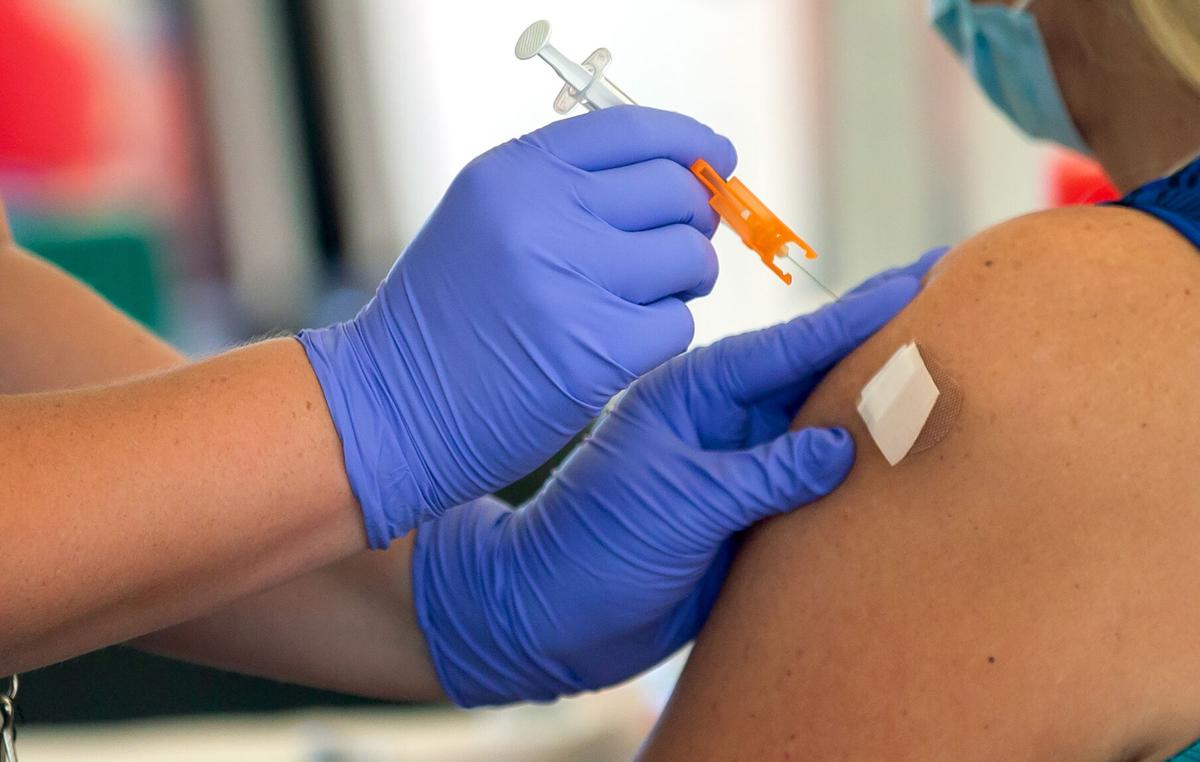 Arizona health experts expect COVID-19 cases will continue to rise in January due to the omicron variant.
While omicron cases already account for a majority of cases across the country, the highly contagious variant has yet to hit Arizona in the same way.
That means the worst is likely yet to come.
"We don't think omicron is here in force, but we have no reason to think it won't come," said the director of Pima County's Health Department, Dr. Theresa Cullen.
Across the country, omicron cases accounted for nearly 59% of cases in the week ending on Dec. 25, according to an estimate by the Centers for Disease Control and Prevention.
In Arizona, about 7% of genetically sequenced COVID-19 cases in December were omicron cases, according to a dashboard maintained by the Translational Genomics Research Institute, or TGen, as of Dec. 30.
Only a small proportion of cases are actually genetically sequenced in the state.
The number of probable omicron cases, however, has been on the rise through the end of December, according to data from Arizona State University's Biodesign Clinical Testing Laboratory, which tracks cases with S gene dropouts, a characteristic of the omicron variant, but not confirmation.
Such cases rose to about 87% of the laboratory's positive cases on Dec. 29.
"I think a rapid increase in cases is imminent," said Dr. Joe Gerald, an associate professor with the University of Arizona's College of Public Health. "Once (omicron) takes hold it leads to rapid increases in case counts and I expect the same here in Arizona and I expect it to happen sooner rather than later."
At face value, new weekly cases in recent weeks have remained relatively flat in Arizona, as of Dec. 30, but the holidays have disrupted COVID-19 testing data, leaving health experts in the dark.
"It's always difficult this time of year to get consistent and reliable testing data," Gerald said. "So we don't have a really good idea of what's going on."
When health care businesses closed for Thanksgiving and Christmas, this left fewer testing options, he said, adding that testing is also a low priority for the public when more people are traveling and visiting family.
On Friday, Arizona reported more than 7,700 additional confirmed COVID-19 cases, the most reported on a single day since last January.
The 7,720 additional cases and 17 deaths reported by the state Department of Health Services' coronavirus dashboard increased Arizona's pandemic totals to 1,381,488 cases and 24,229 deaths, according to the Associated Press.
The 7,720 cases reported Friday are more than two times the state's latest seven-day rolling average of daily new cases derived from Johns Hopkins University data. That rolling average of 2,953.6 cases ran through Wednesday and didn't include the 7,720 cases reported Friday or the 5,687 on Thursday.
The state health department said last week that some daily reports of additional cases would be larger than normal because of reporting delays over the Christmas holiday weekend.
Despite barriers to consistent testing data, the rate of positive tests has risen recently.
"Yesterday we were made aware of one of our sites that 30% of the tests from that site were positive," Cullen said.
As of Dec. 30, 18% of tests in the last week of December had come back positive; however, this percentage will change over the coming week due to data reporting lags.
Just as cases remain elevated, hospitals in Pima County continue to run low on beds.
On Dec. 29, Pima County had 6 ICU beds available out of 360, Cullen said. About 33% of patients in ICU beds were COVID-19 patients.
On the same day, 110 ICU beds were available statewide out of more than 1,500, according to data from the Arizona Department of Health Services. About 38% of the beds were taken by COVID-19 patients.
"We have a really stressed health care system," Cullen said. "While the health care system has been able to accommodate the number of patients that are presenting, there is very little excess capacity available."
A team from the Federal Emergency Management Agency will soon deliver monoclonal antibody treatments to Pima County, which doctors can prescribe to certain high-risk COVID-19 patients, said Louie Valenzuela, the county's emergency preparedness manager.
The county Health Department is still working out the specifics of the delivery with FEMA, but the FEMA team will become available to make the delivery in the coming week, he said in an email.
"The hope is that these teams will expand the number of available treatments up to 50 per day. That may help reduce countywide hospitalizations by giving COVID-19 patients an at-home treatment option. Subcutaneous Regeneron injections will be available first at Carondelet St. Joseph's Hospital, at a date to be determined, with a second location also in planning stages," Valenzuela said.
Gerald expects a strong wave of cases driven by the omicron variant in January followed by a wave of COVID-19 hospitalizations that will last into February.
He expects these waves will be meaningful and difficult, but he doesn't expect them to rise to the levels seen a year ago, when vaccinations had only just become available.
"It's too early to take away meaningful information from deaths other than we have a lot of deaths in Arizona," he said.
Gerald noted that Arizona reached a weekly COVID-19 death rate of over 400 deaths from late November into December, which is a threshold the state hadn't exceeded since February 2021.
Arizona's seven-day death rate was ranked sixth in the country as of Dec. 30, with 5 deaths per 100,000 people, according to the Centers for Disease Control and Prevention.
"If you combine mask use with vaccination and some judicious decision-making about what risk you're willing to accept in encounters, you can, for the most part, protect yourself 98% of the time against COVID transmission," Gerald said.
"Nothing is perfect. Omicron puts us in a situation where even small lapses can break the barriers. So we shouldn't necessarily castigate people and blame them for becoming infected," he said.