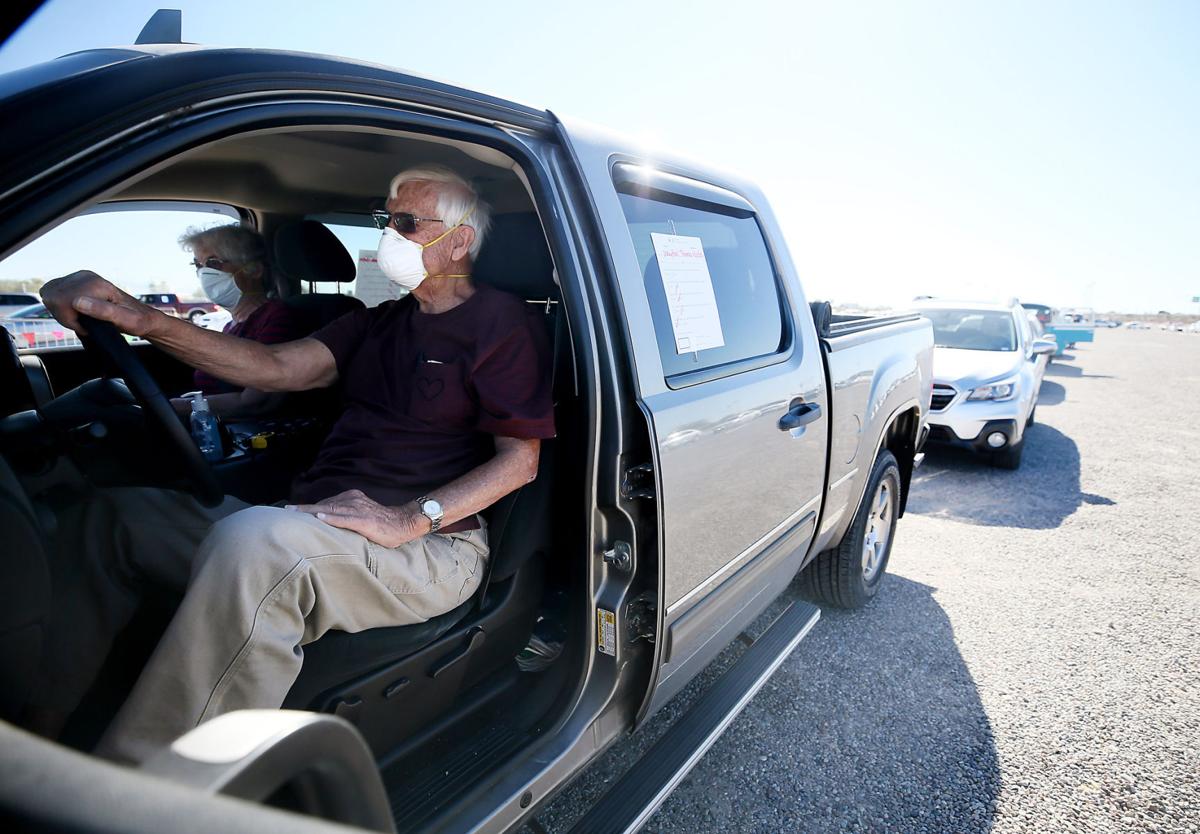 Unless more vaccine starts arriving from the state, Pima County may need to reduce the number of people getting their first COVID-19 shot so second doses can be given.
That scenario is an ongoing worry for Dr. Francisco Garcia, who said county officials are monitoring vaccine amounts closely to see if they might eventually need to slow down the vaccination plan, at least for a while.
"We're losing sleep over this, even as we speak," said Garcia, the county's chief medical officer. "At what point do you either start telling people, 'I can't guarantee you a second dose,' or start coming up with an alternative strategy?"
It's not a problem limited to Pima County.
Other counties, states and countries, have started having a hard time getting the required second doses done, he said. Some have cut way back on first doses given while others have lengthened intervals between shots, or both.
The U.S. Centers for Disease Control and Prevention recently announced that people can wait six weeks between doses if they are not able to get the second one in the recommended time frame, which is 21 days after the first dose for Pfizer and 28 days after the first dose for Moderna.
Decreasing the number of first shots, or lengthening time between shots, are things they are trying to avoid here, Garcia said.
"We're making a contract with you when you come and get your first vaccination that we're going to stand on our heads if required in order to get you that second dose, and so we are doing our planning for that," Garcia said.
With the Tucson Convention Center and the University of Arizona inoculation sites now running, county officials want to keep increasing vaccination distribution but can't if that means outrunning the amount of vaccine that's coming in.
"If we keep getting 29,000 (doses) a week and are giving out 37,000, we would run out in two to three weeks," said Dr. Theresa Cullen, the county's public-health director.
Pima County has received 107,000 vaccine doses so far and has administered more than 79,000. Of those, roughly 59,000 people have received the first dose and about 13,000 people have received both doses. An order of 29,100 doses is pending from the state and should arrive Wednesday, Jan. 27.
There are about 35,000 shots in the county that have not been given yet, Cullen said, and so the plan is to keep moving forward, but more slowly than she'd like.
This week the goal is to give 31,000 shots and next week, the county is planning to increase that amount to 35,000.
Gov. Doug Ducey on Tuesday issued a statewide advisory geared toward accelerating COVID-19 vaccine distribution. As part of that plan, he called on health-care providers and county health agencies to report data to Arizona's Department of Health Services to show the pace of vaccination distribution.
Counties and health-care providers will then get more vaccine if they are doing well.
Ducey's order also would allow the state to take back vaccine doses from entities that are not using them fast enough.
The state's 24-hour vaccination site at State Farm Stadium in Glendale has distributed nearly the same amount Pima County has overall: 78,112 vaccines since it opened two weeks ago.
This has been carried out with the help of hundreds of Blue Cross Blue Shield of Arizona volunteers as well as staffing from the Department of Emergency and Military Affairs, while Pima County has not received any assistance from the state, according to County Administrator Chuck Huckelberry.