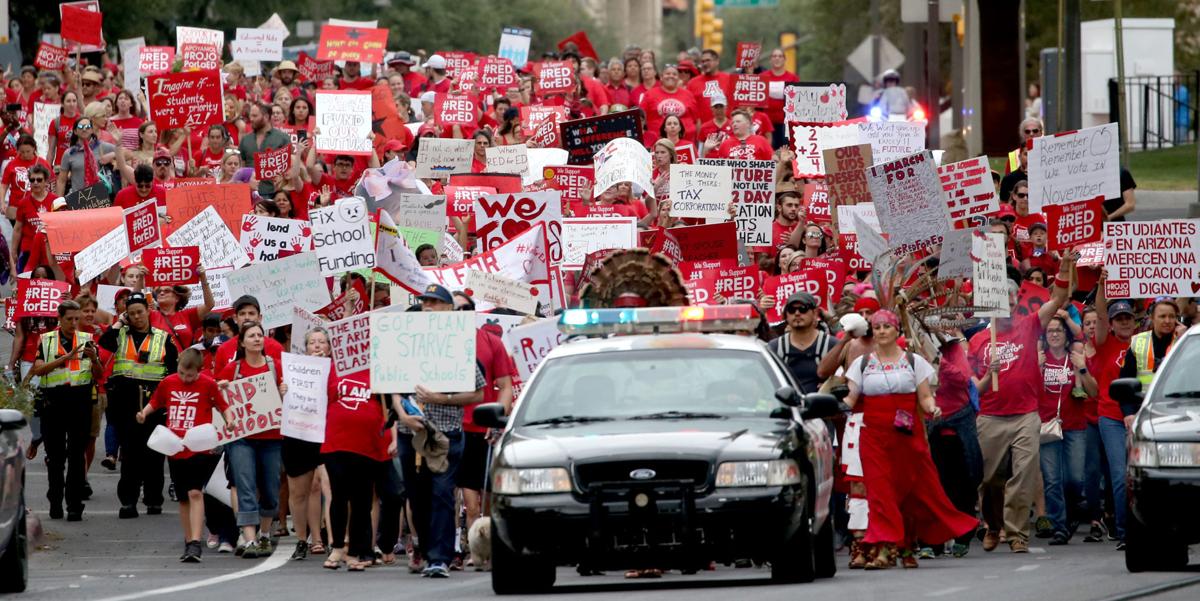 PHOENIX — Republican lawmakers are moving to ask voters to throw another hurdle into their own ability to enact laws — one that apparently does not exist anywhere else in the country.
HCR 2016, approved Wednesday by the House Committee on Government and Elections on a party-line vote, would preserve the right of voters to propose their own laws and constitutional amendments. But instead of allowing approval on a simple majority, those would be enacted only if 60% of voters agreed.
Rep. Tim Dunn, R-Yuma, proposed the measure because he says the initiative process makes it too easy for special interests to go around the Legislature and instead ask voters to enact laws.
"We have become a petri dish for outside money to come in and try to, with a small amount of voters, to get something passed that is very hard to get changed in the future," he told colleagues.
Dunn said the problem is particularly acute during midterm elections — those without a presidential race on the ballot — when turnout is lower. On top of that, he said the record suggests that many people who vote for candidates at the top of the ballot do not make it all the way to the bottom where the initiatives are located.
His measure, he insisted, would protect "the will of the voters."
But Sandy Bahr, director of the Grand Canyon Chapter of the Sierra Club, said that ignores why people take their case to the ballot.
"Many important policies have been advanced via ballot measures after the Legislature repeatedly rejected to take action on them," she told lawmakers. Adding a new supermajority requirement, Bahr said, would remove that tool.
How measure would have affected past initiatives
Some of the initiatives approved by Arizona voters would not have become law had the 60% requirement been in place.
In 1982, for example, Arizonans approved a provision that allows people to register to vote when they get a driver's license. The "motor-voter" system, which is now widely used, got 51.1% of the vote.
A 1994 measure to ban the use of leghold traps on state lands was approved with 58.5% in favor. More popular was a 1998 proposal to ban cockfighting, which picked up the support of 68.1% of voters.
But the original proposal to allow marijuana for medical use squeaked by with just 50.1% of the votes, though last year's expansion for recreational use did barely cross the 60% threshold.
However, the other proposal on the 2020 ballot, to increase income taxes on the wealthy to fund education, picked up just 51.7% of the vote.
In virtually every case, the proposals wound up on the ballot after legislation to approve them was rejected by the Republican-controlled Legislature.
That point did not escape Rep. Athena Salman, D-Tempe.
"HCR 2016 is clearly a power grab by the Legislature because of the discontent of how the voters are voting," she said.
It also appears largely unprecedented.
How Arizona stacks up
The National Conference of State Legislatures reports that just Florida and Illinois have supermajority requirements for ballot measures. But in both cases, these apply only to constitutional amendments and not to statutory changes.
There are some states, however, that require a certain percentage of people who turn out at an election to have weighed in, pro or con, before any change in law is approved via the ballot.
But Rep. Bret Roberts, R-Maricopa, said there's another side to that story.
He said Arizona is the only state with a constitutional "Voter Protection Act." This precludes lawmakers from repealing or making changes in anything that voters have enacted unless it "furthers the purpose" of the original measure.
The net effect, he said, is that anything approved at the ballot box is effectively cemented into law.
"These propositions are next to impossible — you might as well say impossible — to actually go back and fix," Roberts said. He said that justifies a higher-than-normal margin to approve something in the first place.
Roberts acknowledged, though, that there is another option for lawmakers: Send the measures back to voters. But he said that then requires "millions of dollars" to convince voters to alter what they originally approved.
There's a backstory behind the Voter Protection Act that no one mentioned during Wednesday's debate.
In 1996, by a nearly 2-1 ratio, voters approved allowing doctors to prescribe otherwise-illegal drugs to terminally ill patients or to relieve pain.
The following year, arguing that voters did not understand what they had done, the Legislature amended the law to effectively gut the key provision.
Undeterred, sponsors put it back on the 1998 ballot where it was again ratified, though it never took effect because doctors were unwilling to risk their federal licenses by writing a prescription for a drug that was illegal under federal law.
The bottom line is, proponents of the 1996 law put the Voter Protection Act on the ballot — and got it approved by a 52.3% margin — to prevent future tinkering of any ballot-approved measure.
Similar move in Senate
Even if the full Legislature approves, HCR 2016 isn't the end of the matter.
As an amendment to the Arizona Constitution, it would itself have to be ratified by voters at the ballot in 2022. But foes pointed out that, unlike the change it seeks, it could be approved by a mere majority.
Separately, the Senate voted 16-14 along party lines Wednesday to approve SCR 1024.
It seeks to impose a 66.6% approval for future ballot measures. But it is narrower than the House version, applying only to situations where someone proposes a new tax or an increase in existing tax rates.
Photos: Election night in Tucson
Supporters gathered Tuesday evening to hear election results come through for Tucson City Council candidates. Incumbent Richard Fimbres easily won a second term. Fimbres, who represents the city's south side, had too big a lead over challenger Mike Polak after the initial ballot drop at 8 p.m. Democrat Karin Uhlich cruised into re-election Tuesday night as well. Uhlich had more than 58 percent of the vote and was beating Republican Ben Buehler-Garcia by more than 10,000 votes.